Do you want to allow other people to create or respond to your videoasks from the same account?
Invite colleagues, clients, or students to your team to collaboratively manage your videoasks! To restrict team members' access to specific videoasks, make sure to organize your videoasks into folders.
Jump to:
Update Team Roles and Permissions
Name Your Organization
Your organization name will appear in invitations to team members.
1
Click the letter icon to open your user menu
4
Enter the desired name and click Submit
Note: If you have associated a brand with your videoask, email notifications to respondents will appear as being from "[Team Member Name] - [Brand Name]". All other notifications will display the name of the person who replies.
Invite Team Members
Invite collaborators to help manage all of your videoasks or just those within a specific folder.
1
Under the Team tab, select + person
2
Enter the email address of the person you would like to invite and select whether to make them a Member or Admin
3
If inviting the team member as a Member, you can restrict their access to a specific folder within your Organization. To do this, select Specific folders before sending the invitation.
4
Toggle folders on/off to give or remove access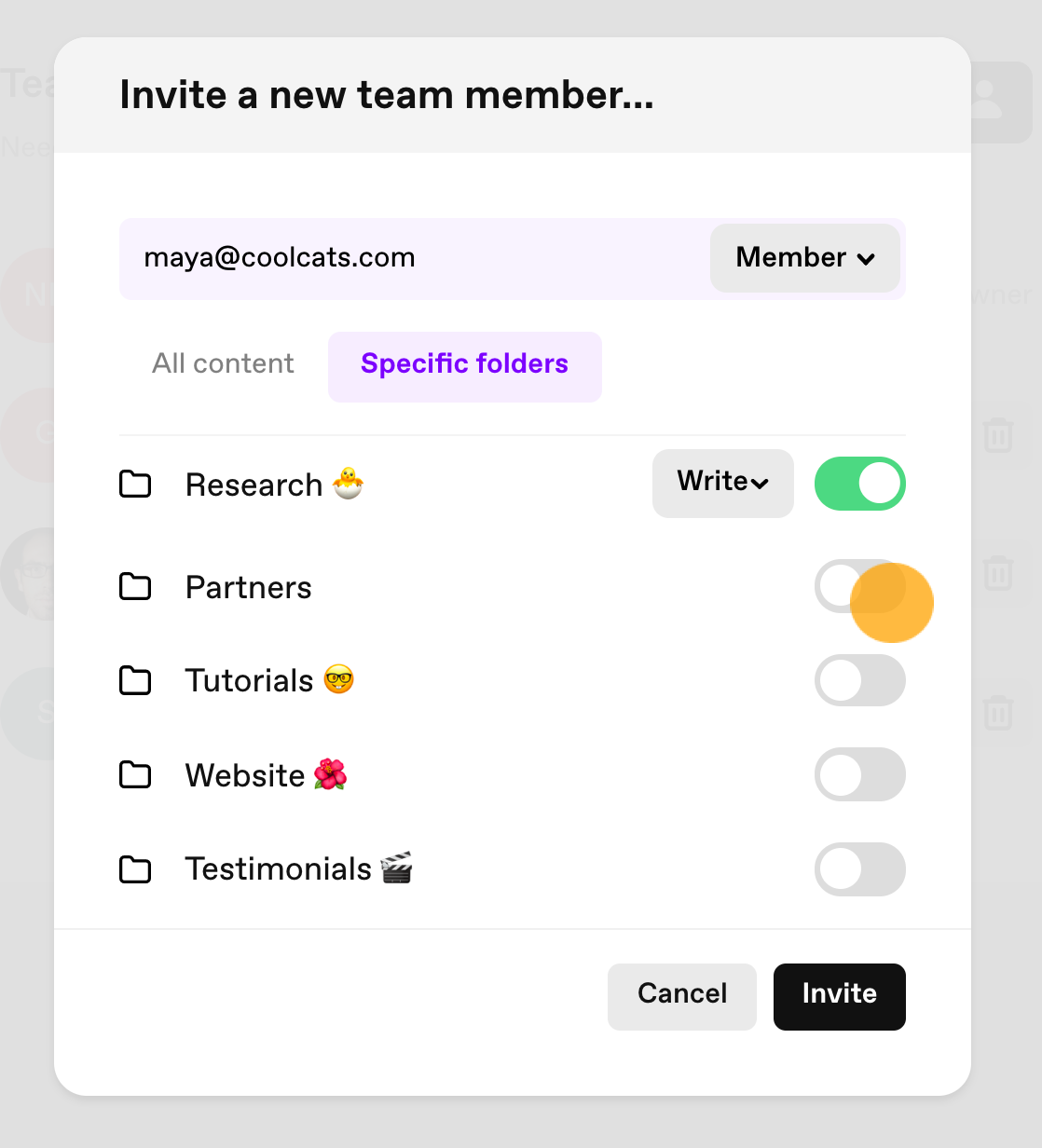 Note: To restrict access to specific folders, you will need to create folders first.
5
Set Read/Write permissions for each folder
6
When you're finished setting the folder permissions, click Invite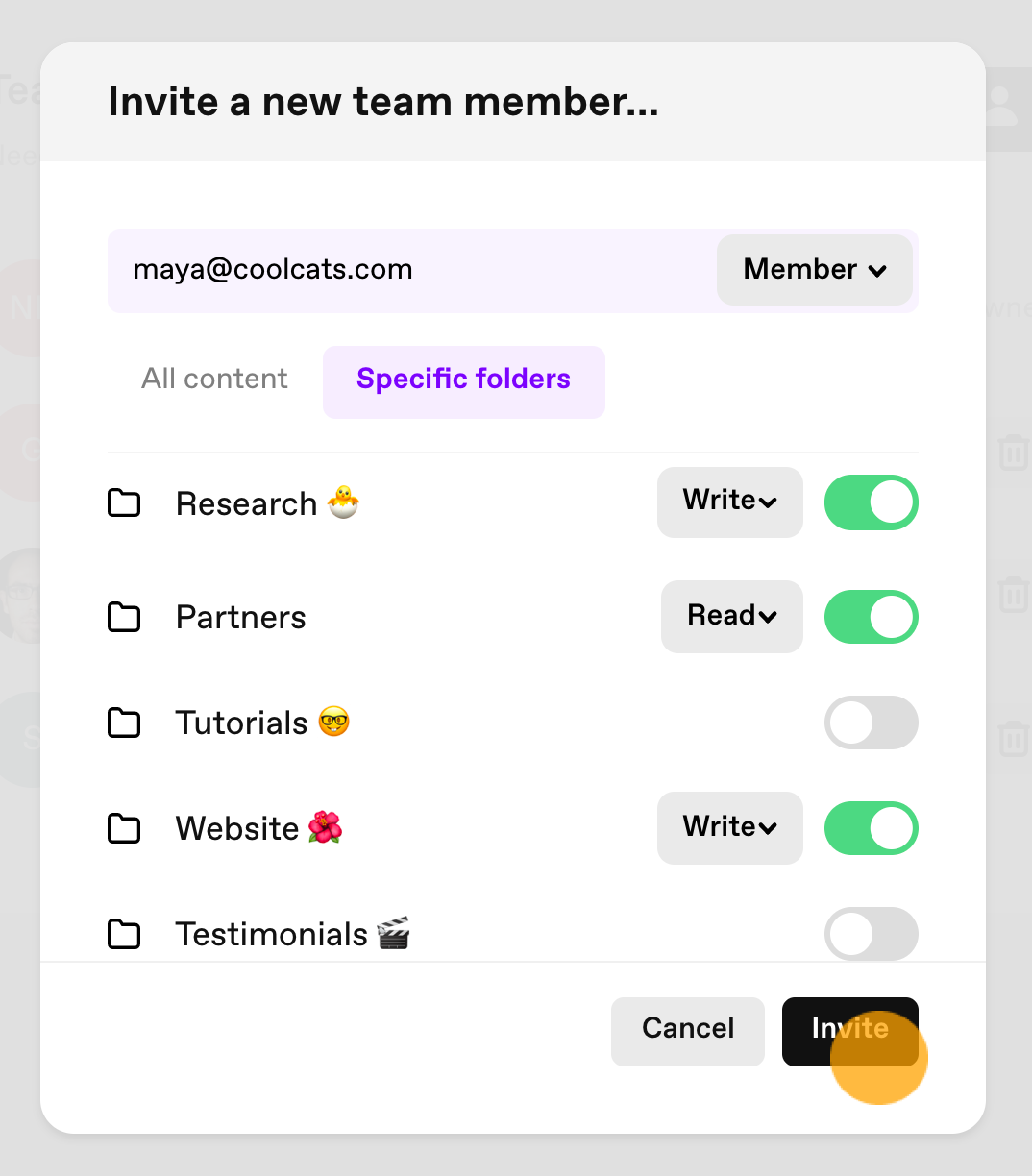 7
This person will receive an email with a link to join your organization
Note: Every team member is required to have their own VideoAsk account. If the team member you invited does not yet have a VideoAsk account, they will be prompted to create one before they will be able to accept your invitation.
6
The total number of used and available seats on your plan will be displayed at the top of your team list. If you run out of seats on your current plan, you can upgrade to add more.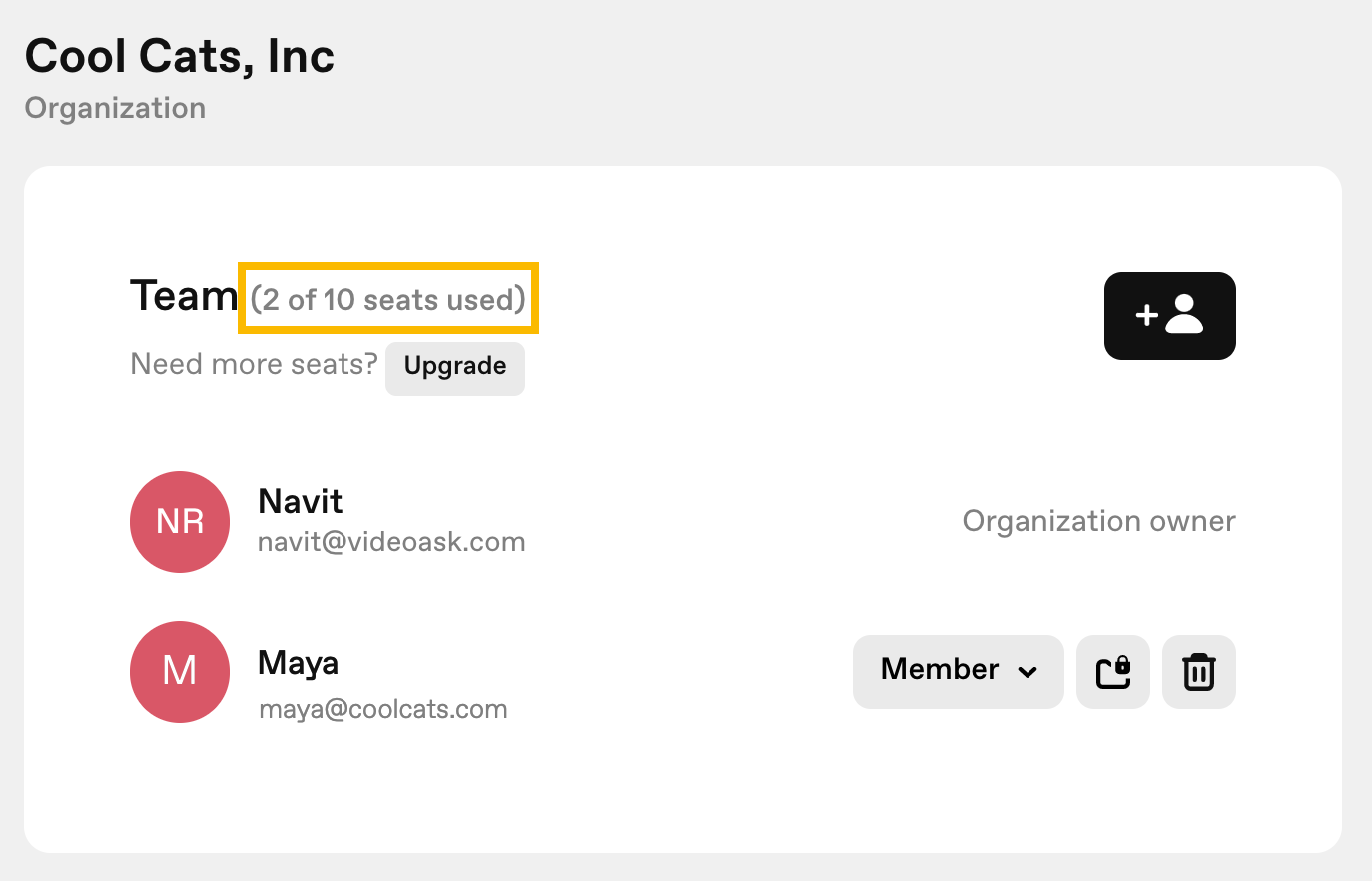 Note: The activity of anyone on your team will count towards your account usage limits. Ensure you have enough minutes on your plan by checking your current usage.
Update team roles and permissions
You can change the role and folder permissions of team members at any time.
1
To change a team members' role, click their current role (Member or Admin) next to their name
Select their new role from the drop-down menu. Changes will be automatically saved.
2
To update folder permissions for a specific team member, select the lock folder icon.
3
Toggle the folders on/off to adjust the team members' access to each one. When ready, click Done
4
To remove someone from your team, click the Trash can icon 
Switch Organizations
You have two ways to switch which organization you are working in:
Option 1
Click the name of the organization you're currently in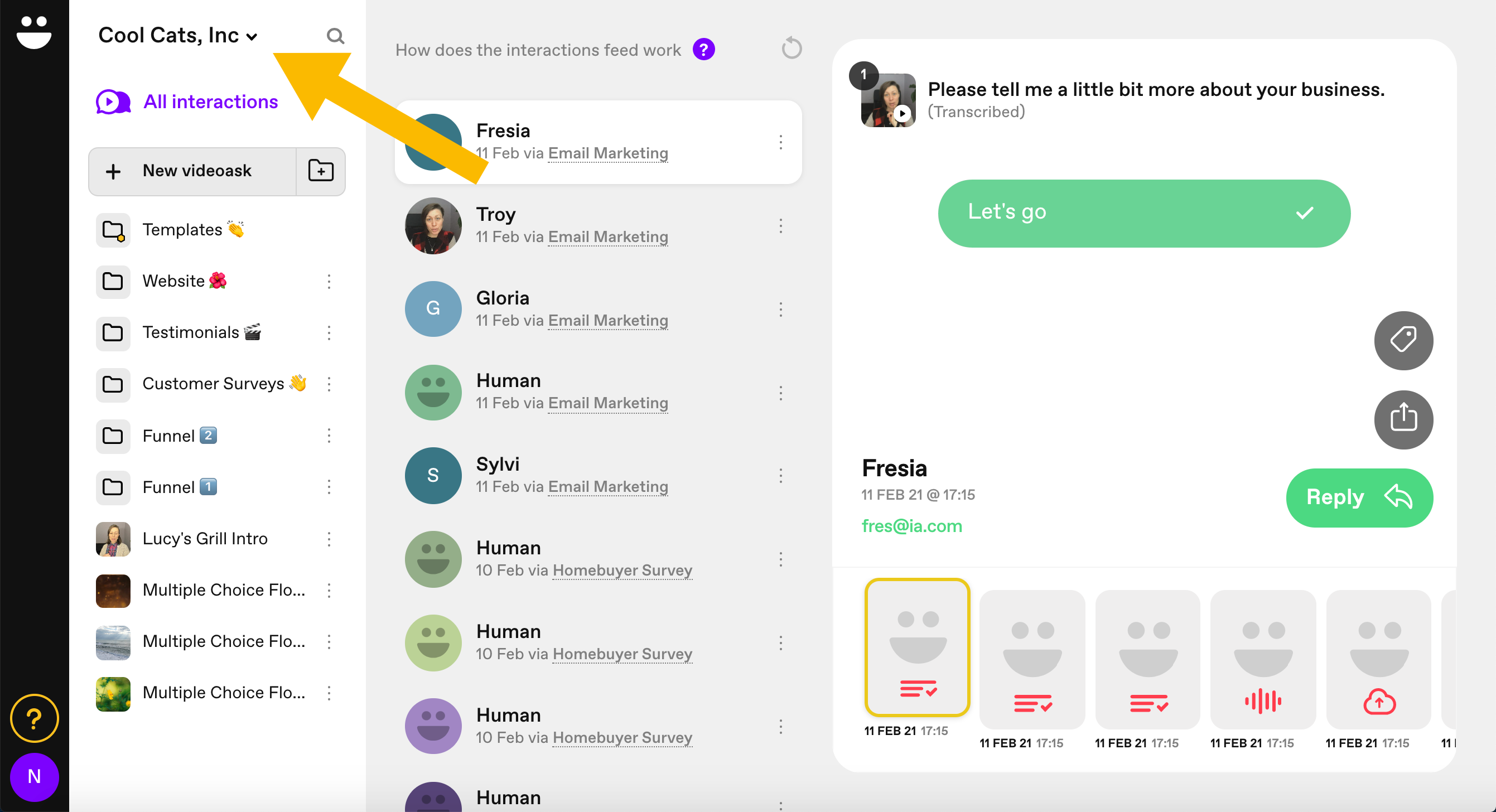 This will open a dropdown menu listing all the organizations you're a part of (including your own!). Click an organization's name to switch to its workspace. 
Option 2
Click the letter icon to open your user menu 
Here it will display which organization you are currently viewing. Below that, click Switch organization 

From the pop up menu, select the desired organization:
Leave an Organization
If you have joined someone else's organization and no longer need access to their workspace, then you can remove yourself from their organization.
1
Switch to the organization you would like to leave
2
Click the letter icon to open the user menu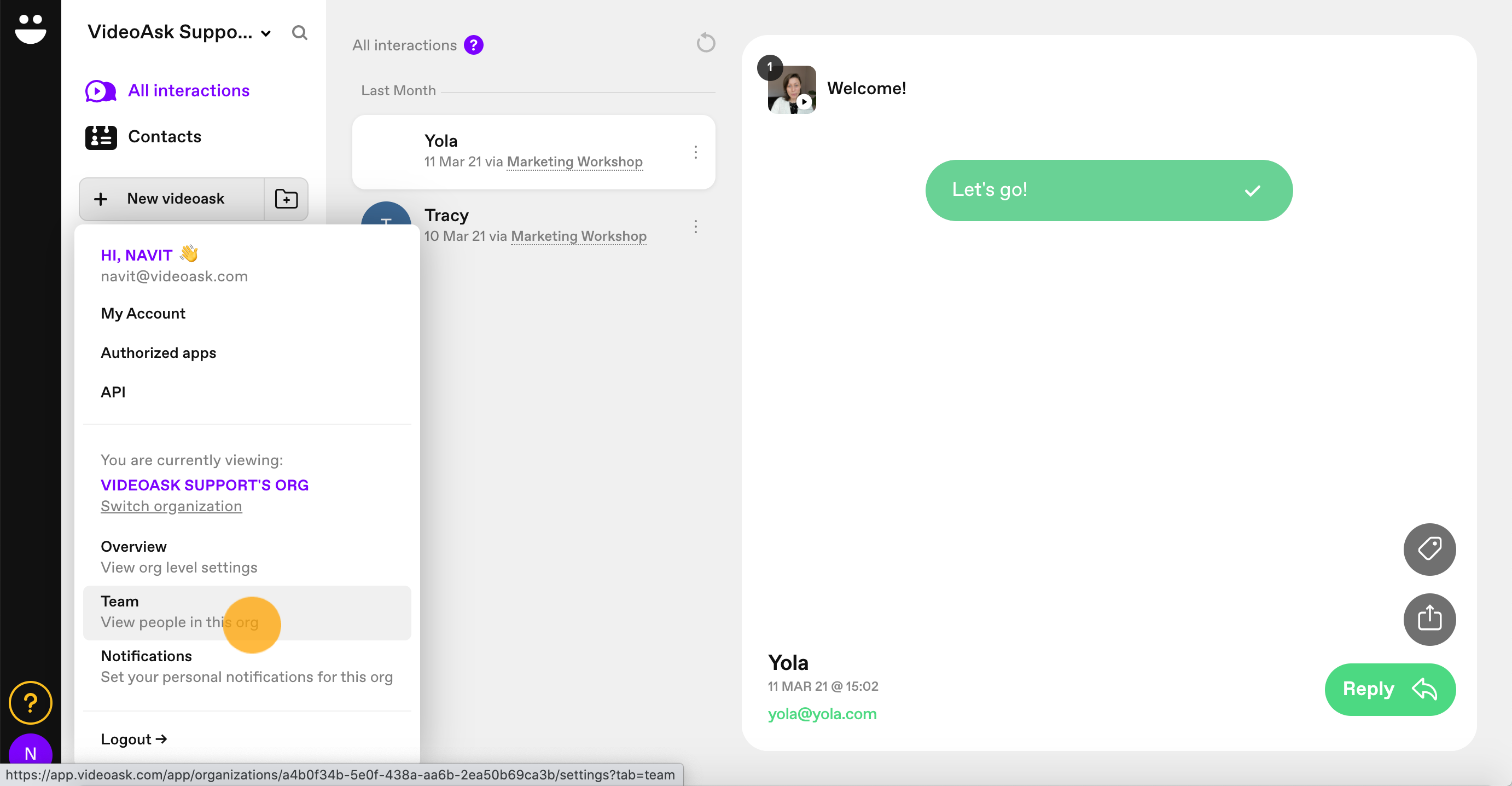 4
Next to your name, click Leave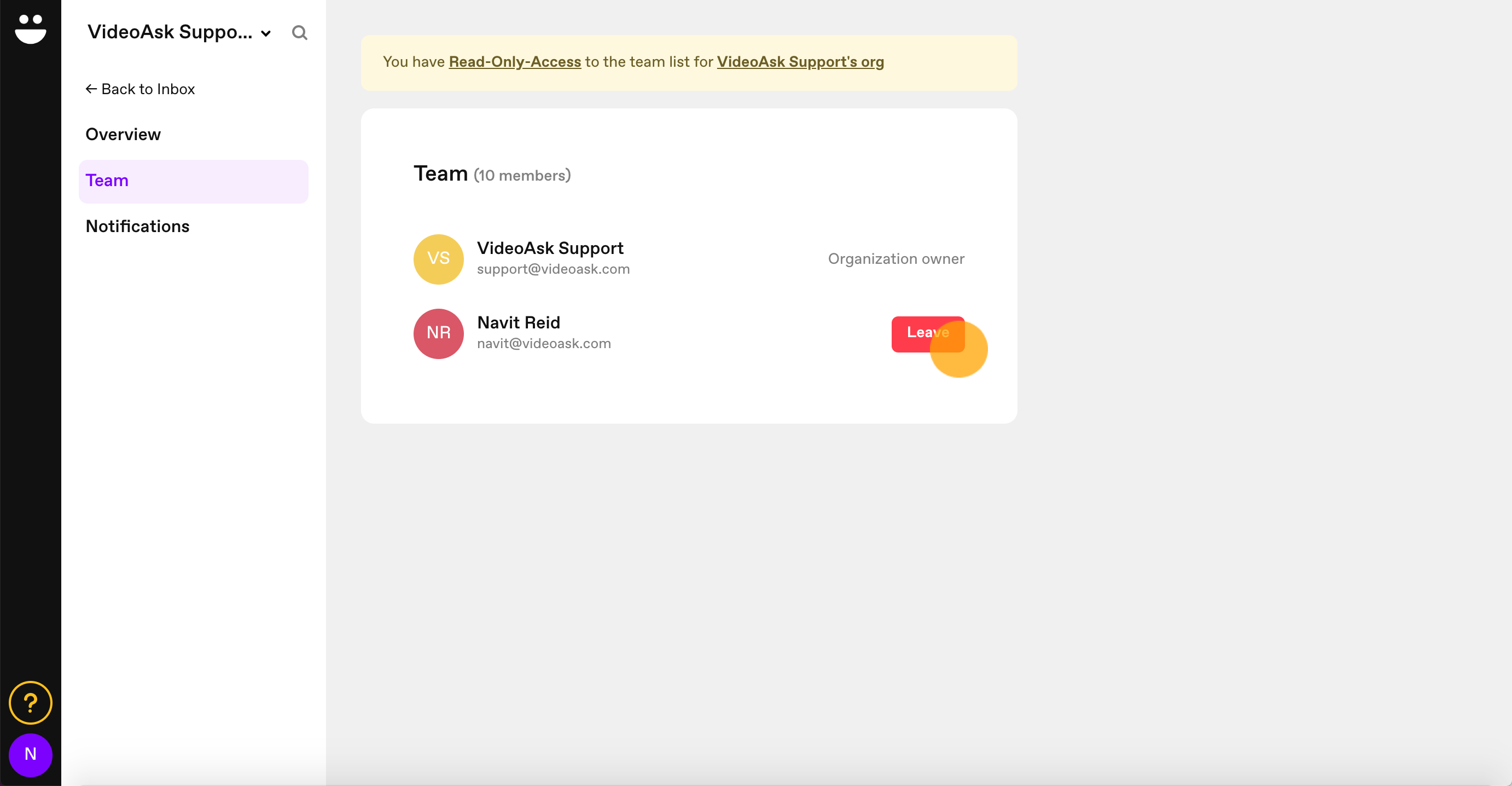 5
Confirm you would like to leave by click Yes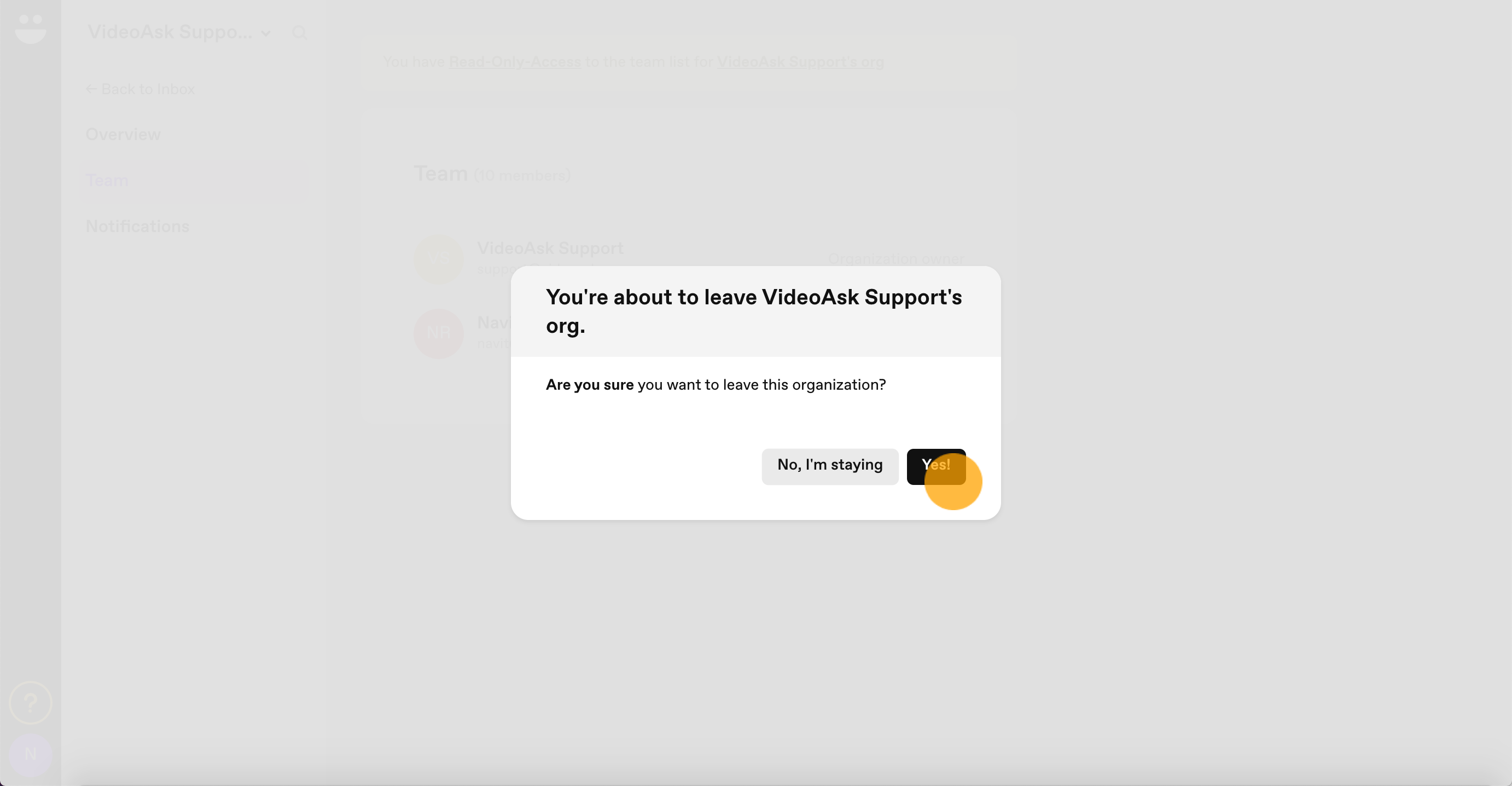 Notifications
You can manage the notifications you receive for every VideoAsk organization you are a part of.
1
While logged into the appropriate Organization, go to the Notifications tab
2
Turn notifications on to receive email notifications every time your organization receives a new answer or reply. Or choose to only receive notifications when someone replies to a conversation you are a part of.