Looking to white-label your VideoAsk URLs using your own subdomain? If you are on the BRAND plan, you can white-label your videoask URLs by pointing the CNAME of your subdomain to VideoAsk.

For the purposes of this article we assume that you are using a subdomain for your videoasks (e.g. whatever.yourdomain.com), but you can also use a top-level domain (e.g. yourdomain.com) if you desire.
Add a CNAME record
Point the CNAME of your subdomain (or domain) to the subdomain "alias.videoask.com" by following these steps:
1. Sign in to your account with your domain host provider (GoDaddy, Siteground, etc). 
2. Locate the page on your domain host provider where your domain's DNS records are managed. (The page will be called something like DNS Management, Name Server Management, or Advanced Settings.)
3. Locate the CNAME records for the subdomain you want to use. You may already have one or more records resembling:
4. Add a new CNAME record for your subdomain (e.g. ask.yourdomain.com) making sure it points to: alias.videoask.com
5. Save your changes and wait up to 24hrs for the new DNS information to propagate.
6. In the meantime, go back to your VideoAsk account and add your subdomain (e.g. ask.yourdomain.com) to a brand you have created.
Note: this setting is only available in the web app.
Add a custom domain to your brand
1. Go to Settings

2. Select the brand you want to add DNS white-labeling to and click Edit or + Add brand
3. Enter the subdomain where you will be displaying your videoasks.
4. Once we detect your subdomain resolves to alias.videoask.com the status will be set to green and you're ready to rock. (Remember that this can take up to 24 hours for DNS information to propagate once you've made your changes on your domain hosting provider.)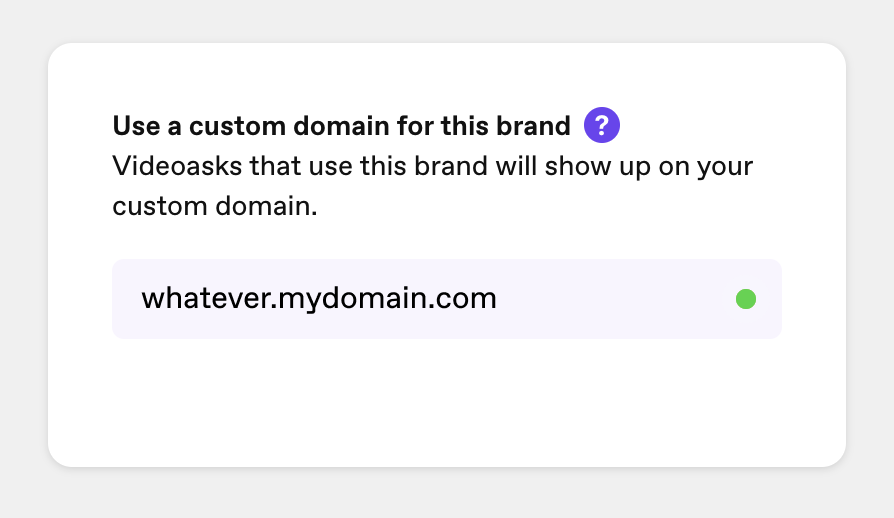 SSL Certificates
An SSL certificate will automatically be generated for any custom domain pointed to alias.videoask.com.
To trigger the creation of an SSL certificate:
1. Follow the steps above and wait until the custom domain status shows green.
2. Load a videoask with this brand.
That's it! All videoasks with your brand will now have a securely branded url (ie https://ask.yourdomain.com/jdontjik).
Custom Domain Content
Once whitelabeled, no other content aside from branded videoasks can be served or displayed on your custom domain.
The bare domain (e.g. https://ask.yourdomain.com) will redirect to your brand's redirect url.