Once you've created and shared your videoask, you'll start seeing the responses rolling in!
Checking your responses and replying to respondents is the best part of VideoAsk - it's where you really get to learn from and connect with your leads, customers, or students. 🤗
In your dashboard, you can view the responses you've received to each one of your videoasks. And, if you have enabled a contact form and the respondent left their contact details, you can reply to them with a video message!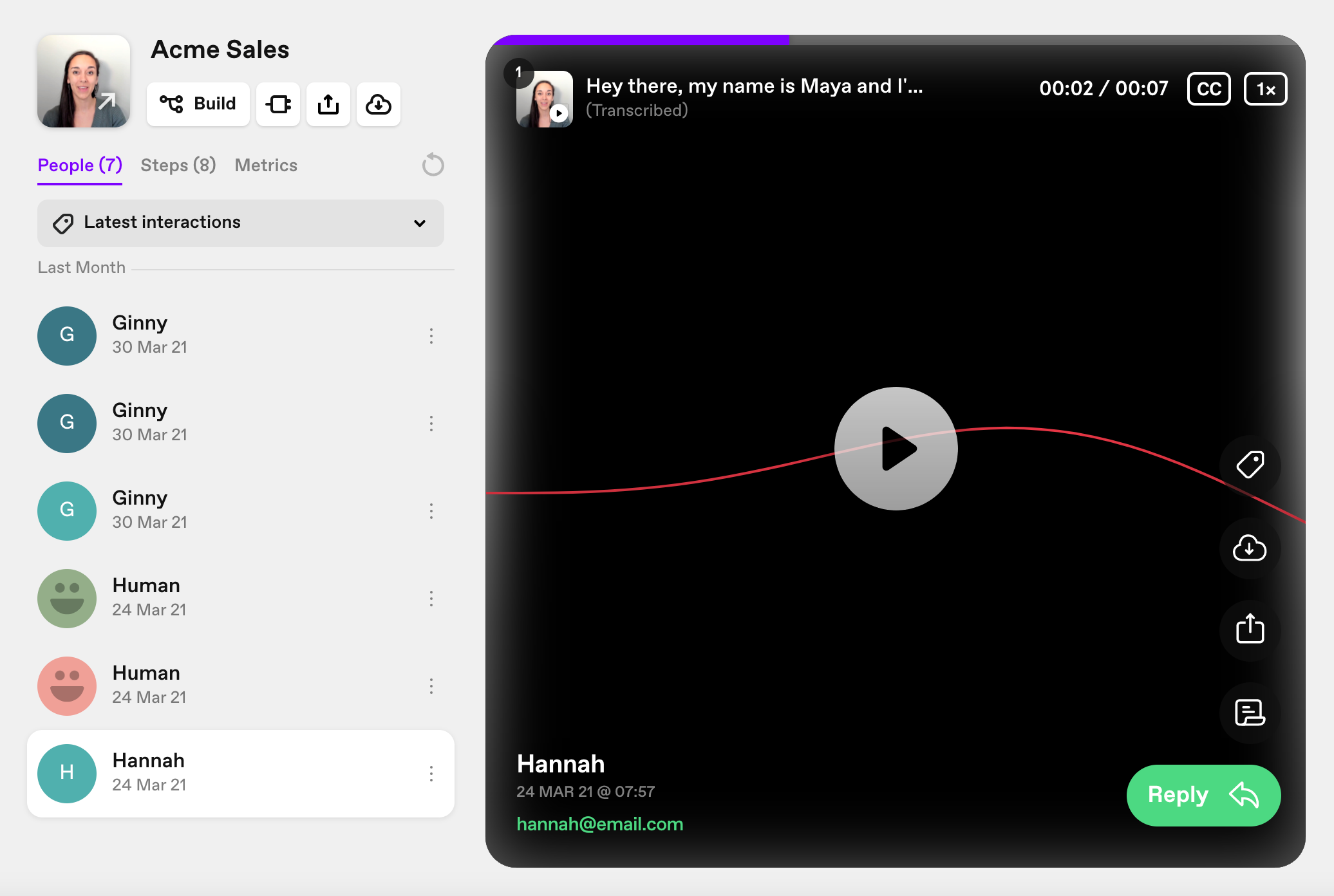 Bear in mind that responses will look different depending on the answer types you have used in your videoask, because each answer type collects a different type of data.
To view a summary of all your response data, you can view it in the metrics tab or download it at any time as a .csv or .xlsx file.
View your videoask responses 
When you login, by default your interactions feed will be displayed.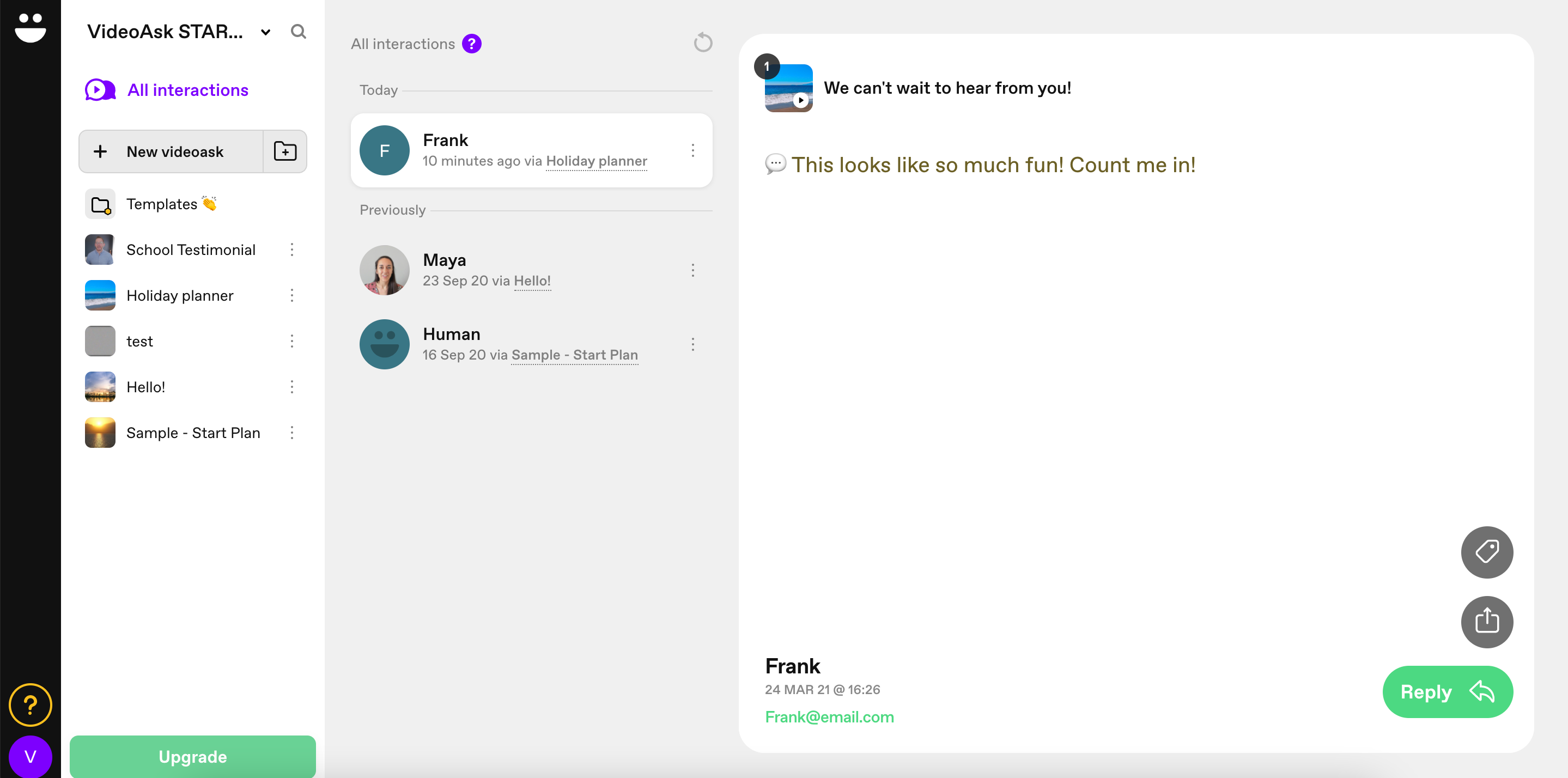 The interactions feed shows all the responses to all your videoasks, with the most recent responses at the top. The feed will automatically update when new response arrive, but to manually refresh it click the refresh icon.
To view all the responses from a specific videoask, select it.
This will open up your videoask inbox. If you have not yet received any responses, your inbox will give you options to access the videoask settings, share, connect tools, and add more steps.
Once you receive responses to your videoask, these will display in your inbox in the order they are received.
Select a response to view it.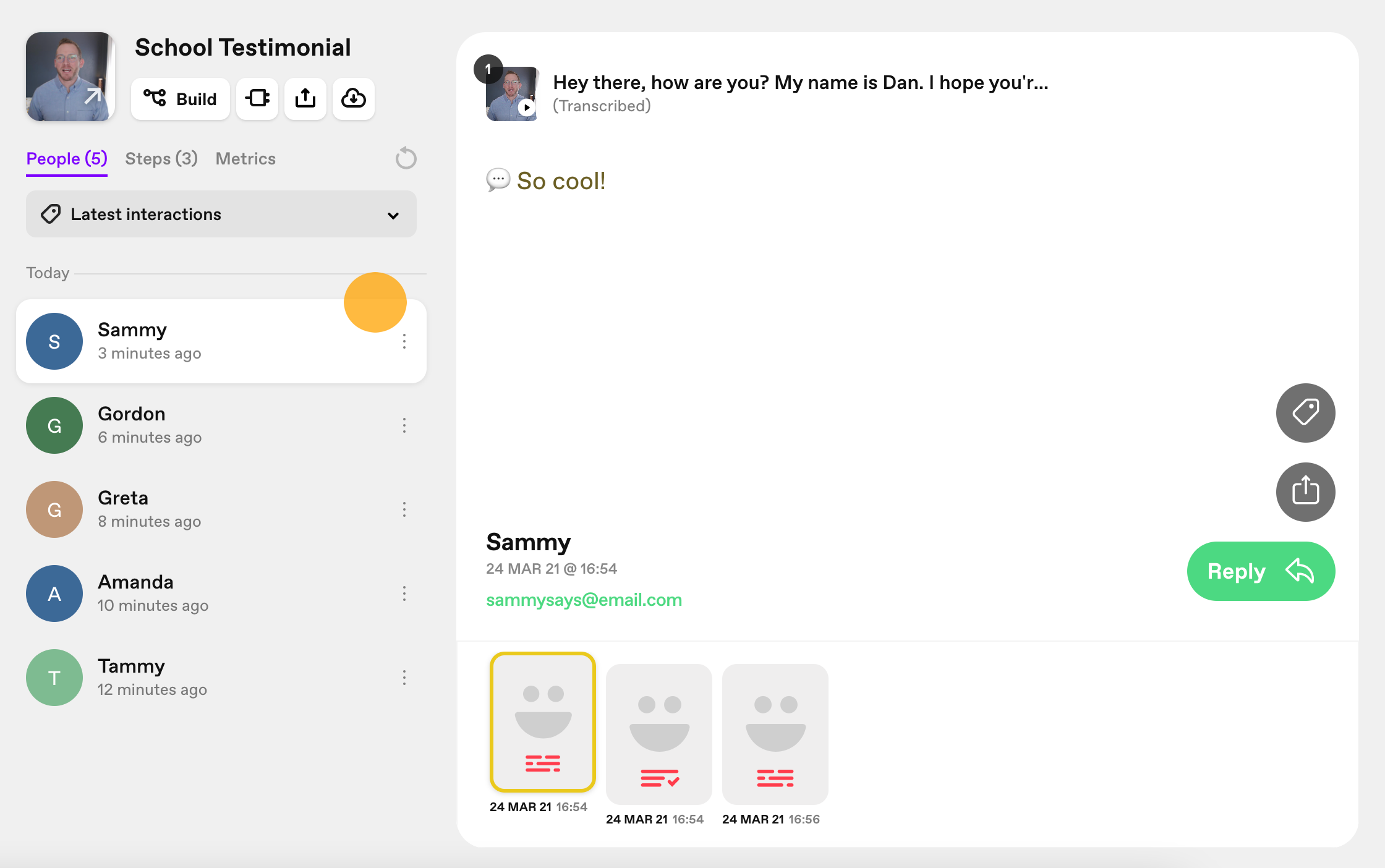 If it is a multi step videoask, click each step to view its answer.
Click All interactions to return to the interactions feed.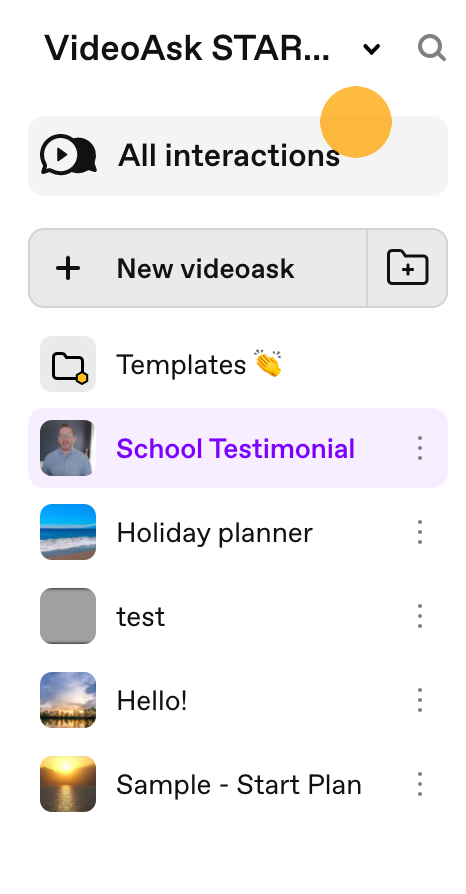 Send a reply
If the respondent has left their contact details, you can reply with a video to continue the conversation.
1
To send a video reply, select the response you want to reply to and click Reply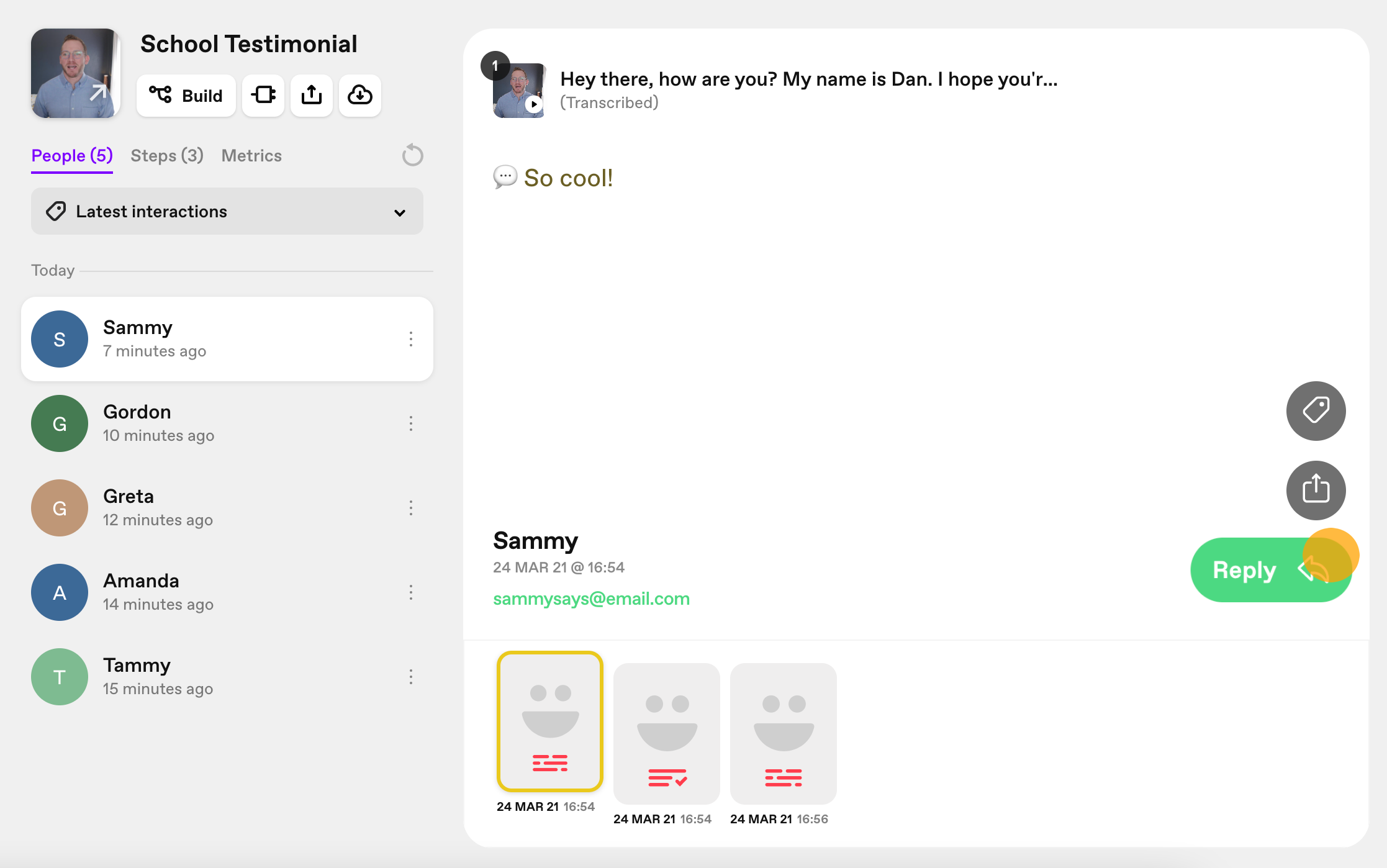 2
If you would like to use a script, toggle + Notes to type any prompts you need to remember.
3
If you would like to respond with a screenshare instead of recording yourself, select Record your screen at the top of your screen

4
When you're ready, click Record to start recording your video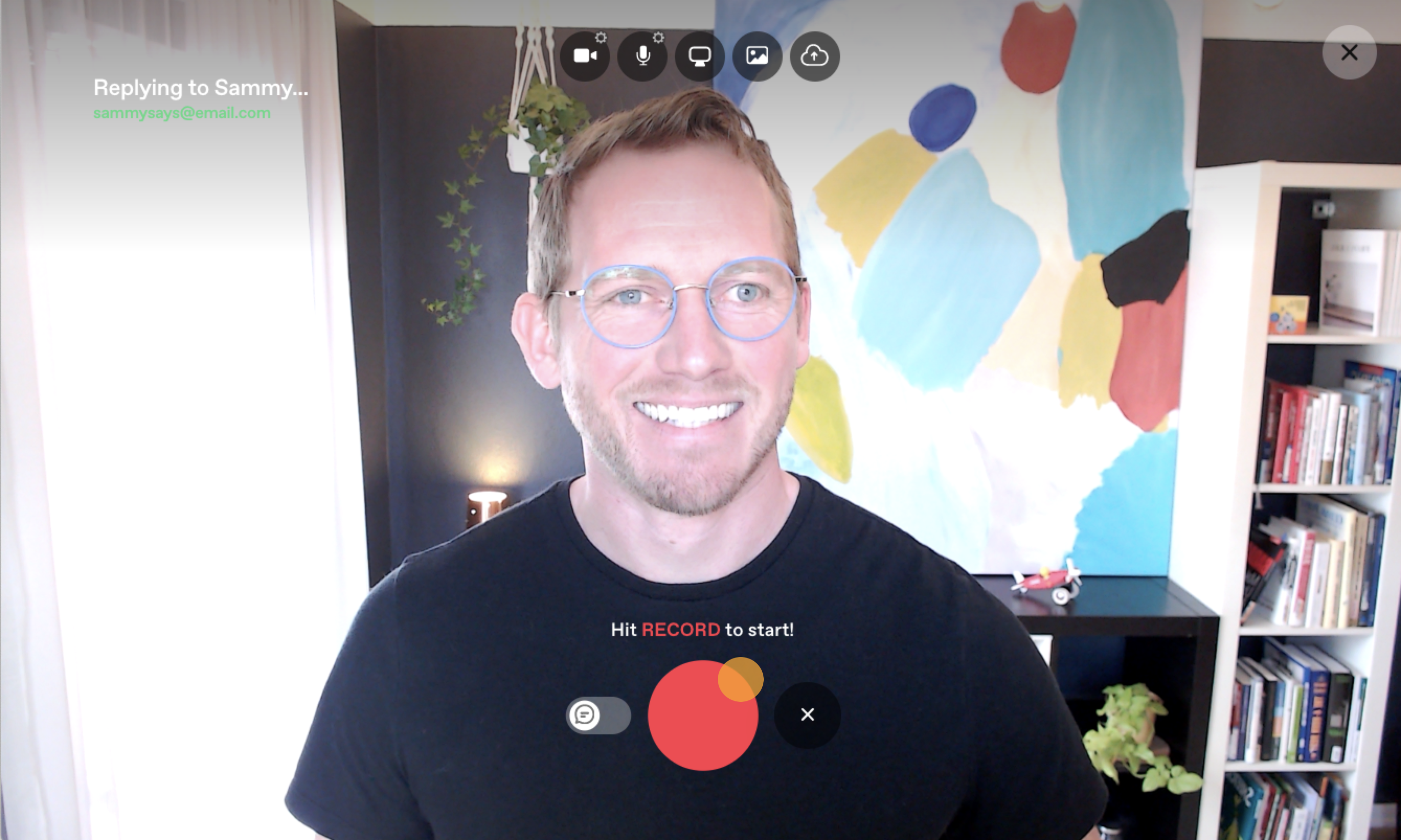 Pro tip: Use the spacebar on your keyboard to start and stop recordings to make it easier to keep your eyes on the camera the entire way through!
5
Preview your video. If you're happy with it, select Yes. If not, select No to re-record.
6
Add overlay text to your response if desired, including links.
7
If you include overlay text, you can choose the text size, when the text will appear, and whether to darken the video for better readability.
8
Choose whether to send your video response as fit or fill. Fill videos will take up the entire frame, fit videos will show the entire width of the video.
9
Finally, choose the Answer type. An Open answer lets a respondent reply to you with a text, audio or video message. If you don't want to allow them to reply, choose Button as the answer type and add button text and a link.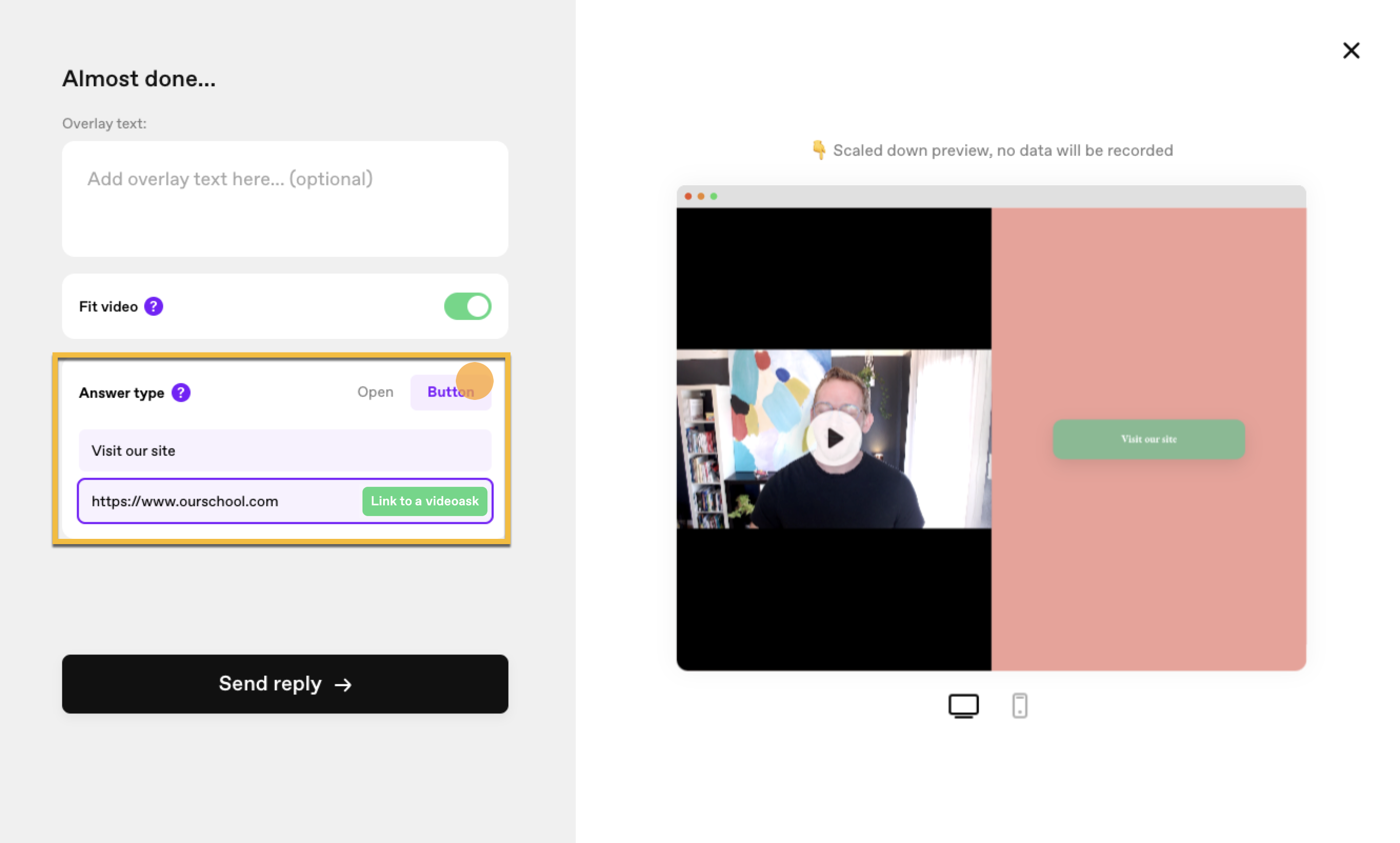 10
When you are ready, click Send reply
Note: Your reply may take a moment to upload, depending on the speed of your connection. Do not close your browser window or tab until the upload has finished or else your respondent may receive a reply with an empty video file.
Once you have sent your reply, it will appear in your conversation with your respondent.
...and your respondent will receive an email notification that you have replied to them!