Videoasks can be shared in a variety of ways: by being embedded on your website as a widget or in an iframe, shared directly by text message or on social media with a link, or sent in the body of an email.
To send out a videoask to a list of existing contacts, you can add a videoask to the body of an email or newsletter with a snippet of html code. This will embed the videoask in your email as an animated gif and link.

Note: Email clients do not currently allow a true embed of video content. Because of this, when you embed a videoask in an email it is a partial embed with a visual of a video that cannot be played inside the email message. This means that when recipients click a videoask in an email they will be directed to a new tab to view and interact with it. 
Embed a videoask in an email
You can quickly generate the email embed code for each of your videoasks. This will need to be pasted into the body of the email, in the code editor if your email client has one.
1
Select Share & Embed for your videoask.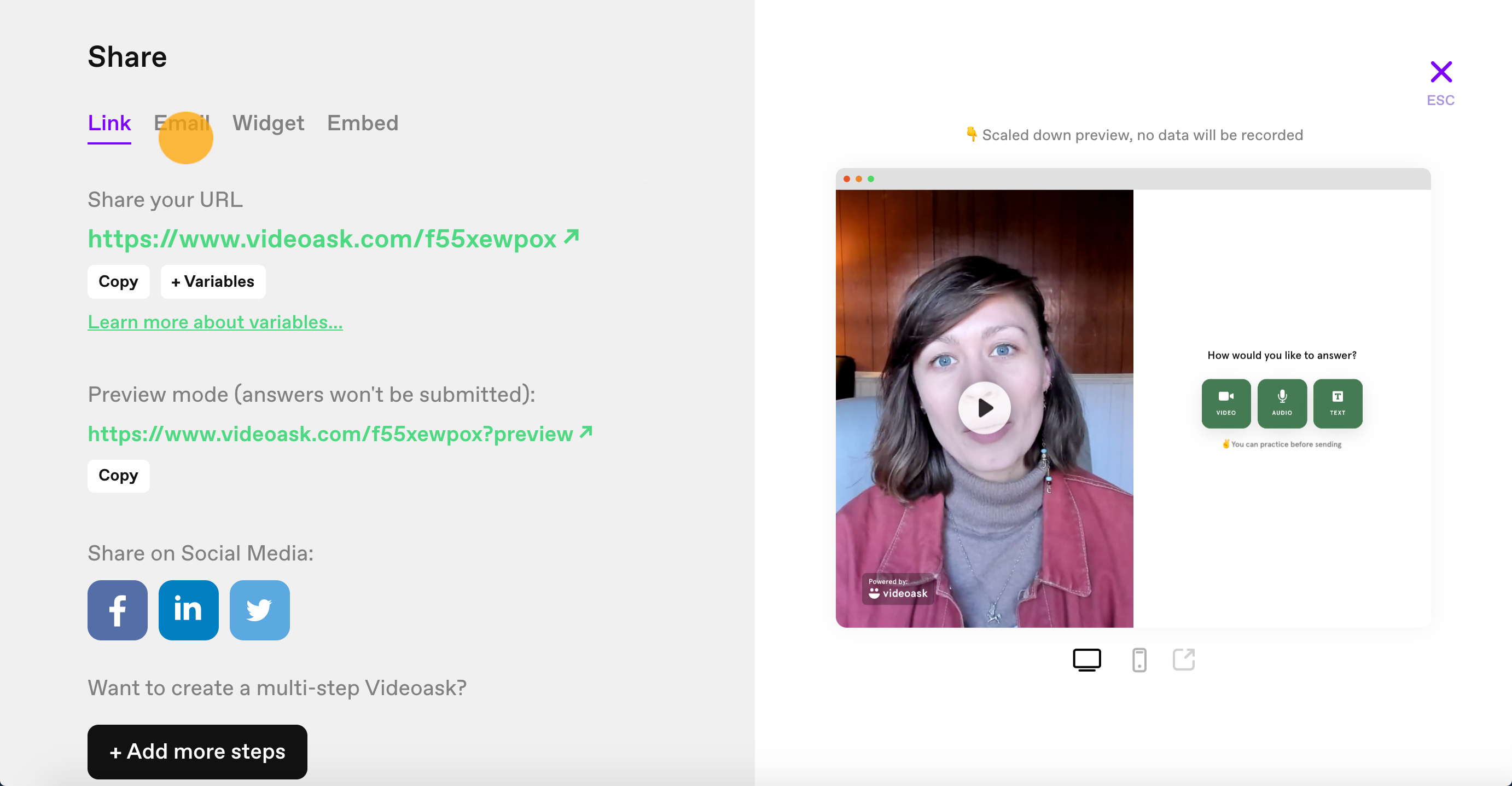 3
Now you will be prompted to choose whether you will be sending an email to one person or multiple people. This question is asked so we can add variables to the videoask url in the code (if you're sending the email to a single person). Click Send to one person or Send to multiple people.

Send to one person
1
If you choose Send to one person, you will be prompted to enter the name and email of the person you will be emailing your videoask to. Enter your recipient's contact details and click Continue.
The contact information you just entered has now been added as variables to the videoask URL in the embed code. Passing the contact information this way means the person receiving your videoask won't have to enter their contact details, but you'll still see that their videoask response came from them!
2
Click Copy to copy the code.
3
In your email client or email marketing tool, paste the code into the email body. For Gmail this can be done in the regular email editor.
For other tools, such as Intercom, you may need to use the email's html editor:
Send to multiple people (and use merge tags)
If you choose Send to multiple people, the videoask URL in the code you copy will not include any contact variables. Without these variables, respondent contact information will not be known unless they are collected with a contact form. 
With this option, however, you can also use variables and merge tags to dynamically populate respondent contact information en masse. To do this you will need to manually update the embed code.
You can add the following variables to the videoask URL to pass contact name, email, and phone number:
#contact_name=
#contact_email=
#contact_phone_number=
To use these variables with merge tags, add them to the end of the videoask URL in your embed code following the appropriate formatting for the email tool you are using.
For example, in Mailchimp:
2
Paste the code into a Code block in the Mailchimp editor.
3
Now you'll need to add the variables with Mailchimp's merge tags to the end of the URL.

Add this after ?autoplay=true in the embed code.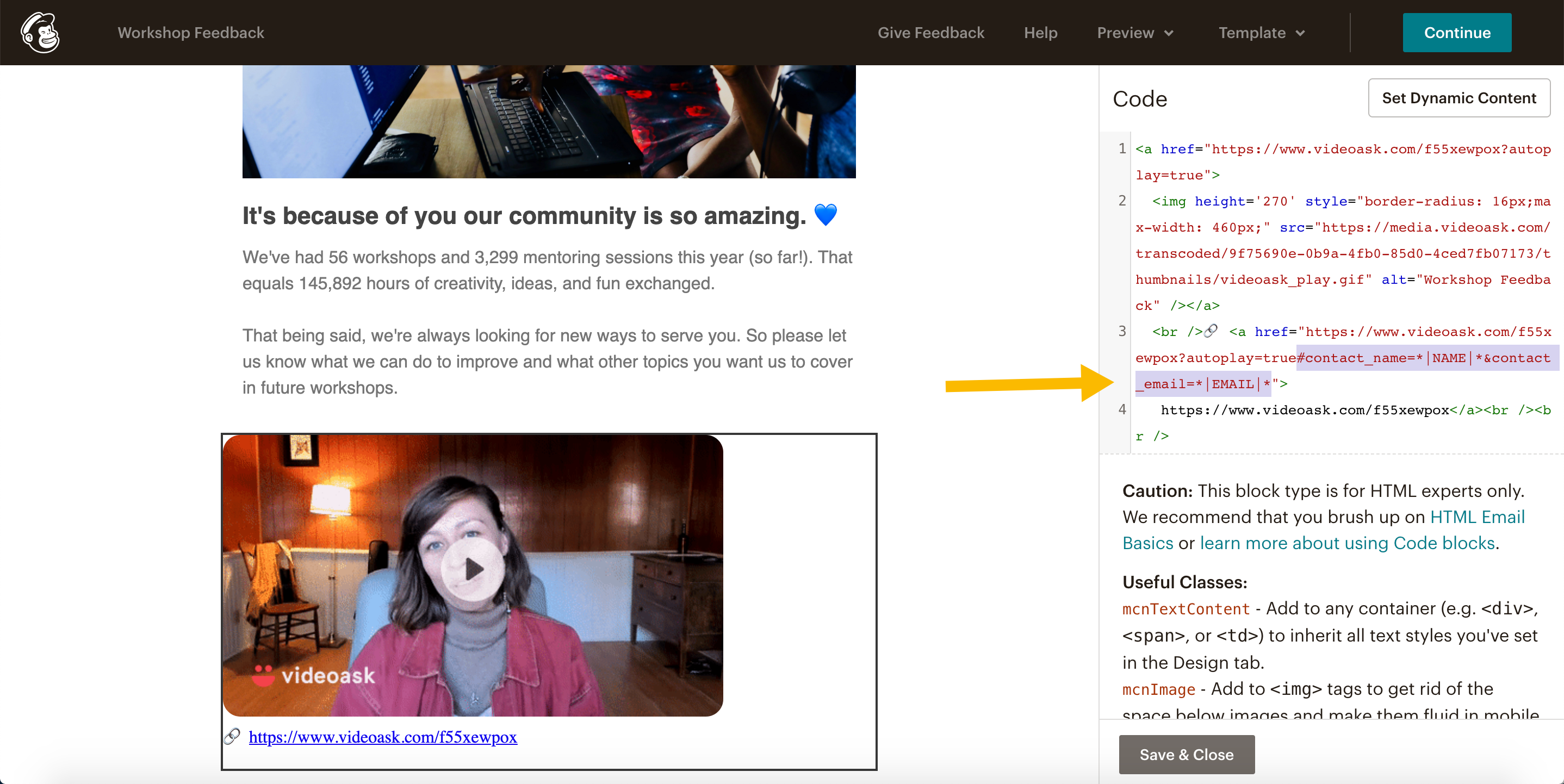 That's it! Click Save & Close to save your changes.
Now when you send out your email or newsletter each person on your mailing list will receive a unique videoask URL with their contact information. When they answer your videoask using that link, you'll receive their responses in VideoAsk with their contact details without needing to use a contact form.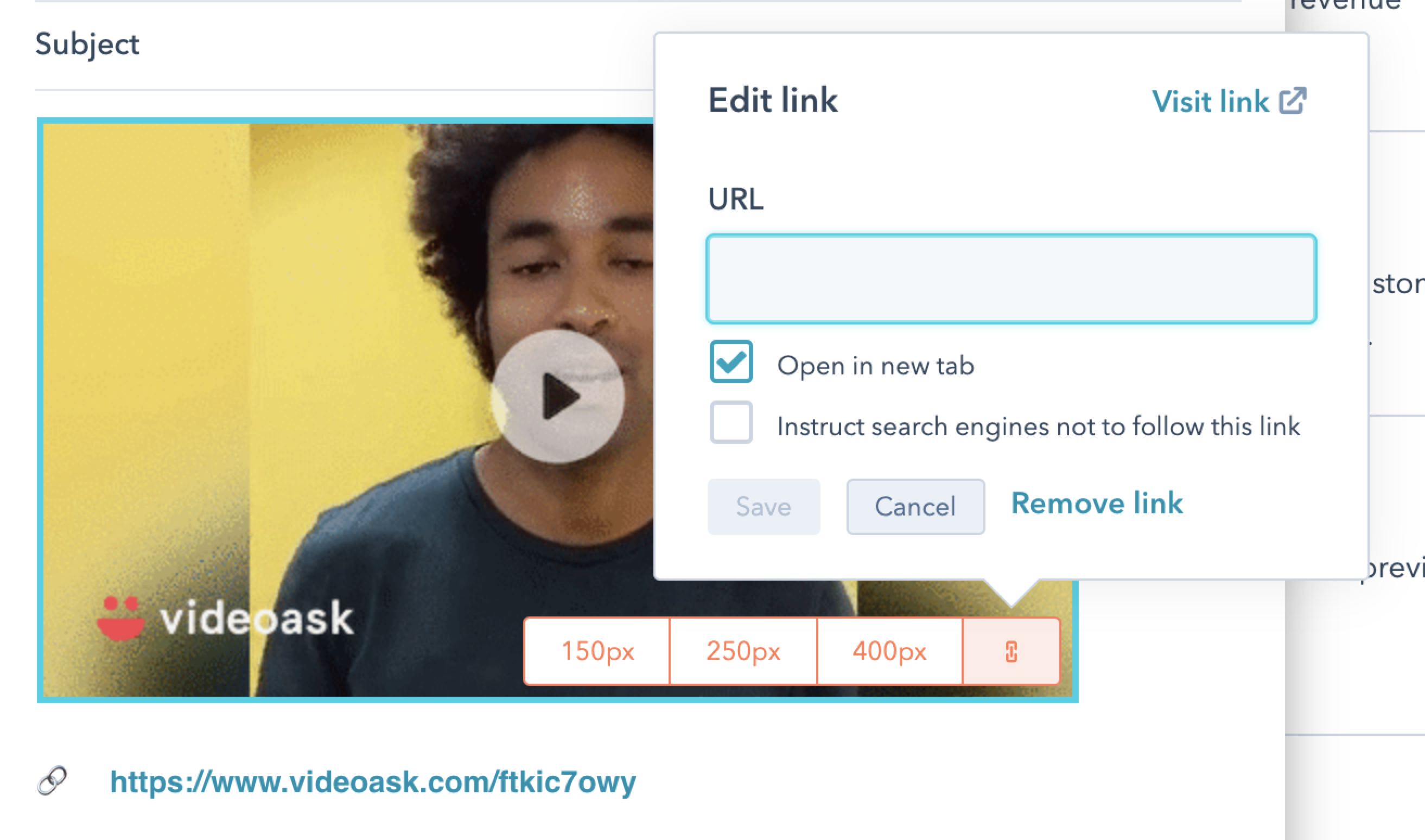 Note: If you use this method in Hubspot, the gif will not be "clickable" because Hubspot removes this functionality. The link to view and interact with your videoask will appear below the gif, but nothing will happen if the gif is clicked. To add the link back to the gif, you can do so manually.