Screensharing is a great way to visually explain workflows, features, or to troubleshoot problems.
If you want to use a screen recording in your videoask or reply to a respondent with a screenshare, you can do this directly within VideoAsk.
Note: Screensharing is only available in the web app. To share your screen on a mobile device, record your screen using the native screen recording app and upload the video file to VideoAsk.
Record a screenshare
Each time you record in VideoAsk, you have the option of selecting the video source. Recording a screenshare is one of these options, both when creating a new step and when replying to respondents.
If you want to send a screeenshare to a respondent, click Reply. 
Then select Record your screen from the icons at the top of your screen.
2
Choose which screen you would like to share.
To share your entire screen (including your desktop and all windows), click the screen preview in the Your Entire Screen tab.
You can also share a specific application window. Click the Application Window tab and select the application window you want to record.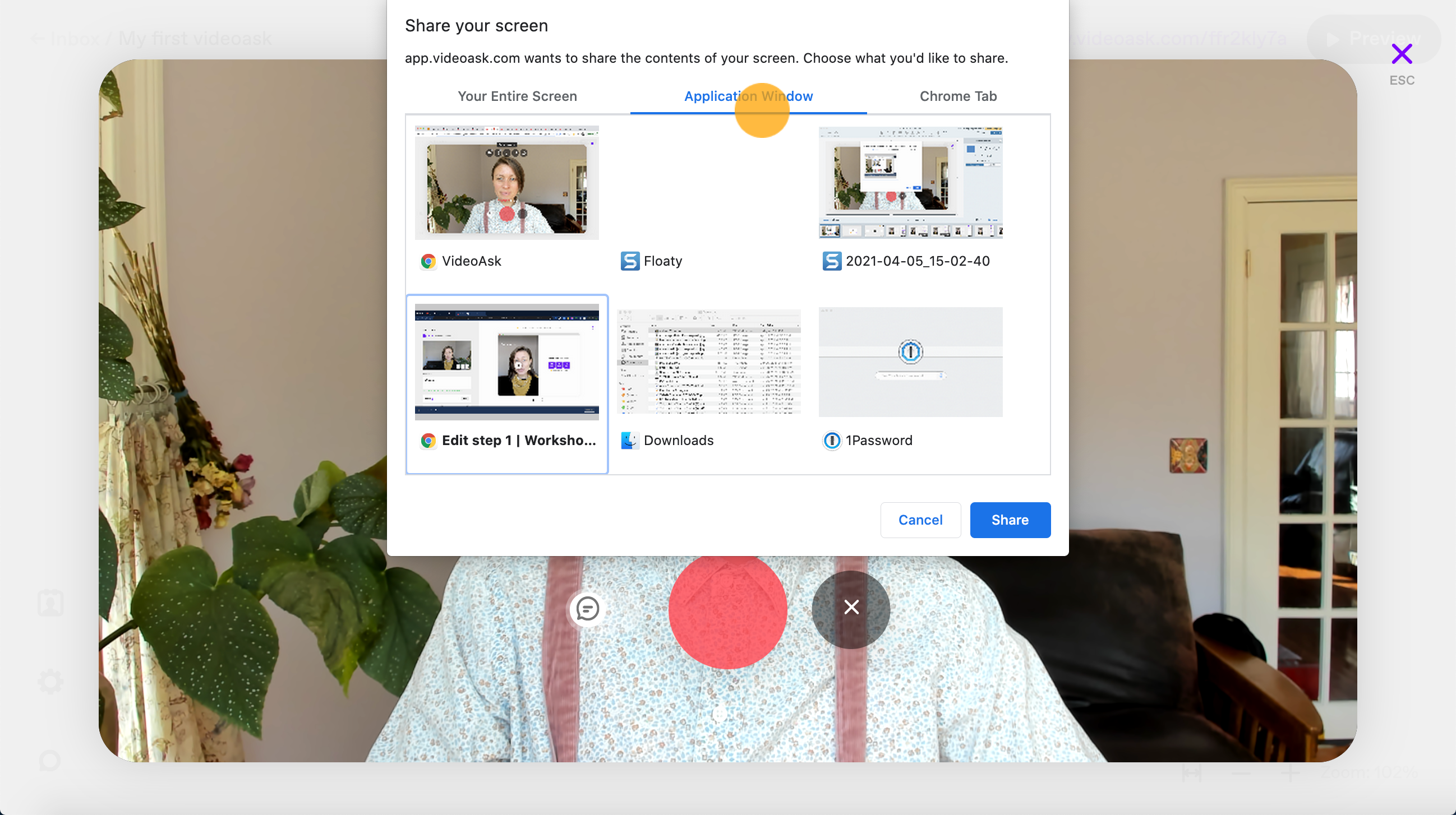 Your third option is to record a specific browser tab (in this case, Chrome). Click the Chrome Tab tab and select which tab you want to record.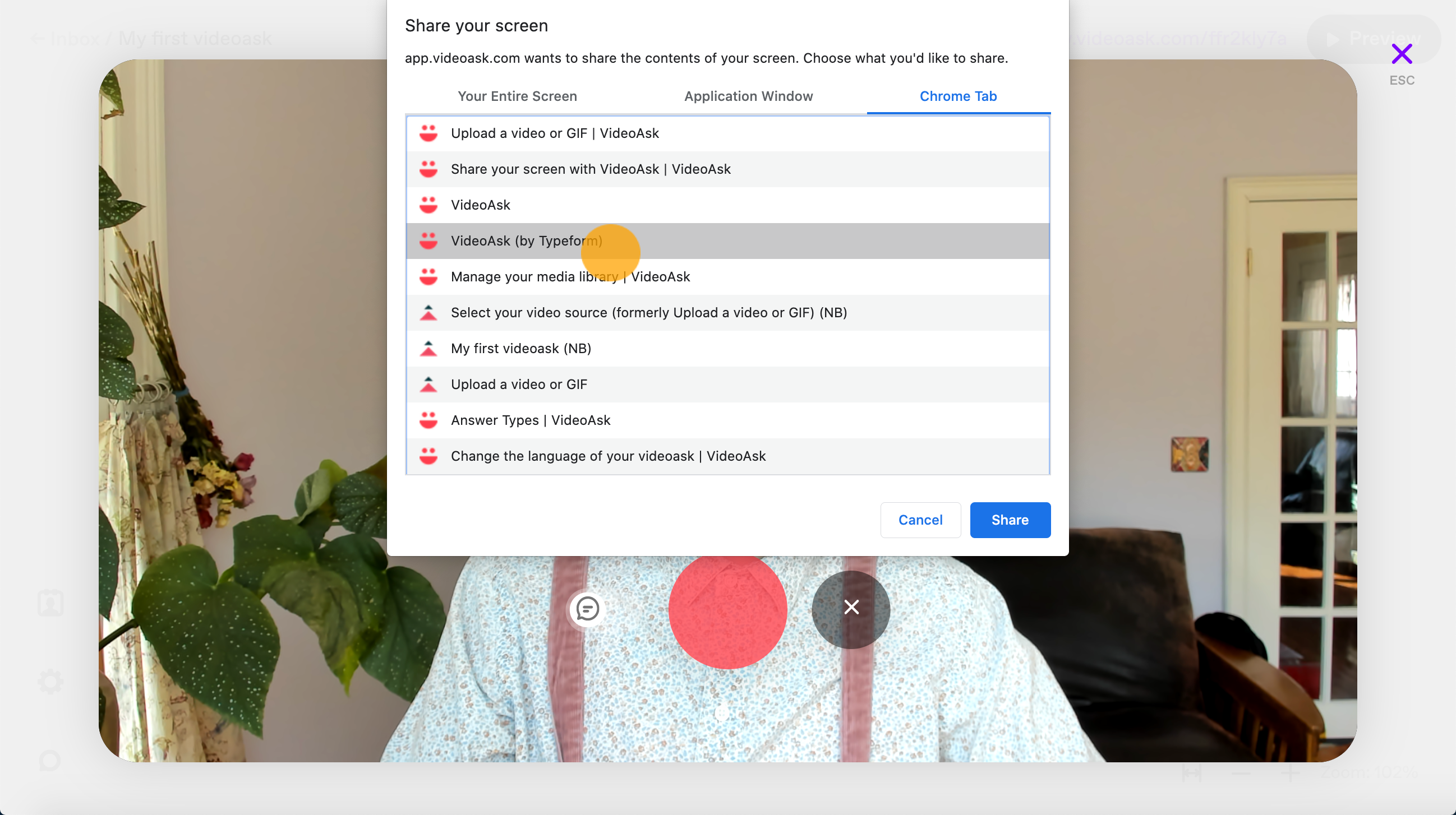 3
Whichever option you choose, click Share when you're ready to start sharing your screen.
4
Look for the blue rectangles to indicate that you are sharing your screen.
5
Though you have started sharing your screen, you have not started recording. Switch to the VideoAsk tab or window and press the red button to start recording.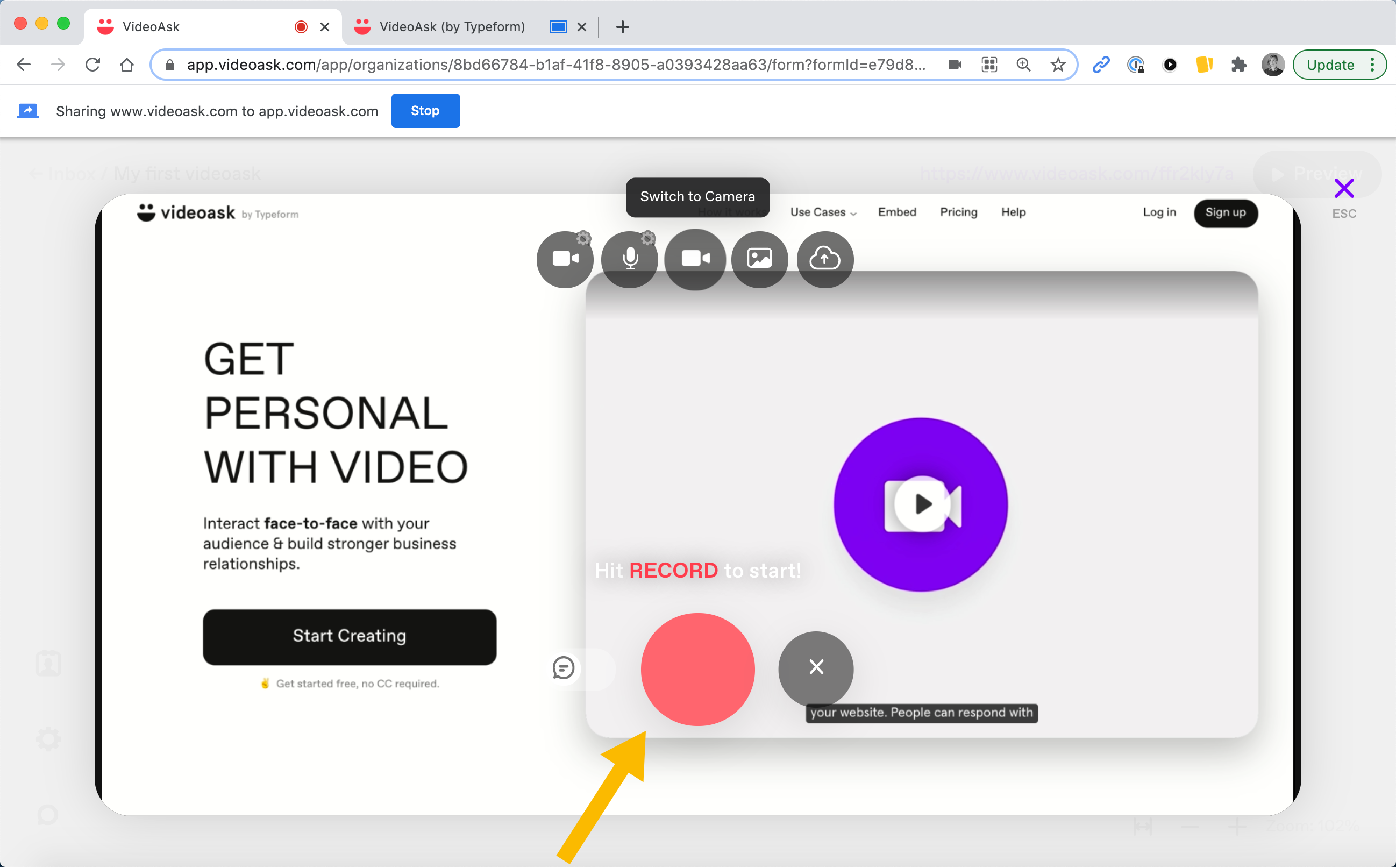 6
You will receive a 3 second countdown before recording begins, similar to the process when recording with your webcam.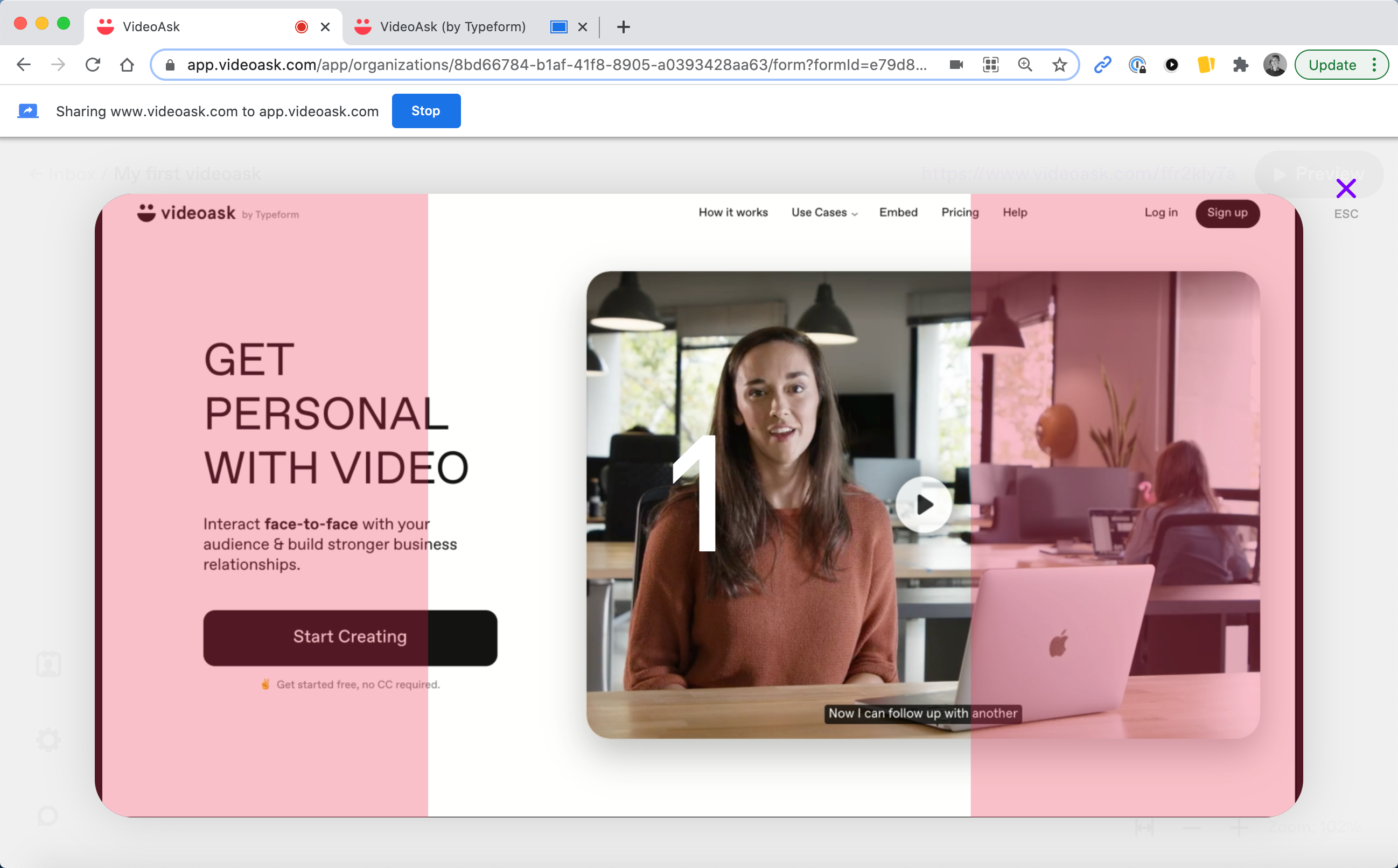 Note: This countdown and the timer for your recording will only be viewable in the VideoAsk tab or window, not the one you are screensharing.
7
Make sure to switch to the right window or application while you are recording. When you want to end the video and screenshare, click the Stop button. 
8
Watch your screenshare in VideoAsk. Click Yes if you're happy with it, or No to give it another go and re-record.
That's it! Now your screen recording is ready to use in your videoask or be sent to your respondent.
Because it's usually important to see the entire screen of such recordings, we recommending use the Fit video option for these videos.
Note: Sometimes your device can get confused about what exactly it should be recording. If things go a little funky and you can see lots of mirror images of your videoask recording page, just open another tab or window once you've hit the record button and you'll be able to share your screen as normal.
I've followed the steps above, but I'm still not able to share my screen. 😕
If you're unable to share your screen after clicking the Record your screen icon, this may be because this option has not been enabled in the operating system settings. 
If you're on an Apple device, go to System Preferences and select Security & Privacy.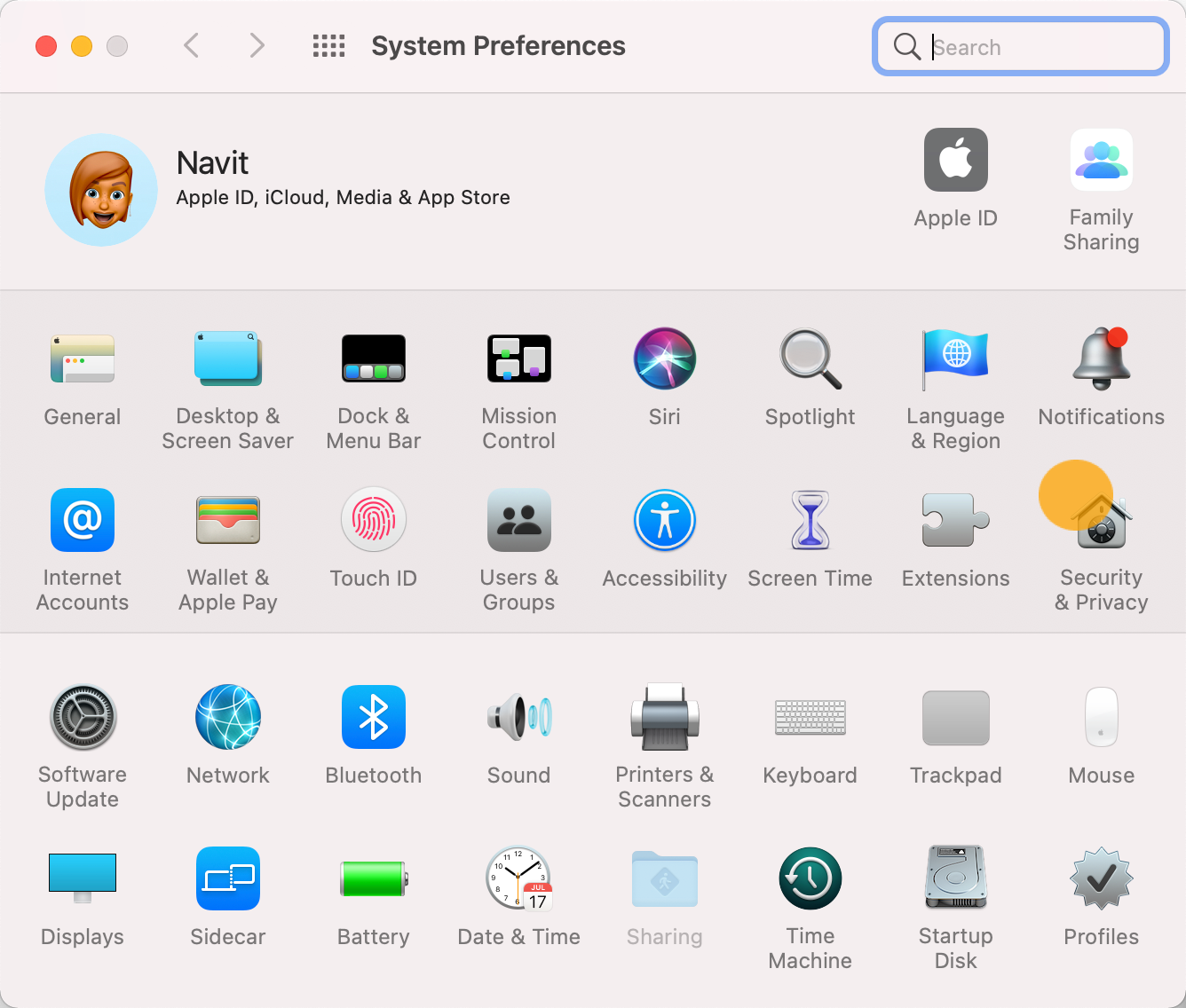 Scroll down to and select Screen Recording.
Make sure you have given permissions to the browsers you are using VideoAsk in.