A videoask is made up of a step or multiple steps and an optional contact form. Depending on the answer type selected, the step can be interacted with or responded to in different ways. 
When creating a new videoask or step you will be prompted to select an answer type. By default the Open-ended answer type will be selected, but you can easily change it to any of the options below.
Each answer type has its own configuration options, depending on its capabilities. Bear in mind that although respondents can choose from options allowed within the answer type, a response must be given for each step of your videoask (ie each step is "required").
If you have not yet collected responses, you can also change the answer type of an existing videoask step.
Note: Only one answer type may be selected per step. You cannot combine answer types for a step.
Open-ended
Open-ended answers allow your respondents to leave a video, audio, or text response. 
Configuration options allow you to enable all, some, or only one of these response formats, and set the time limit for audio and video responses.

Voice
This answer type prompts respondents to record their questions and automatically receive answers back, as though they are speaking to a human chatbot.

While their question is being recorded, AI technology uses categories and logic to match the respondent to the step of your videoask that best answers their question.

Multiple-choice
The multiple choice answer type is incredibly versatile. It can be used to collect ask simple Yes/No questions, as a navigational menu, or to create complex lead qualification funnels through polls and surveys. This is one of two answer types that can be used with conditional logic.
Multiple selection or option count labels can be enabled for better visibility on mobile if you have many multiple choice options. 

Button
This answer type gives you a single button with a customized call to action. It is useful as a navigational tool (ie for an introductory step) to allow respondents to review information or confirm they want to proceed before moving through your videoask. 
Because minimal information is collected with this answer type, data collection is turned off by default.

Calendar
The calendar answer type lets respondents view and book appointments on your calendar from directly within your videoask. Currently Calendly, Hubspot Meetings, Acuity Scheduling, and ScheduleOnce calendars are supported.
To embed a calendar in your videoask, simply copy and paste your calendar link. If a contact form is enabled prior to a calendar step, respondents' details will automatically pass through to the appointment booking.

Net Promoter Score
Use the NPS (Net Promoter Score) answer type to collect feedback from your respondents on a scale of 1 to 10. This answer type can also be used with conditional logic.

NPS scale labels can be customized, however the numbers of the scale are fixed. Learn more about collecting NPS feedback and check out our NPS VideoAsk Template. 
File Upload
The file upload answer type lets you collect files or images from your respondents with a customized call to action.
All file types are supported, so long as they are under 10MB!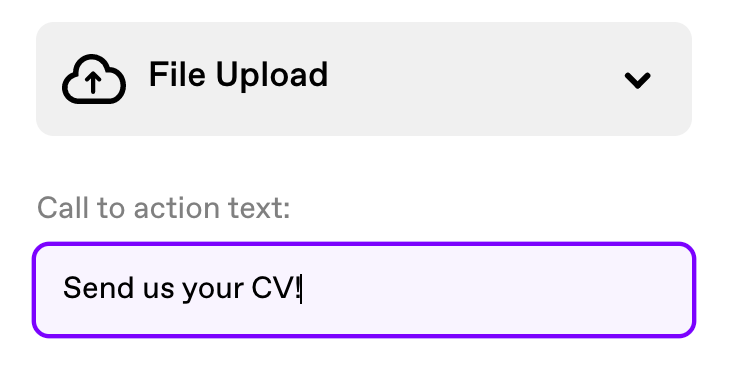 Tip: For files larger than 10MB use the "Open-ended" answer type and enable "Text" only. Then ask your respondents to send a link to their file.
Payment
The payment answer type can be used to create a paywall or collect payments within your videoask using Stripe. When this answer type is used respondents will be forced to pay the amount you have set before they can proceed through the rest of your videoask.
The currency and payment amount can be set for each payment step. There is no additional surcharge or processing fee for payments processed in your videoask beyond those charged by Stripe.