Product updates
🚀
July 5
Direct messages (Beta)
Send a videoask DM to anyone in your contacts list.
July 4
Advanced logic
Segment and route respondents based on what they said in previous questions by adding different conditions.
June 15
Referral Program
Get 50 extra minutes when you tell a friend about VideoAsk and they become a paying customer. Learn how.
June 14
Zendesk Integration
You can now offer video support at scale by integrating with Zendesk.
May 31
Drop-off analysis
Get a granular view on the performance of each step in your videoask funnel (landings, views & completes) to make sure your candidates are getting to the end.
May 25
Greenhouse Integration
Send your videoask responses directly into your favorite Applicant Tracking System (Coming soon: "Lever" integration).
May 21
Auto-classify candidates with NLP & AI
Categorize candidates using NLP & AI classification. Topics will be scored based on relevance & included in JSON data when pulling data via webhooks or API.
AI classification is available on our Enterprise tier: Talk to our sales team
April 30
Live Calls
Funnel hot leads into a live face-to-face call & convert them immediately. Read all about it here.
April 24
Voice powered chatbot (a.k.a 'The Human Chatbot')
We've finally integrated into VideoAsk, the 'Human Chatbot' experiment we demoed last year. The 'Voice' answer type is now available on our 'Brand' tier. Read all about it here.
April 17
Send your Wistia videos to VideoAsk
Yup you heard it, you can now export your videos directly on Wistia to VideoAsk! Learn more.
April 14
Linear view in new builder
After popular demand, we've re-introduced the linear view of our old builder into the new VideoAsk builder.
April 1
Bulk Downloads
Download all the video & audio files from any given videoask in one go.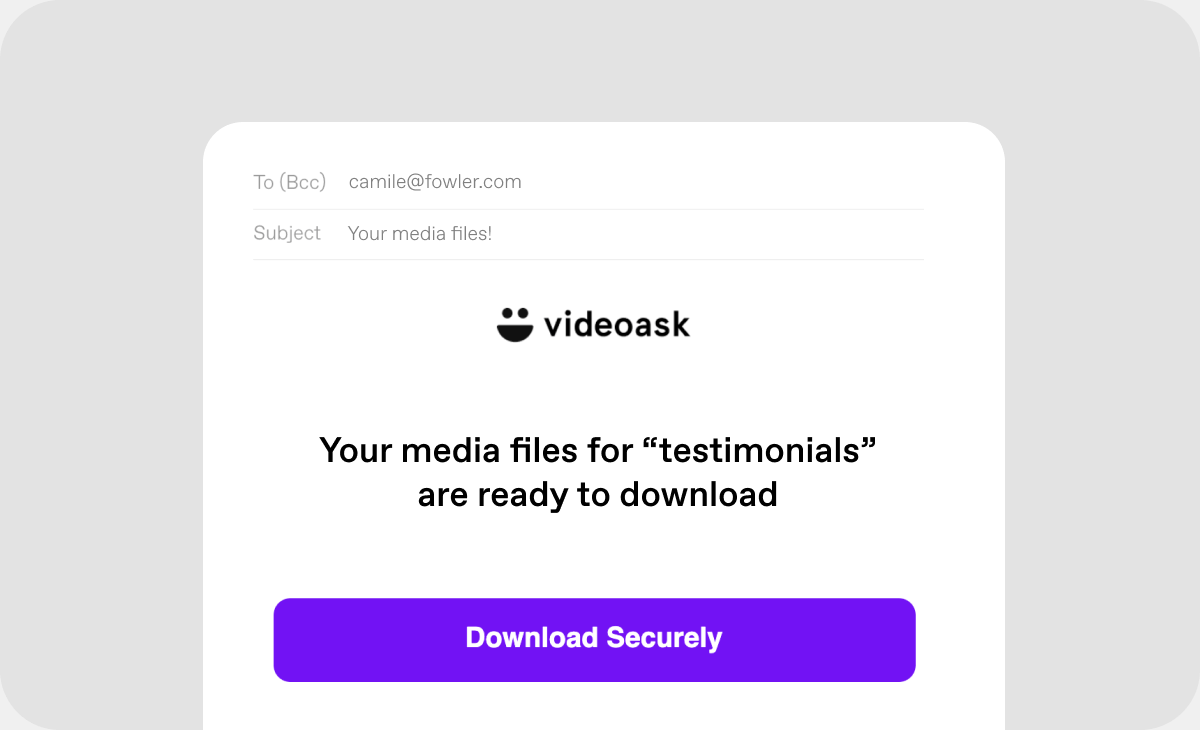 March 29
Contacts Directory
Access all your contacts in one place and view all the interactions they've had with you. Coming up...Send a direct video message to a contact without having to build an entire videoask.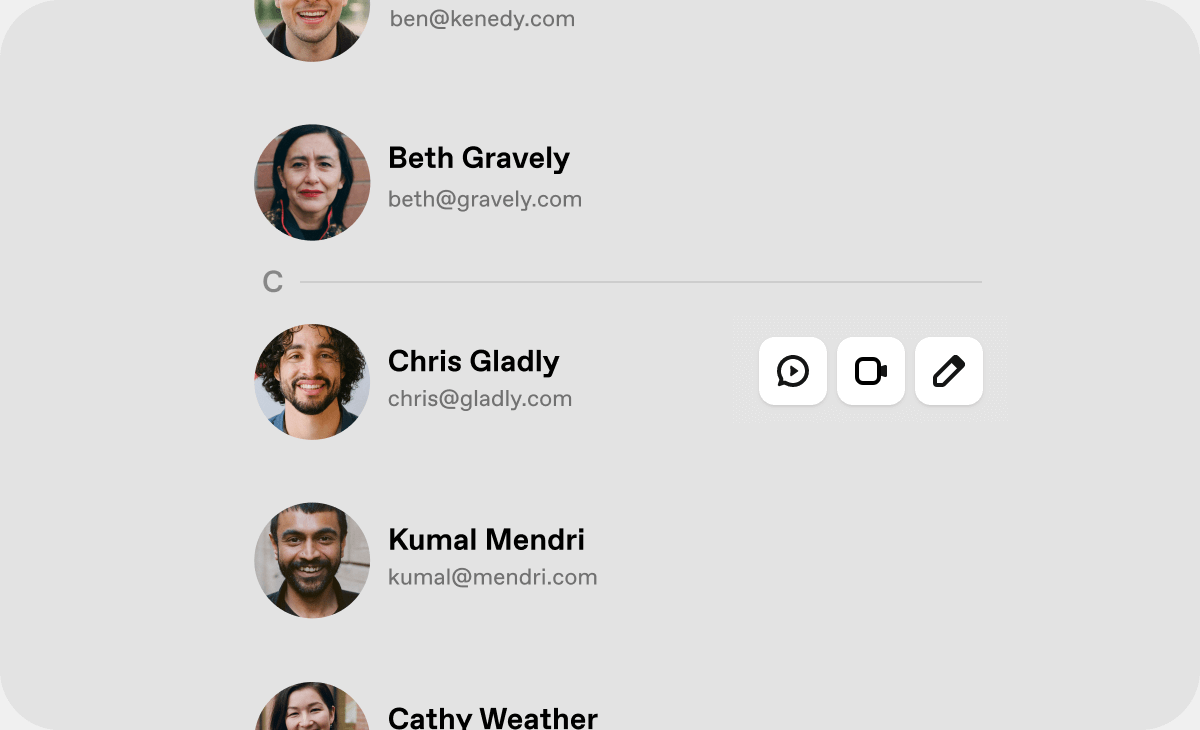 March 17
Embed videoasks inside an Intercom widget
Access all your contacts in one place and view all the interactions they've had with you. Coming up...you heard it, you can now use VideoAsk inside Intercom.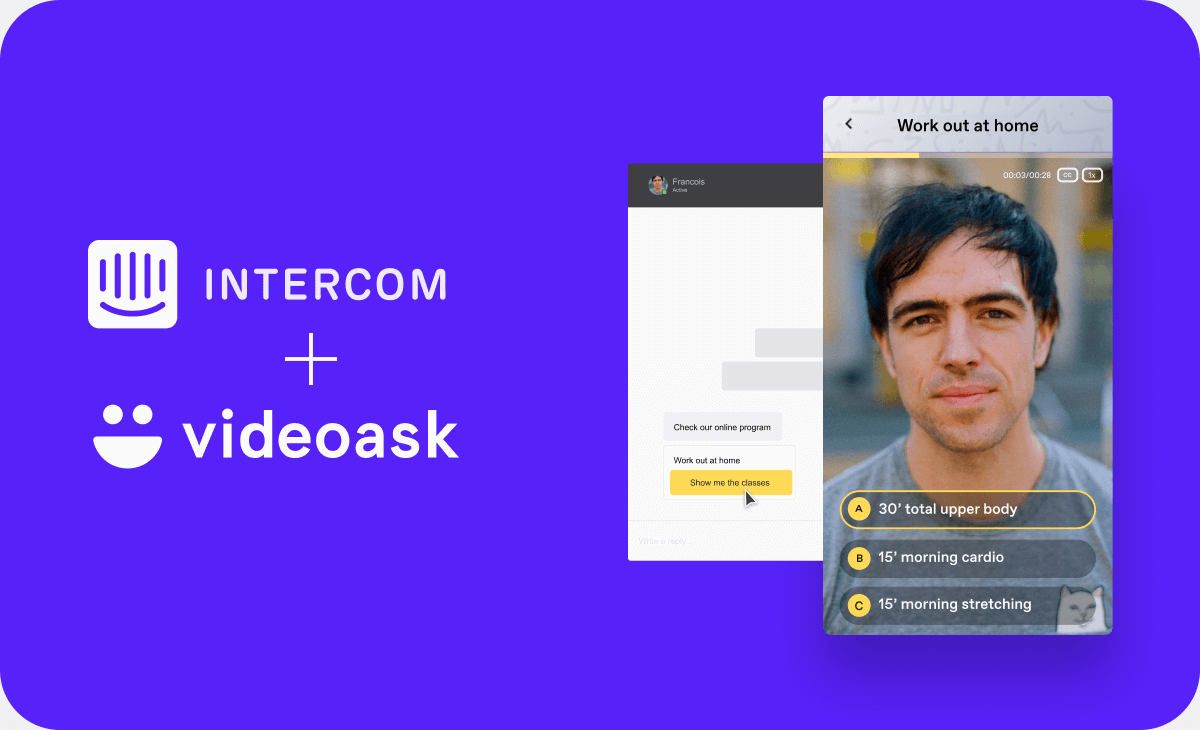 March 12
VideoAsk for iPad
Build videoasks & do everthing you can currently do on the iOS app, but with a custom layout optmized for iPAD.
Download it on the App store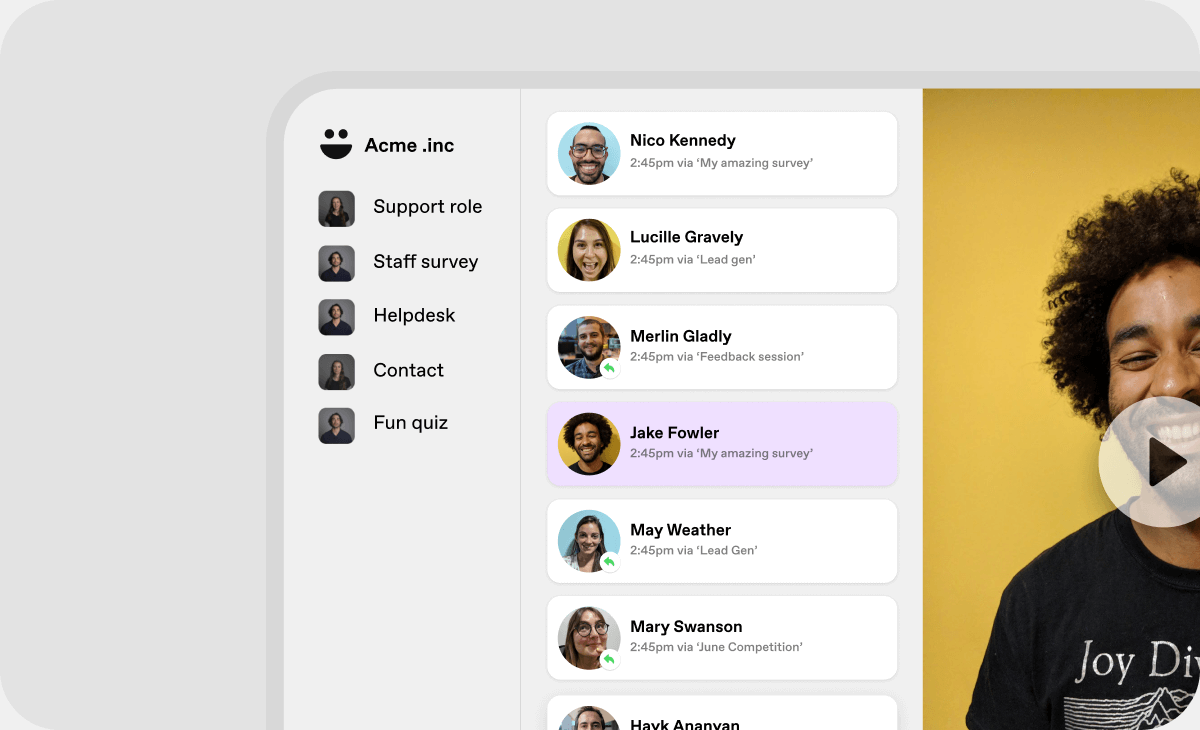 March 4
VideoAsk for Android (companion app)
We've built a companion app for Android so you can stay up to date with your latest interactions and reply back.
Download it on the Play store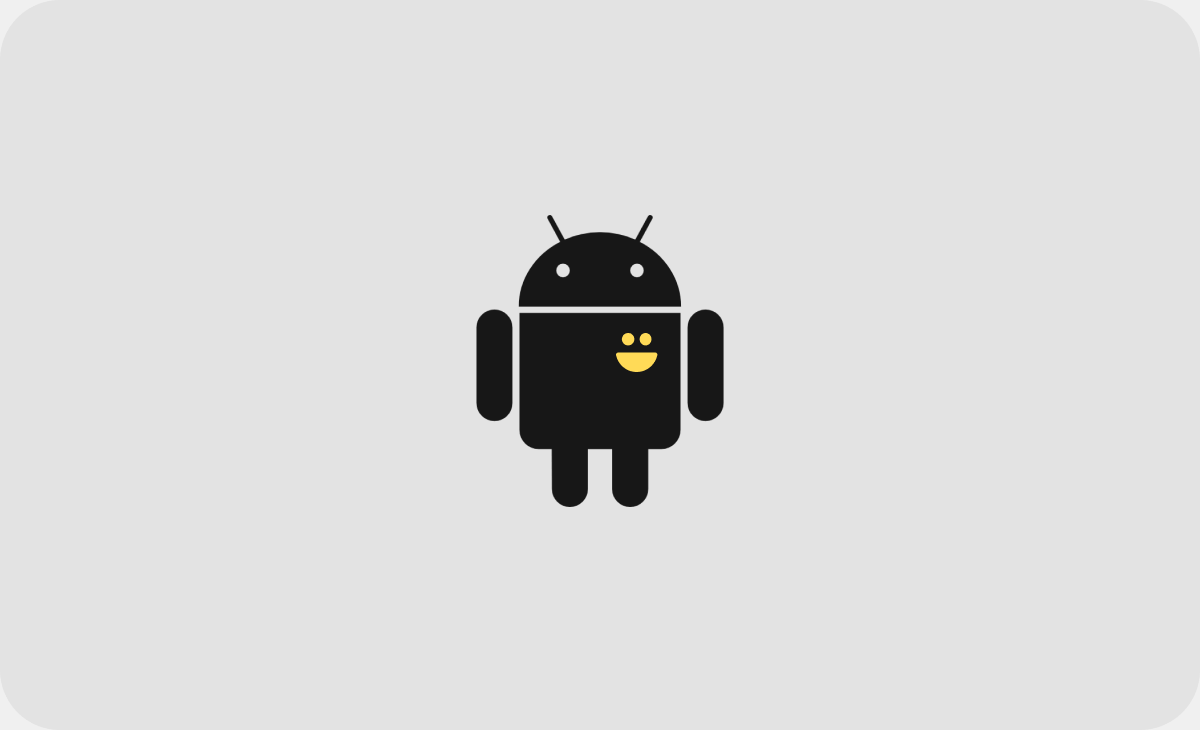 March 3
Support for Polish
We now support Polish for transcription as well as interface texts in your videoasks.
Feb 28 2020
Manage API keys within the web-app
We finally added a way for users to manage and generate their own API keys.
Feb 27 2020
Schedule a close date
Want to stop your videoasks collecting responses after a set date? We'll...there's now a feature for that too!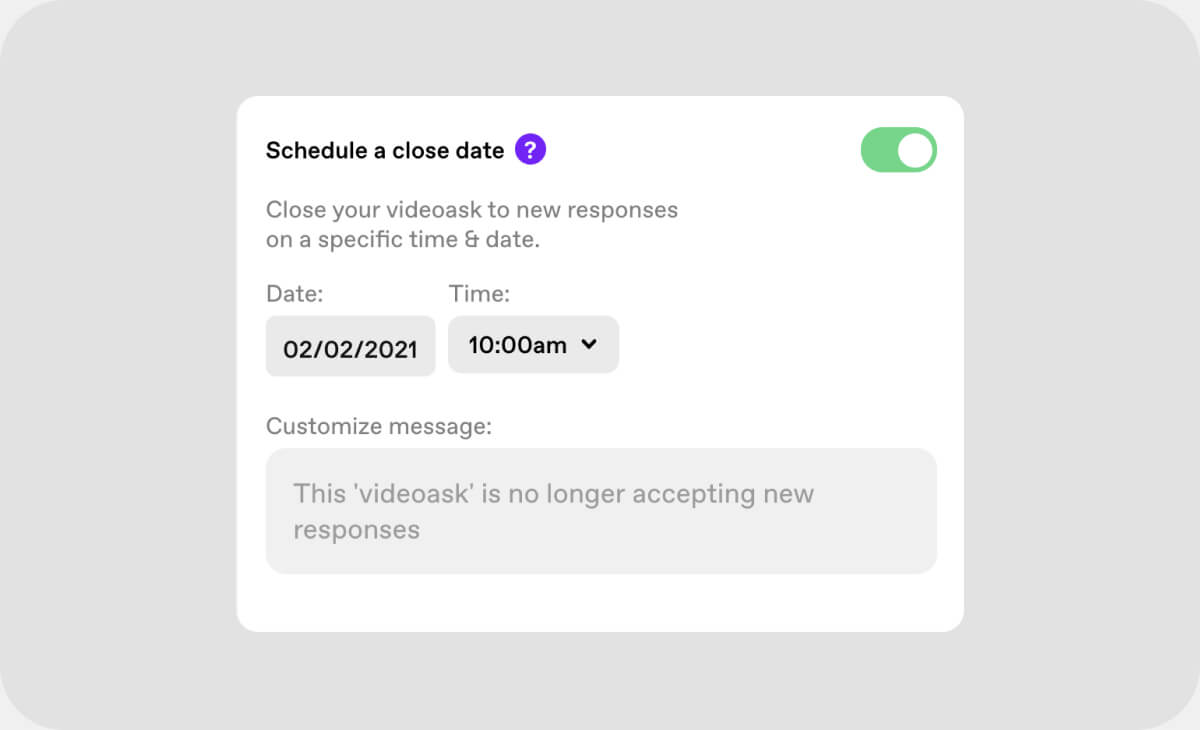 Feb 27 2020
Option count label for multiple chocie options
Show an optional label that shows a count of the multiple choice options available.
Feb 22 2020
Leave an organization
Want to leave an organization? Just go the team page in your account menu to say goodbye.
Feb 18 2020
Date dividers for interactions feeds
We added some handy dividers to make your inboxes more readable.
Feb 15 2020
Descript integration
If you don't know Descript, you should, it's magic. You can now export your Descript videos directly into VideoAsk!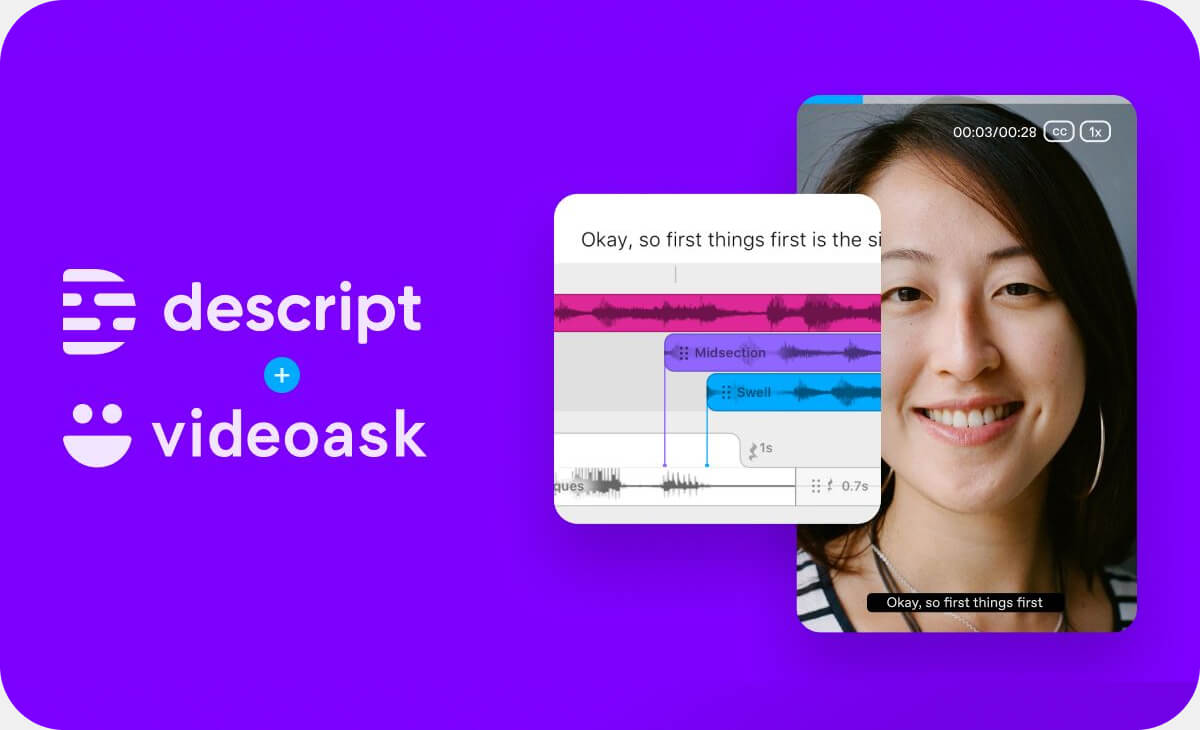 Feb 12 2020
Templates
Now in your inboxes, you'll see a handy templates folder with a few examples to get you inspired.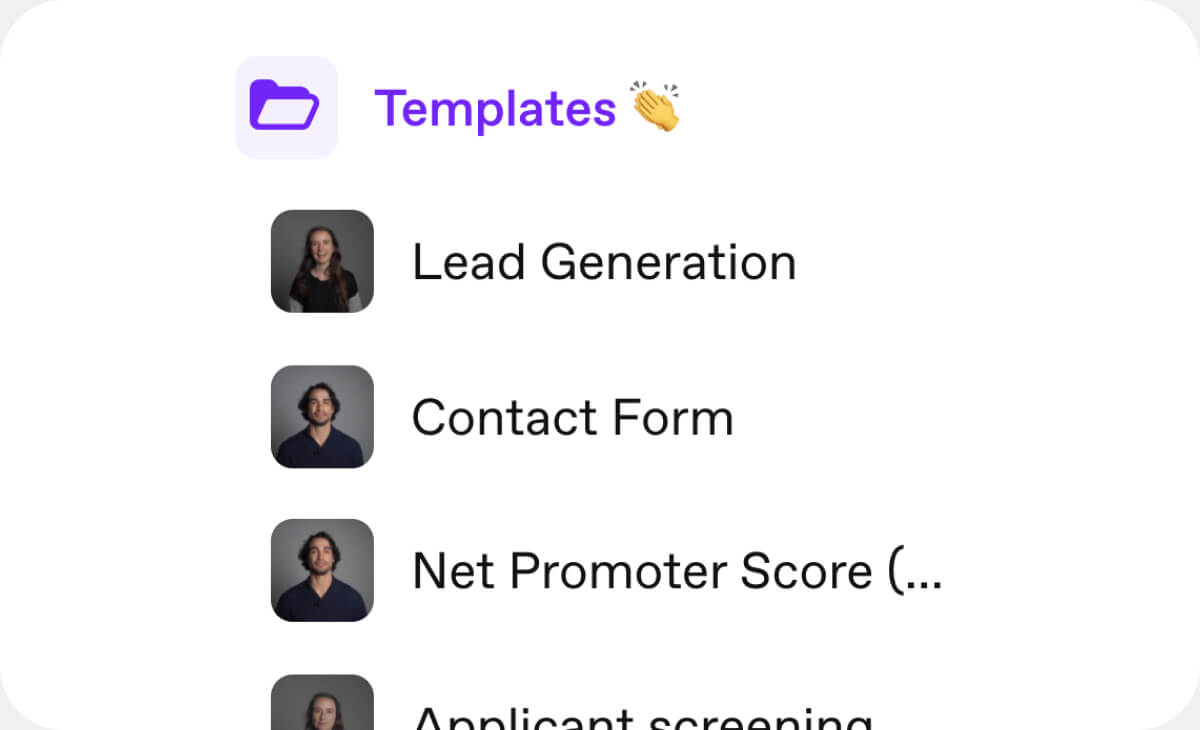 Feb 8 2020
Media Library
Re-use previously recorded videos in your upcoming videoasks or upload you own collection of videos to use later.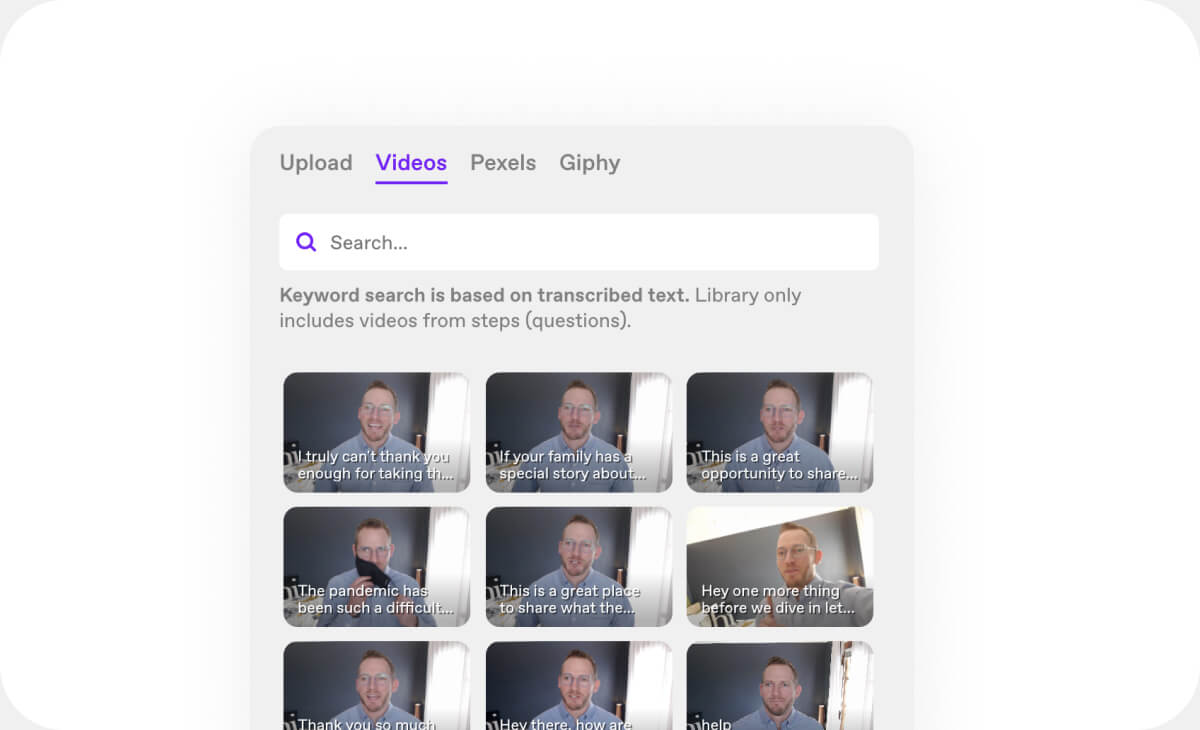 Feb 2 2020
Schedule Once Calendar support
Added native support for this popular calendar.
January 2 2020
New sidebar re-design
Much needed house-cleaning on the app sidebar!
January 28 2020
Save & edit notes
We now keep your notes safe when you come back to re-record any video.
January 26 2020
Save & edit notes
We now keep your notes safe when you come back to re-record any video.
January 20 2020
Set your contact form to show up in multiple steps
Highly requested feature for allowing your contact form to be seen on multiple conditional logic branches.
December 28 2020
Custom fonts
Use any font from Google fonts or just default to system fonts.
December 23 2020
Payment answer type (via stripe)
Connect a stripe account to your videasks and collect payments like a boss.
December 20 2020
Button answer type
We've added an easy option for adding a button as an answer type. No more hacking with a multiple choice option!
December 8 2020
Webhook deliveries panel
A useful resource for developers testing webhooks.
Dec 4 2020
File upload answer type
Collect files from your respondents. Try it below...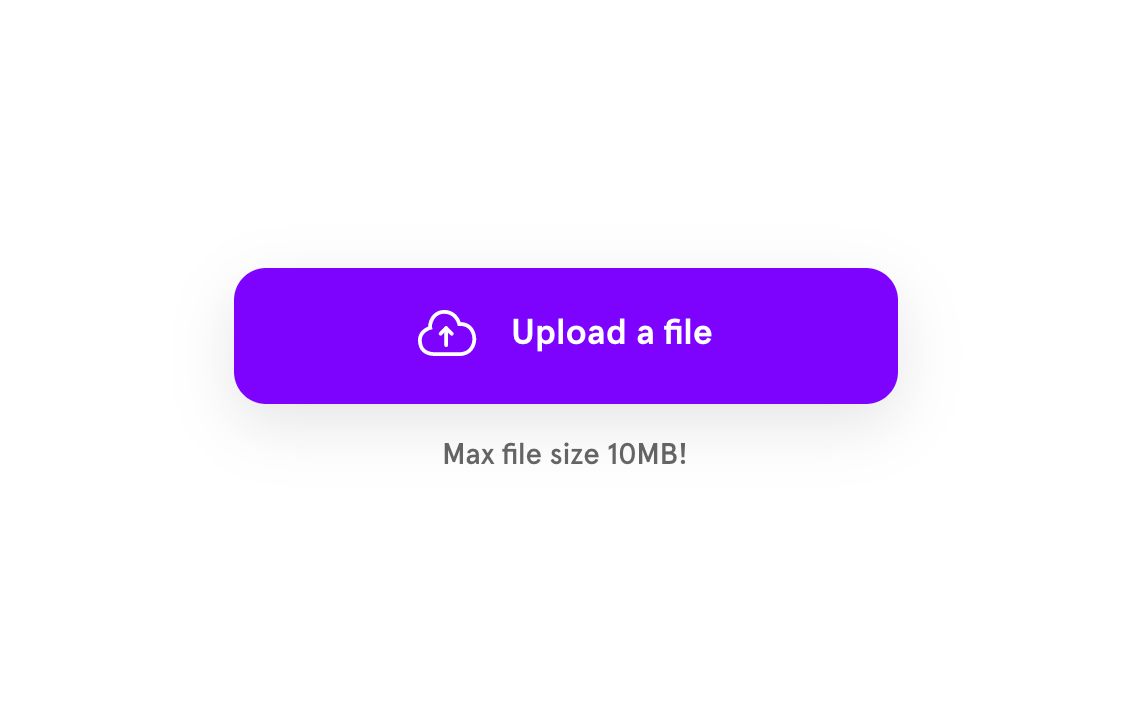 Nov 30 2020
Folder permissions
You can now restrict access for members of your team to individual folders in your organization. Next up: read/write permissions.
Nov 24 2020
Notes for respondents
To help the shy ones we've now enabled our notes feature (teleprompter) for respondents too.
Nov 23 2020
Edit contact details
For respondents that key in their email with a typo or you've been able to indentify an anonymous human, there is now a fix for that!
Nov 17 2020
Date range picker for data export
You can now choose a date range for your .csv/.xlsx data exports.
Nov 14 2020
Manage all your Brands in one place
We've added the ability to create & edit brands from the Organization Overview tab.
Nov 14 2020
Time warning
10secs left on a recording? We're now showing a useful animation to make sure you and your respondents never get cut off by surprise.
Nov 11 2020
Folders
Finally...it's time to organize your inboxes!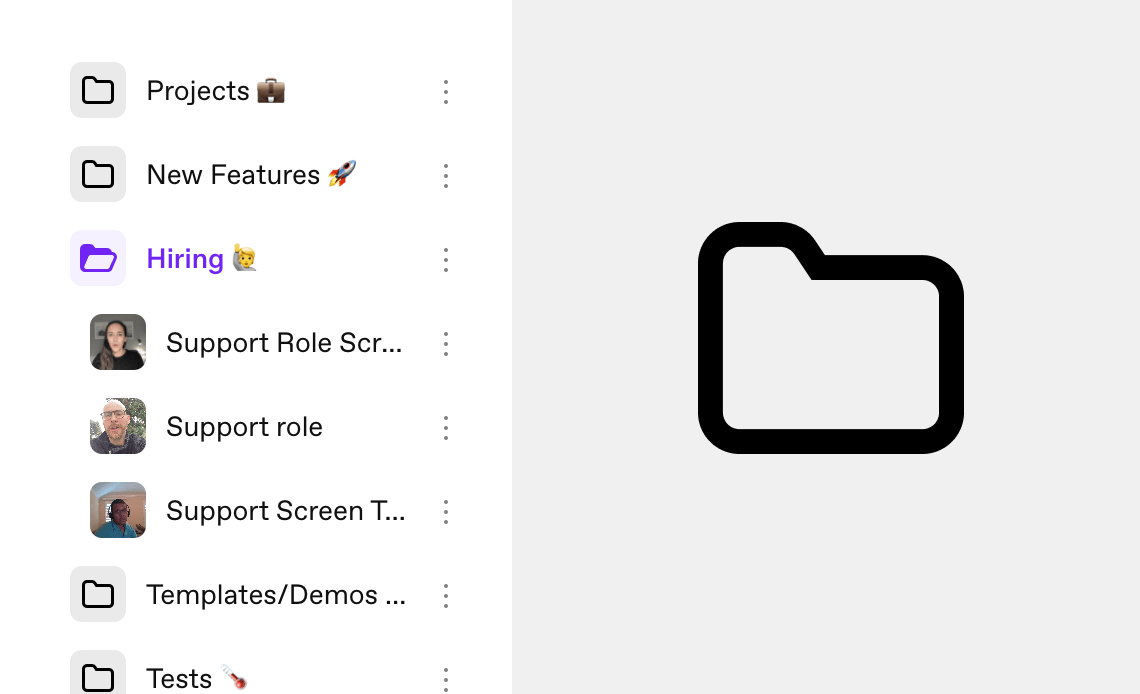 Nov 11 2020
New Zapier actions for replies
We've added a couple of new Zapier actions, so you can now push replies into Zapier.
Nov 10 2020
Hubspot Native integration
Create new contacts and attach responses in HubSpot directly from a videoask.
Nov 9 2020
Update to the inbox
The default view of any videoask inbox will now behave just like the main interactions feed, showing all interactions including replies in the list.
Oct 28 2020
Integrations directory
We've made some changes on the Connect tab, to give you a better overview of some of the possible integrations with VideoAsk.
Oct 24 2020
Text overlay improvements
You can now set the desired overlay text size for each step of your videoask. We also added the ability to add a highlighted background to your text.
Oct 16 2020
Admin role added to Teams
You can now set team members to be admins, allowing them to manage your account (manage billing, invite other team members etc...).
Oct 15 2020
Caption editing
Edit your captions like a pro!
Oct 15 2020
Text overlay background color
Make you overlay text more punchy!
Oct 14 2020
Teams (beta)
In this 1st release you can invite your team to collaborate on your videoasks. In the next phase scheduled for early November we will introduce FOLDERS alongside read & write permissions.
Oct 5 2020
Transcription langauge support
You can now set the transcription language separately to the language of your videoask, which mean we can now understand many more languages (for transcriptions). As a bonus we've also added a language filter to keep your transcription f*****g clean!
Sept 30 2020
Support for Catalan
We're based in Barcelona, Catalonia. So it's about time we supported our local language!
Sept 28 2020
Choose your Thumbnail
Don't like the auto-generated thumbnail? No worries, you can now generate and select your desired thumbnail so you can look your best when sharing your videoask on social media.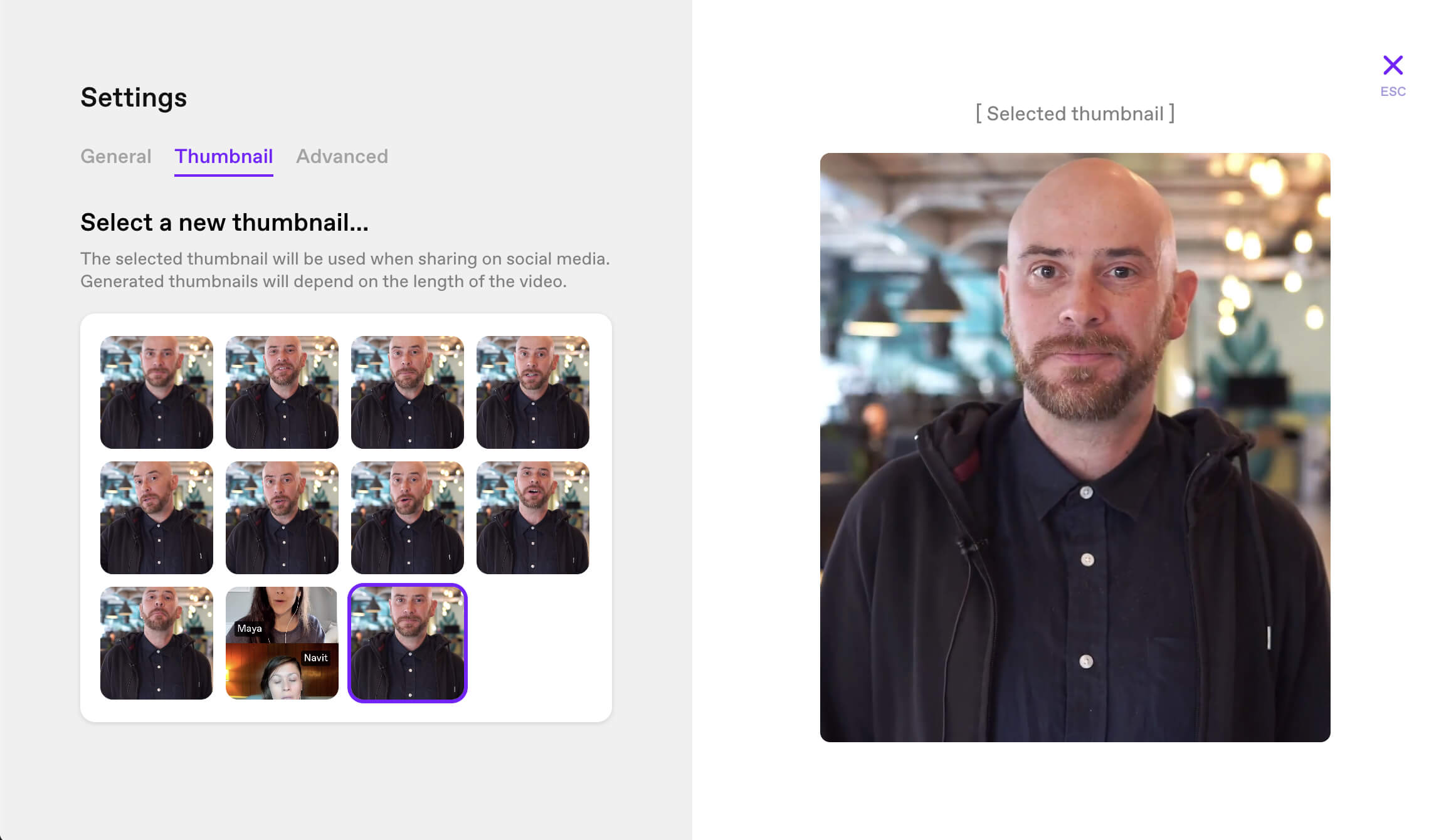 Sept 28 2020
Easy Tag filter search
We've made is a bit easier to select a tag when filtering your inbox, by adding a filtered search box.
Sept 16 2020
Required / Not required contact form fields
You can now choose whether contact form fields are required or not. Useful if you want to ask for a phone number but not necessarily require it.
Sept 10 2020
Set border radius of buttons
Align videoask better with your branding by controlling the border radius of answer buttons. You'll find this feature in Settings > Advanced.
Sept 9 2020
Search Everything!
We've made big improvements to our Search feature on VideoAsk. You can now search across all your content including all your interactions. Find a needle in a haystack by searching for words/phrases your respondents might have said during your interactions with them.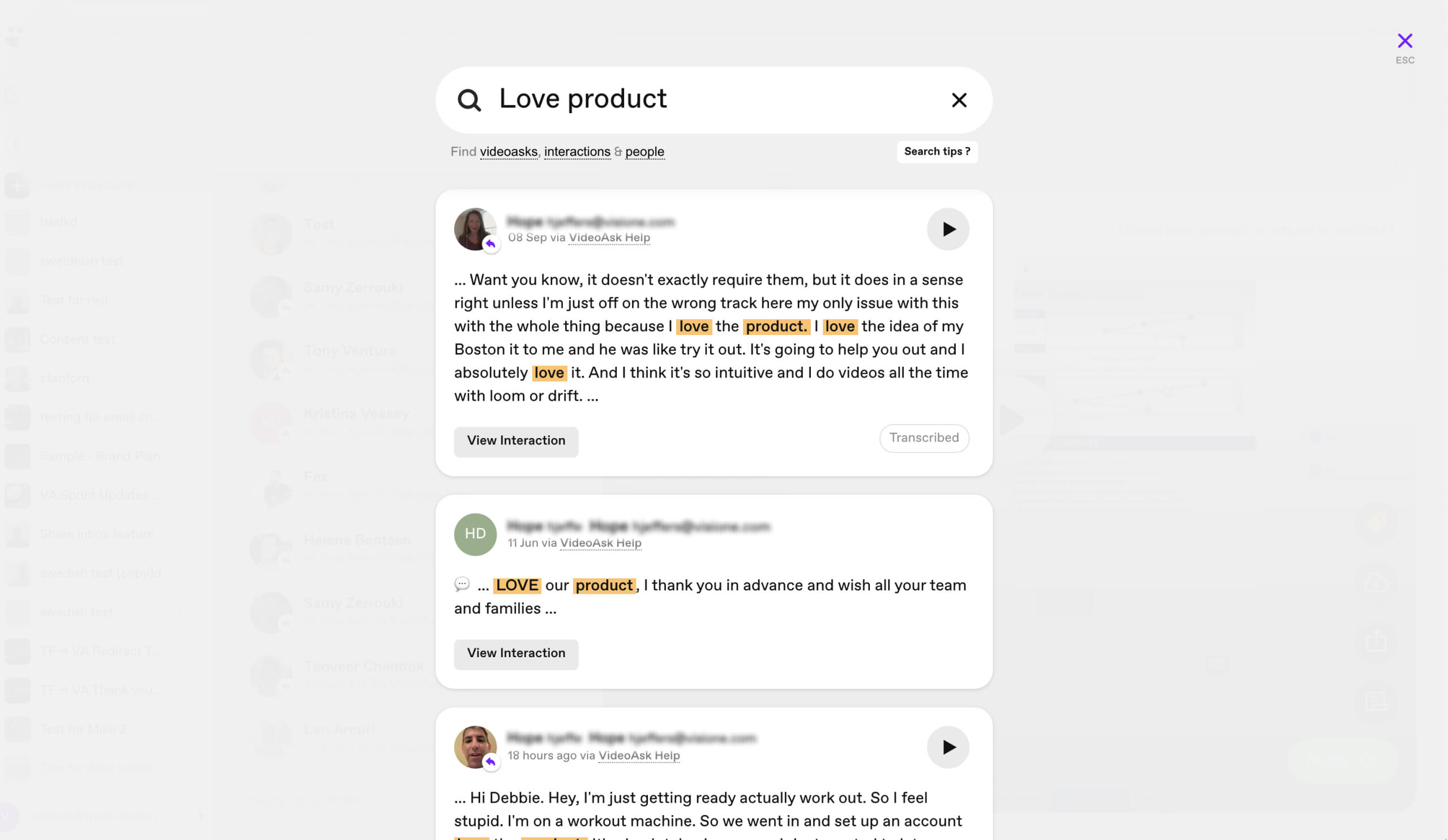 Sept 8 2020
Set reply answer type
You can now set the reply answer type, to be a button. Useful if you just want to reply in video but you want to redirect the respondent somewhere else after watching it (including another videoask!).
Sept 3 2020
Delay answer options reveal
You can now set a delay on when you want respondents to interact with a videoask step. Perfect if you want them to get through the whole video before moving onto the next step.
Sept 1 2020
Add a consent checkbox to your contact form
To help you comply with privacy laws you can now enable a checkbox field in your contact forms. You can of course also use it for other consent related use cases.
August 27 2020
Share your inboxes (& tags)
We now provide a shareable URL for your inboxes. Don't want to share everything? No problem...just share content which belongs to a specific tag.
August 24 2020
Subtitles
To improve accessibility, subtitles (captions) are now available everywhere on Videoask. To show subtitles to respondents by default before they press play to listen to your videoask, just toggle them ON by default from your 'Settings' panel.
August 21 2020
🇸🇪 Swedish support
We now support Swedish for transcription as well as interface texts in your videoasks.
August 20 2020
Transcription Editor
Nothing in this world is perfect, not even your transcriptions! Use our new editor to fix those words the transcription engine did not get quite right the first time around.
August 17 2020
Advanced settings
More granular controls on how your videoasks render.
August 6 2020
DNS Whitelabeling
Looking to whitelabel your VideoAsk URLs using your own subdomain? If you are on the BRAND plan, you can now white-label your videoask URLs by pointing the CNAME of your subdomain to VideoAsk.
August 4 2020
Change answer type
Created a videoask step but asigned the wrong answer type? As long as you've not collected any data, you can now swap the answer type.
July 27 2020
Change answer type
Created a videoask step but asigned the wrong answer type? As long as you've not collected any data, you can now swap the answer type.
July 26 2020
Skip Data Collection
When using Multiple Choice options as navigation buttons to go to different steps, use this feature to avoid recording the options. Useful if you want to avoid unnecessary anonymous contacts showing up in your inbox as 'Humans'

Clicks as far as metrics go will still be tracked, so you're metrics panel will work as always even when you have this feature enabled.
July 21 2020
Multiple selection on multiple choice
We've expanded the multiple choice answer type to include an option to accept multiple selections of choices.
July 14 2020
Search for people
Finally...you can now search across all your videoask interactions by name or email.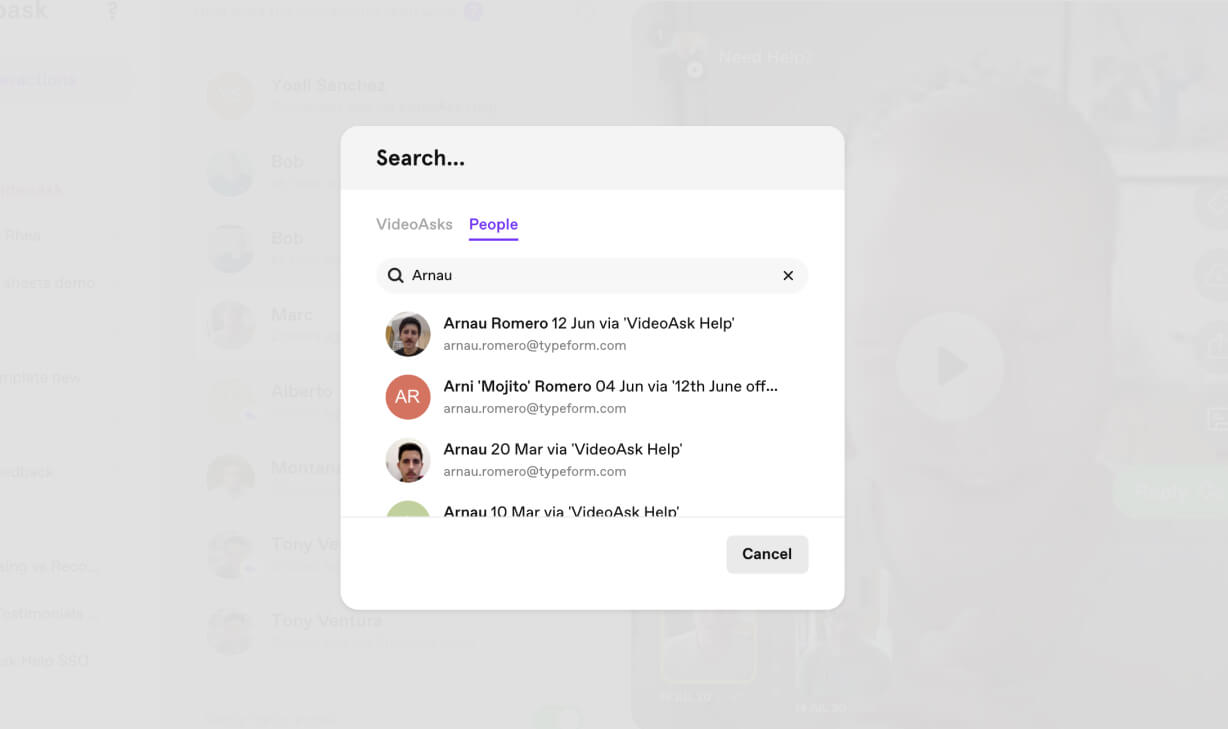 July 8 2020
Share entire response (incl. replies)
You can now share an entire response (incl. replies) on a public URL. Great if you want to show someone from your team or a client, an entire response without them having to peak into your account.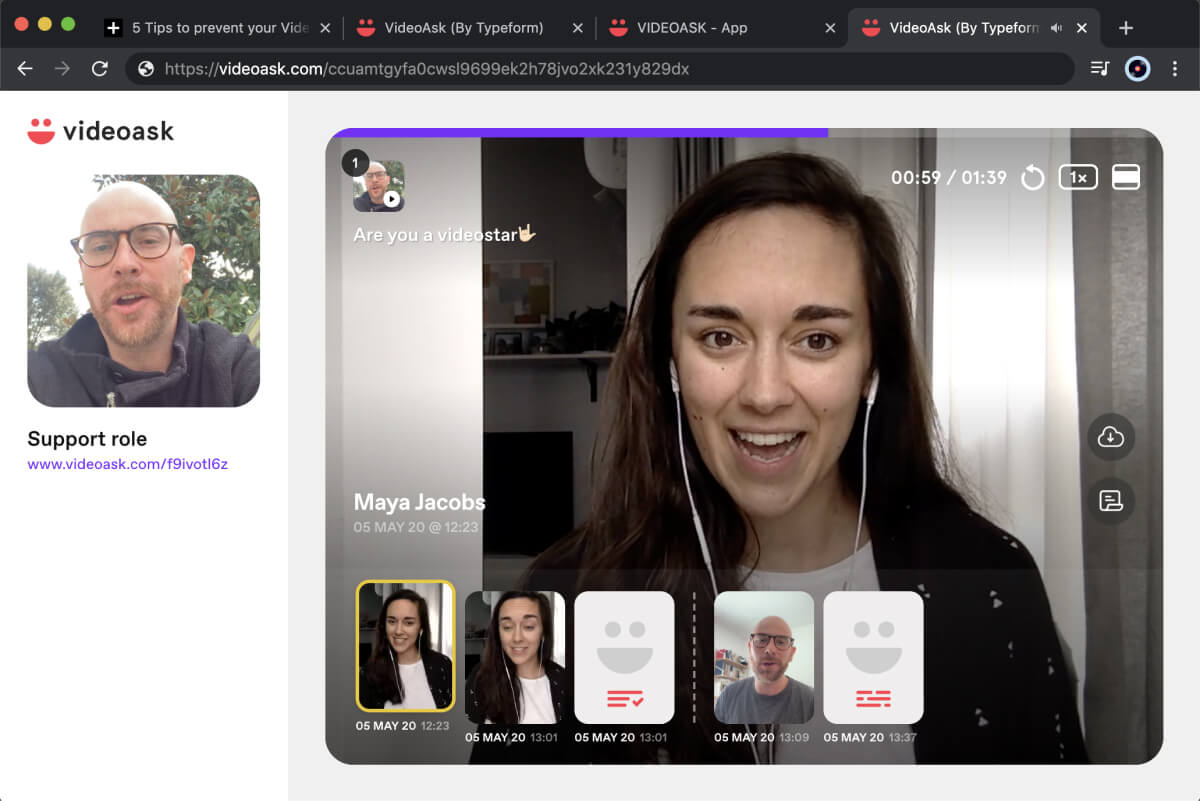 July 3 2020
Keyboard navigation in your inbox
Give your mouse a break and use your arrow keys to navigate your inbox.
June 30 2020
Single Sign On
Hook up your company' authentication system. Available for customers on Enterprise plans.
June 30 2020
Share via email
Share your new videoasks via email directly from inside the app...animated gifs included!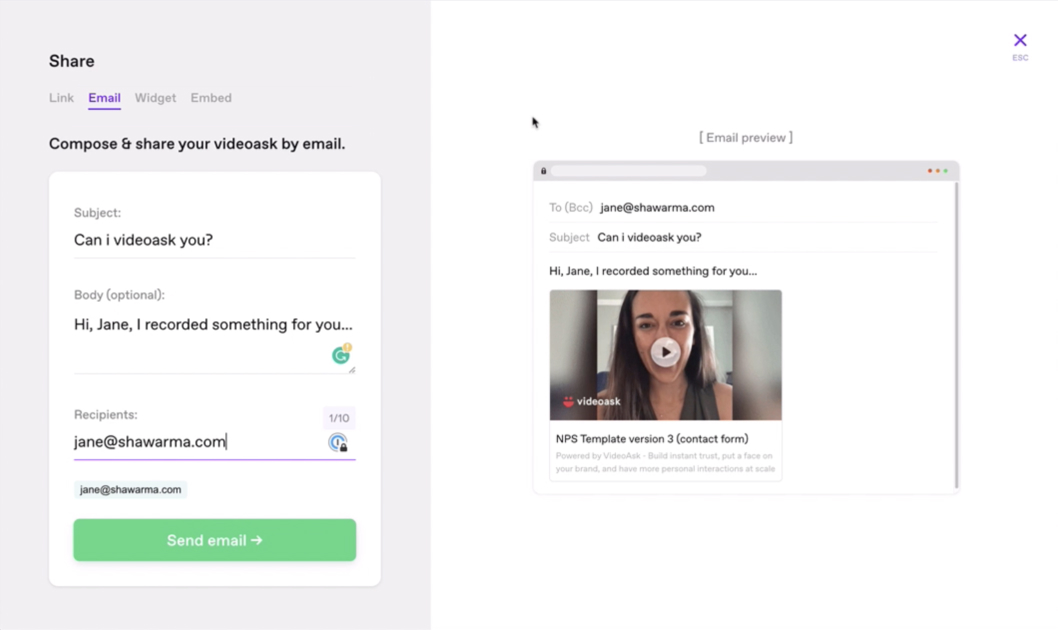 June 20 2020
Animated gif thumbnails
All thumbnails that are sent via email notfications (answers and replies) now show up as animated gifs.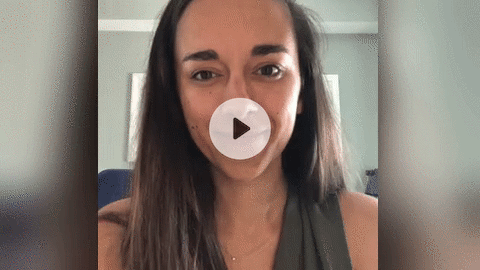 June 10 2020
NPS
What do you get when you combine video and NPS?
A great way to get a quick pulse on how your customers feel.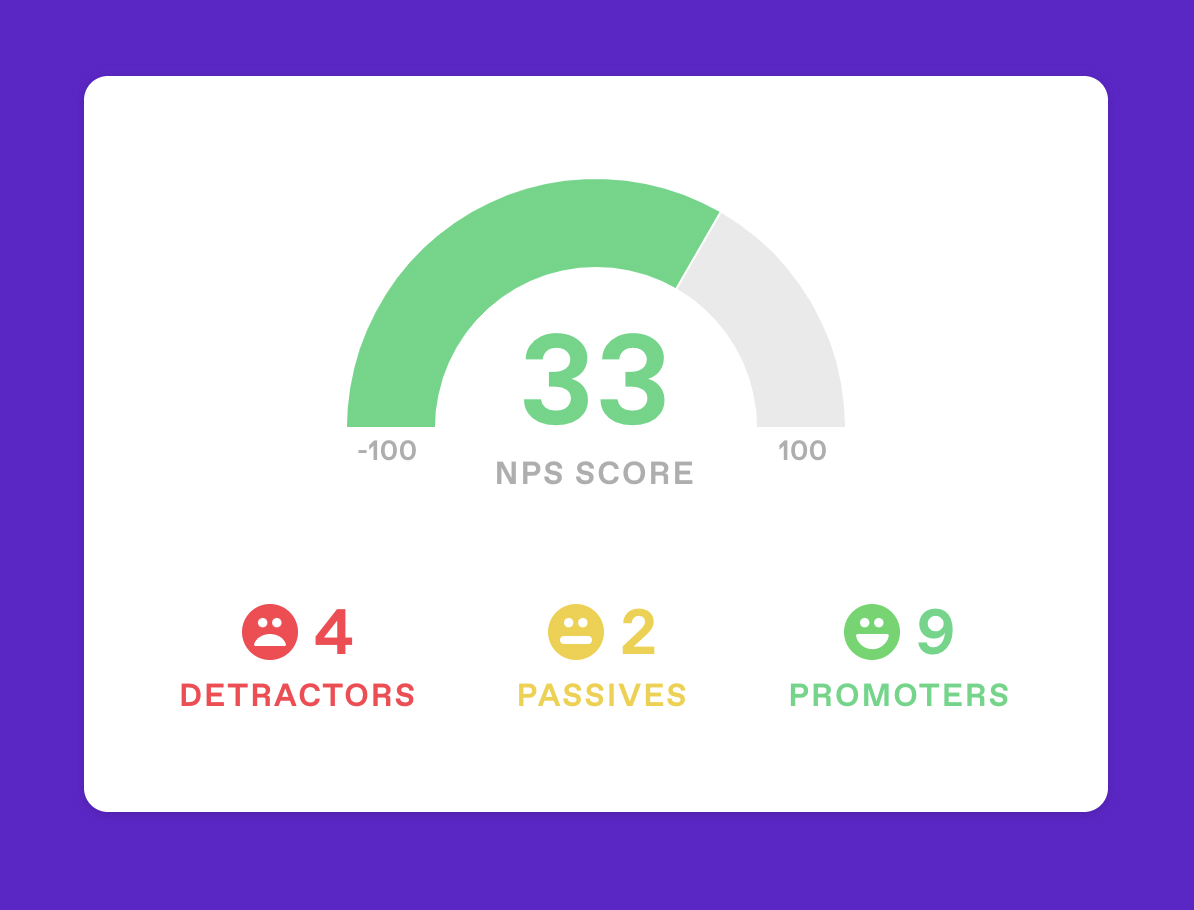 May 29 2020
Tags
Finally, you can put some order to your inboxes.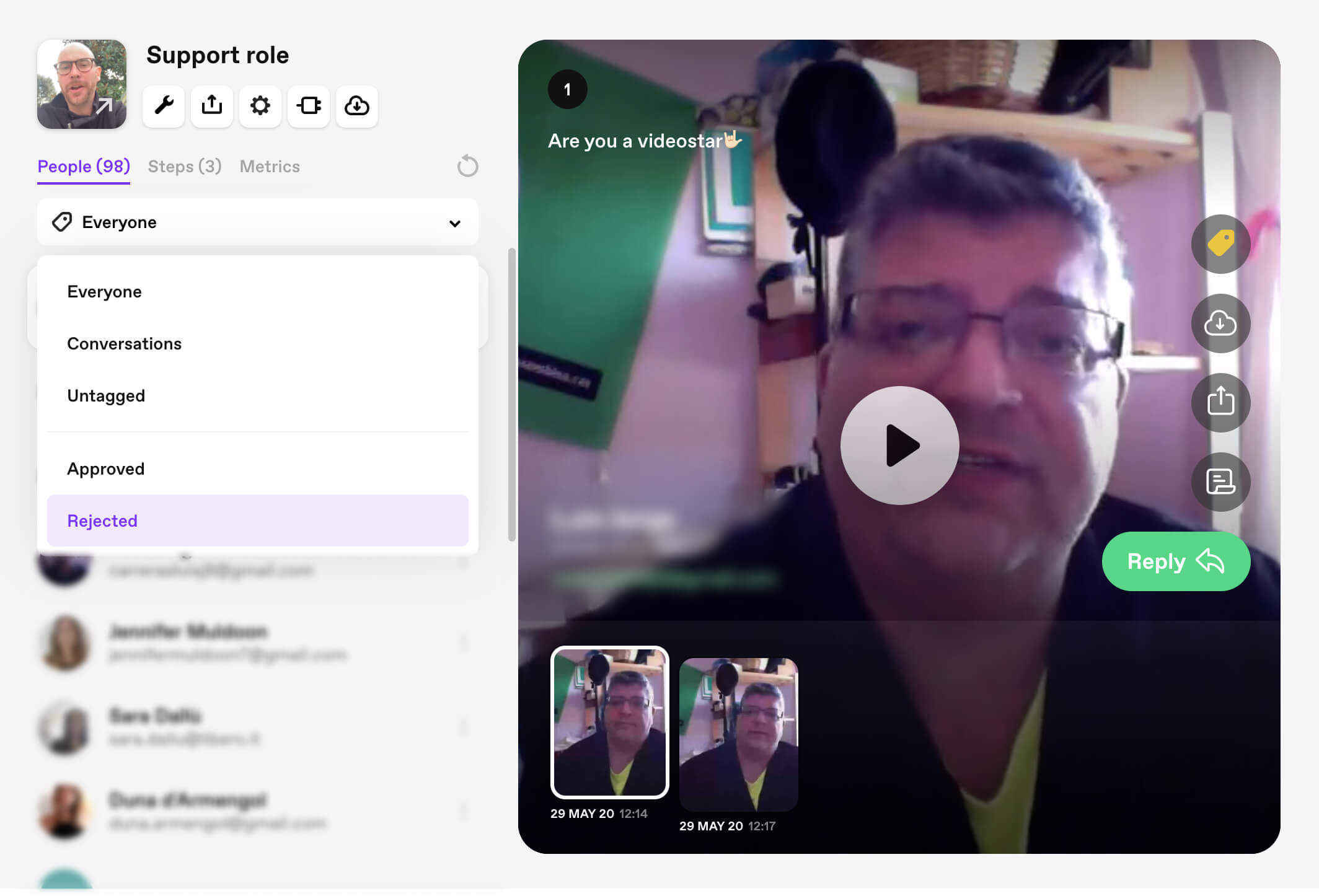 Coming next (share all tagged content to a shareable URL)
May 29 2020
Metrics
Track how your audience is interacting with your videoasks.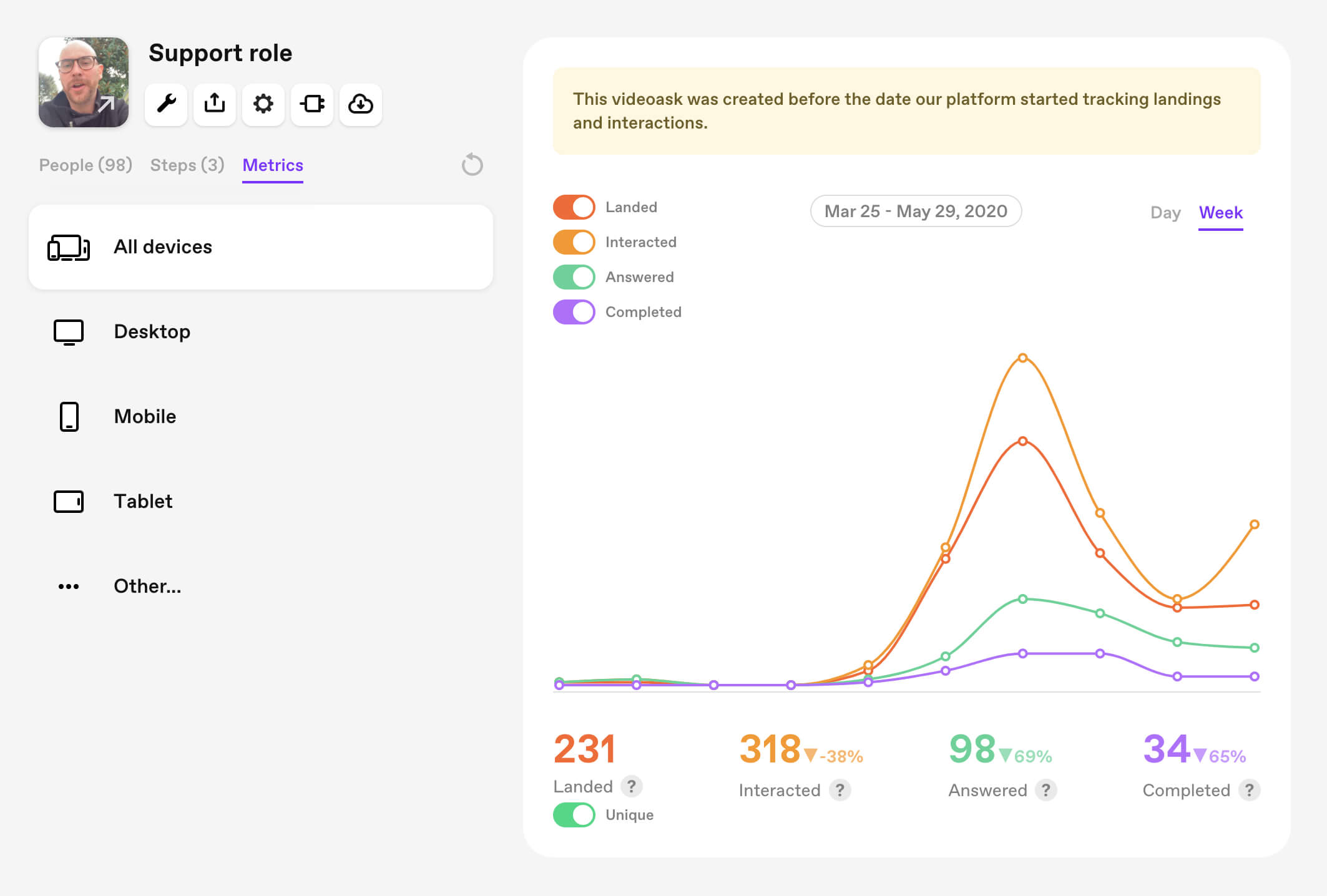 May 29 2020
Faster page load times for widget embeds.
Now serving an optimized video file in the widget for better page load speeds. Google will love your site a little more ;)
May 29 2020
Faster uploads for video steps and replies
We've made some singinficant improvements to our upload speeds across both our web and iphone apps.
May 20 2020
Dutch & Turkish support
We now support these languages for transcription as well as interface texts in your videoasks.
May 23 2020
Add your Hubspot Meetings Calendar
Are you a Hubspot customer? You can now integrate Hubspot's appointment scheduling app inside your videoasks.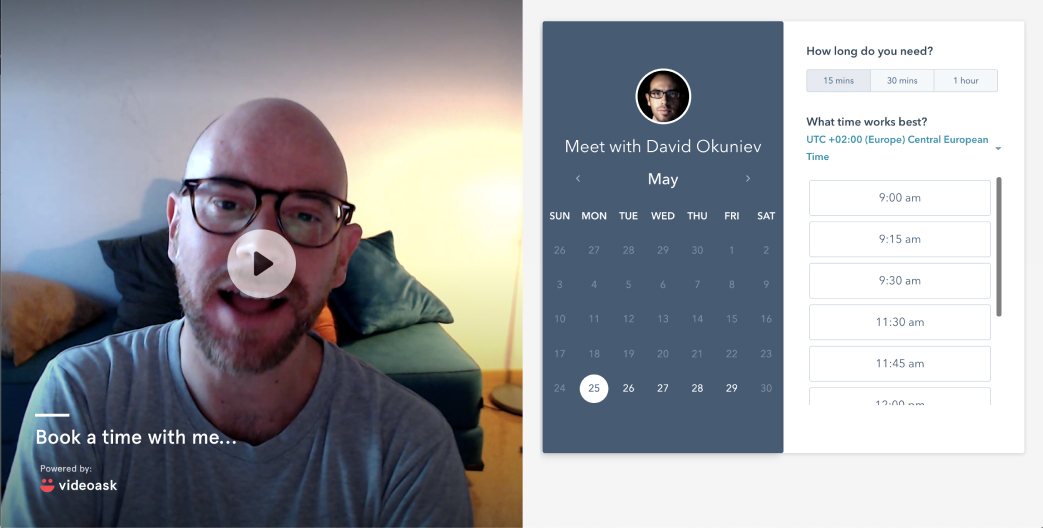 May 23 2020
Add your Hubspot Meetings Calendar
Are you a Hubspot customer? You can now integrate Hubspot's appointment scheduling app inside your videoasks.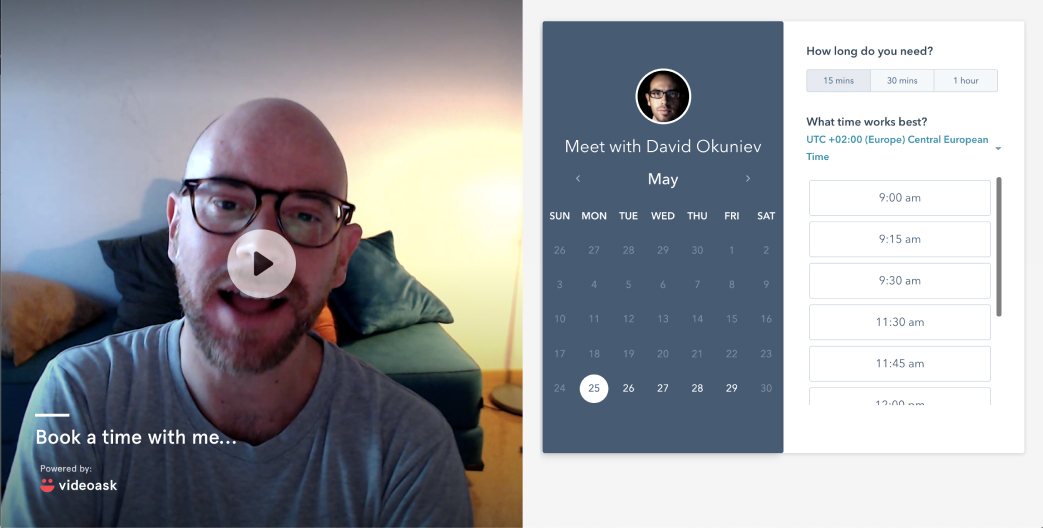 May 20 2020
Live Recording (Beta)
We're introducing Live Recording for respondents. No more waiting around for videos to finish uploading!

This feature uses webRTC technology (just like a Zoom call) and adapts video quality based on device specifications and network conditions to ensure reliable and speedy delivery.

Live recording also opens up support for the Safari desktop browser and allows in-browser recording across all devices.
May 14 2020
Pre-recorded video upload
Respondents can now upload pre-recorded videos when answering videoasks (as an alternative recording method). This feature is also available for VideoAsk creators, when replying in-app.
May 10 2020
Duplication
Happy to annouce that you can now duplicate your videoasks painlessly.
April 29 2020
Screen Sharing
Create videoask steps by recording your screen. Receive screencasts from respondents and reply in turn via you guessed it....screen sharing.
April 23 2020
Move your contact form to anywhere in your funnel
Lead-gen folks...you've been asking for this, we've listened.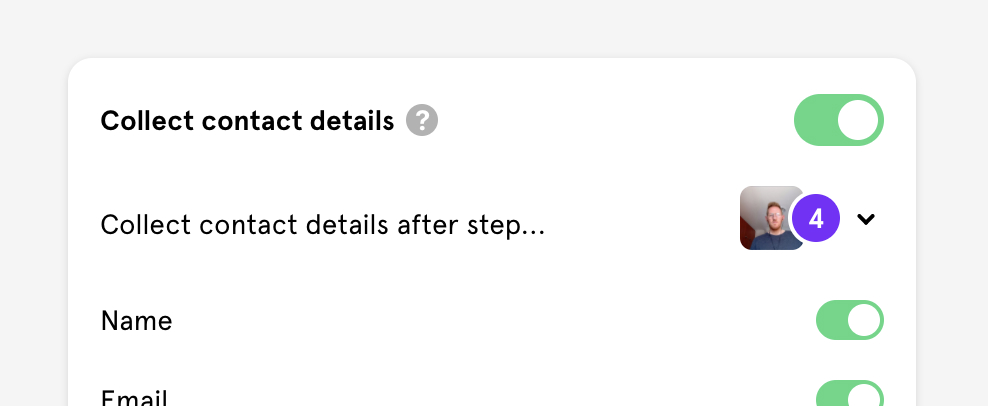 April 16 2020
New video/audio player
We've updated our media player, allowing for control of the playback position as well as speed of playback. This feature is available both on videoasks and inside the app when viewing answers and replies.

April 15 2020
Privacy settings
You can now set the privacy status of your answers & replies when sharing them outside of the app.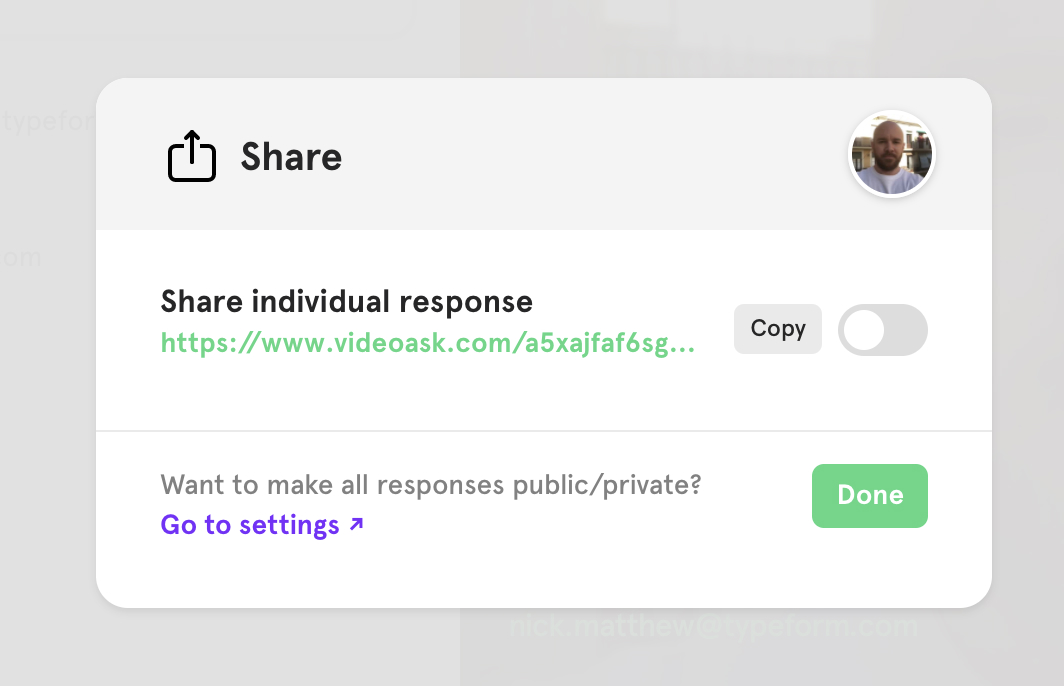 April 2 2020
Camera and Microphone selectors
You can now choose your camera and mic directly inside the app. Perfect if you have a secondary camera or mic and don't want to fiddle around with your browser settings.
March 30 2020
Web-app interface refresh
We launched a fresher web-app design. Everything works the same, just a fresh new coat of paint and more focus on video content.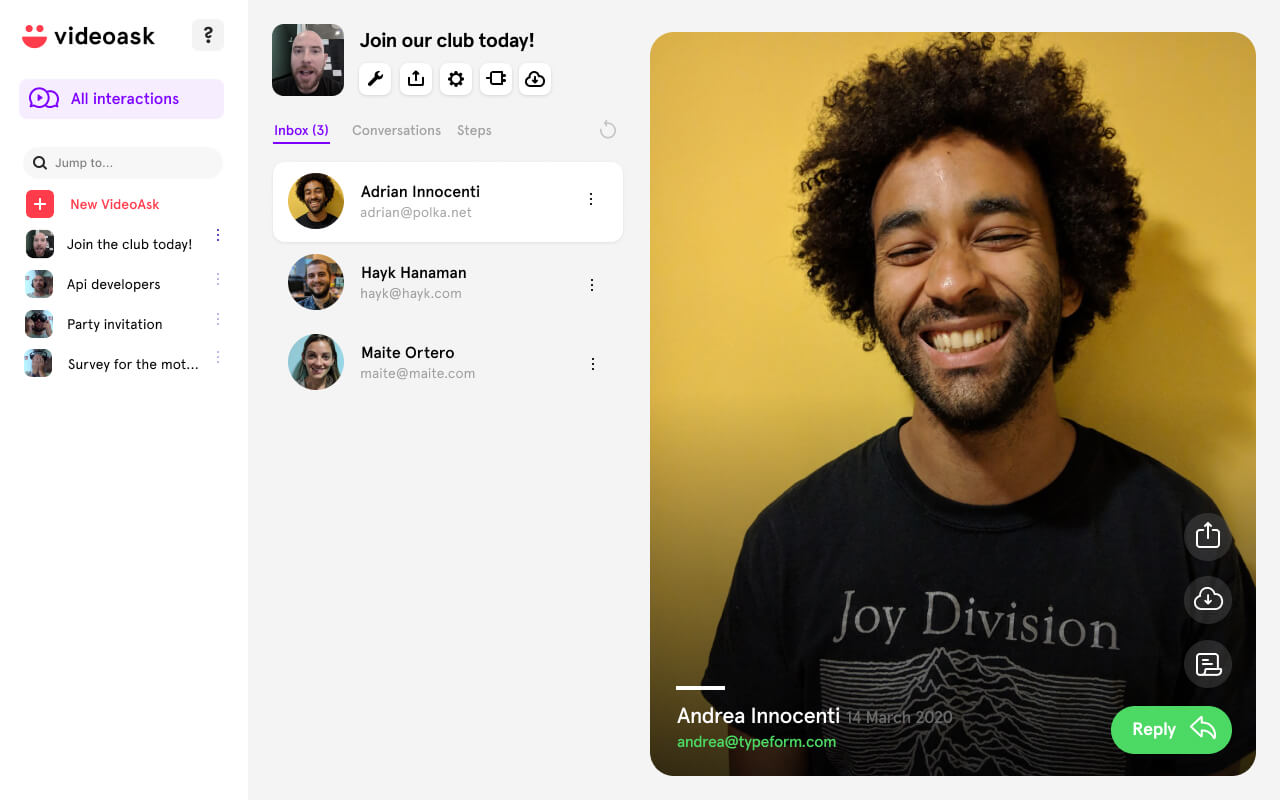 March 17 2020
Add your own brand/s to your videoasks!
Your can now add your own brand logo/s into your videoasks and set a link for users to go to when they click it.
March 5 2020
Collect phone numbers.
You can now add a phone number field to the contact form as well as get granular control over which fields you want to show (Name, E-mail or Phone).
Feb 26 2020
Custom languages: Customize any interface text that appears in your videoasks.
You can now say what the hell you want in any text that appears inside a videoask. Heck you could even have a videoask in clingon!
Feb 20 2020
Variables in the redirect URL
You can now pass information like answers or contact details from your VideoAsk into the redirect URL.
Try it out here: https://www.videoask.com/fxkxmd1r8
Feb 18 2020
Send VideoAsk answers to over 1500+ apps with Zapier
Make VideoAsk an essential part of your workflow using our Zapier integration. (Note: Transcriptions are not yet supported via Zapier)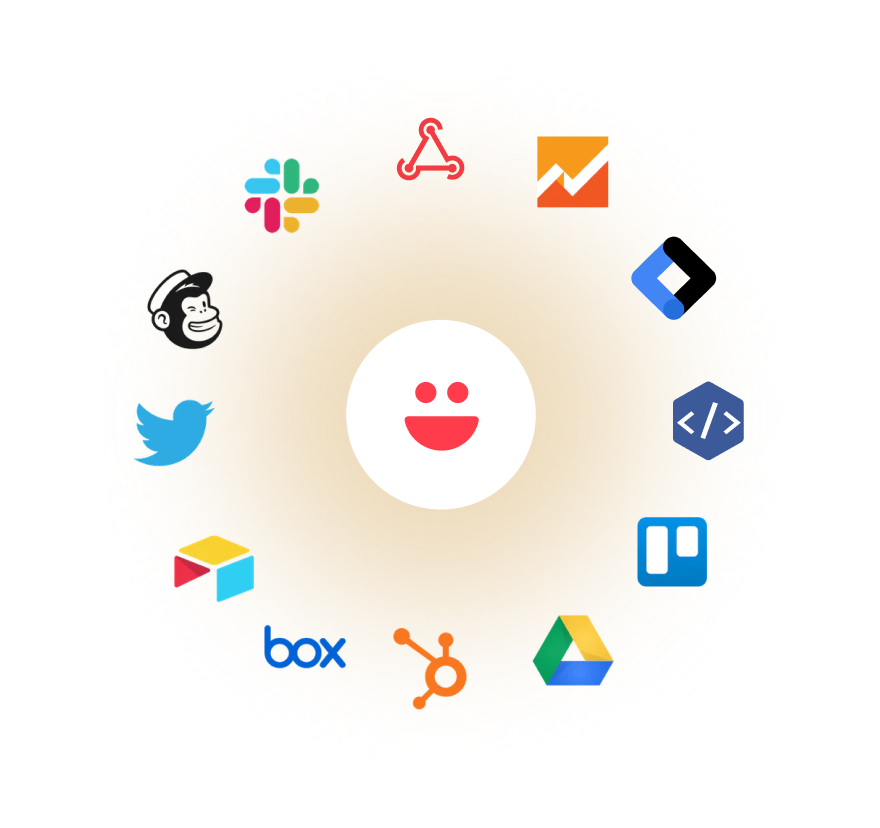 Feb 17 2020
Webhooks
Easily push data to any service using webhooks (for developers).
Feb 11 2020
Get Giphy with it!
Add giphs from Giphy as backgrounds for your steps. Enjoy!
Feb 6 2020
Add overlay text to replies
You can now add overlay text on replies just like you can on your video steps. Handy if you want to share some extra info or a link inside a reply.
Jan 31 2020
New iOS app design refresh
We've just launched a new updated iOS design! Includes Light and Dark modes + improved navigation.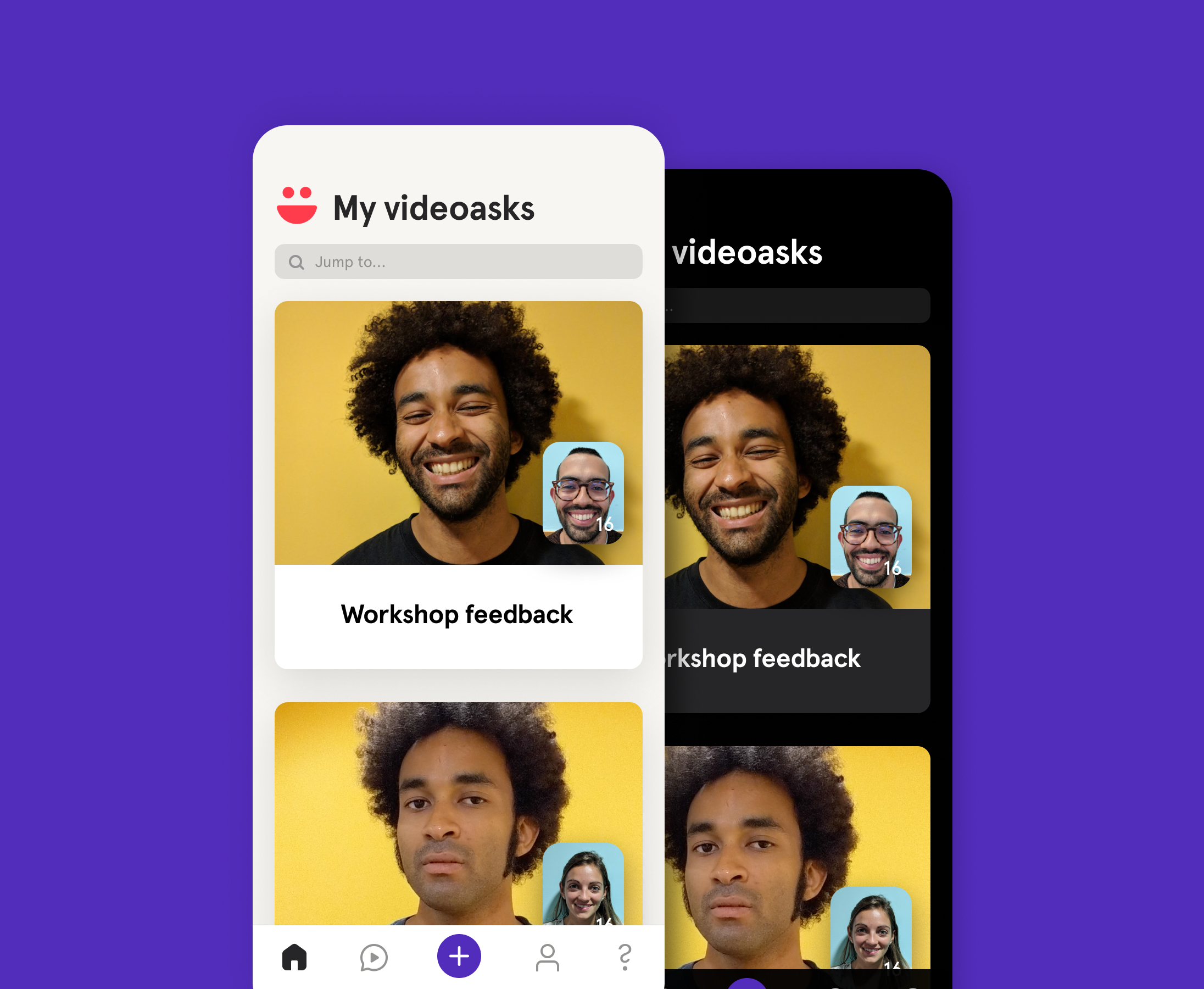 Dec 20 2019
Multiple Choice now supports more options
Previously we were limiting multiple choice options to 3. You can now have up to 10 options in a multiple choice step.
Dec 10 2019
Redirect to URL
Available on the GROW plan, this feature allows you to redirect to an external URL from any step in your videoask.
Dec 5 2019
New 'Window' style widget available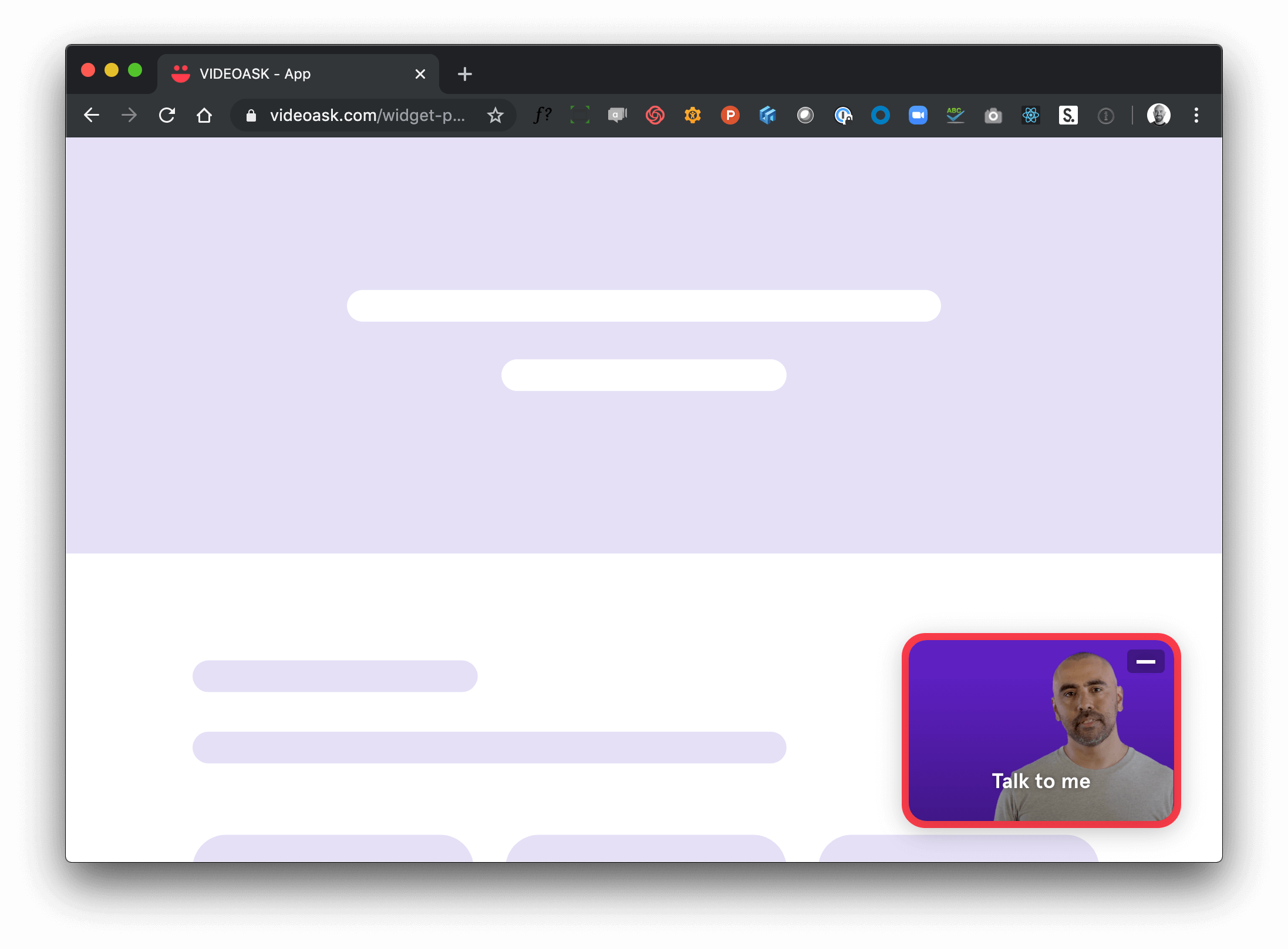 Make a bigger impact on your landing page with a new widget style (widgetType:VideoThumbnailWindow). Now available when embedding VideoAsk on your website using our widget code.
Nov 21 2019
VideoAsk is officially launched! + Announcing premium features...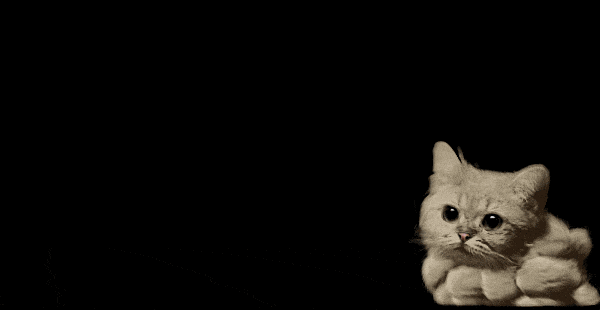 We are incredibly thankful to all the early adopters who supported VideoAsk during our 1st year and tirelessly gave us feedback so we could deliver the best possible experience.

We have plenty more cooking in the oven and we can't wait to execute on our roadmap in the coming weeks/months. We have also launched our subscription model alongside 3 new features — Conditional Logic, Hide Branding & Video Length Control.
Oct 11 2019
Replacing Videos + Text overlay editing
A pain point for many users, beforehand you were not able to replace videos or edit the text overlay. Happy to say this is now solved. Enjoy!
Oct 7 2019
Dropbox integration
Easily download any video interaction directly to your Dropbox.
Sept 18 2019
New & improved web-app interface
We are thrilled to present a new streamlined VideoAsk workflow based around interactions. The new Ui includes a feed of all your interactions across all your videoasks so you never miss a beat. (The iOS app also now includes a new 'Interactions' tab in the dashboard.)
Sept 6 2019
Support for Emojis & special characters (incl Russian & Arabic)
Videoasks now support Emojis as well as special characters!
August 22 2019
Conversations (a.k.a 'Threaded Replies')
Follow up with your respondents via Video to start an asynchronous conversation.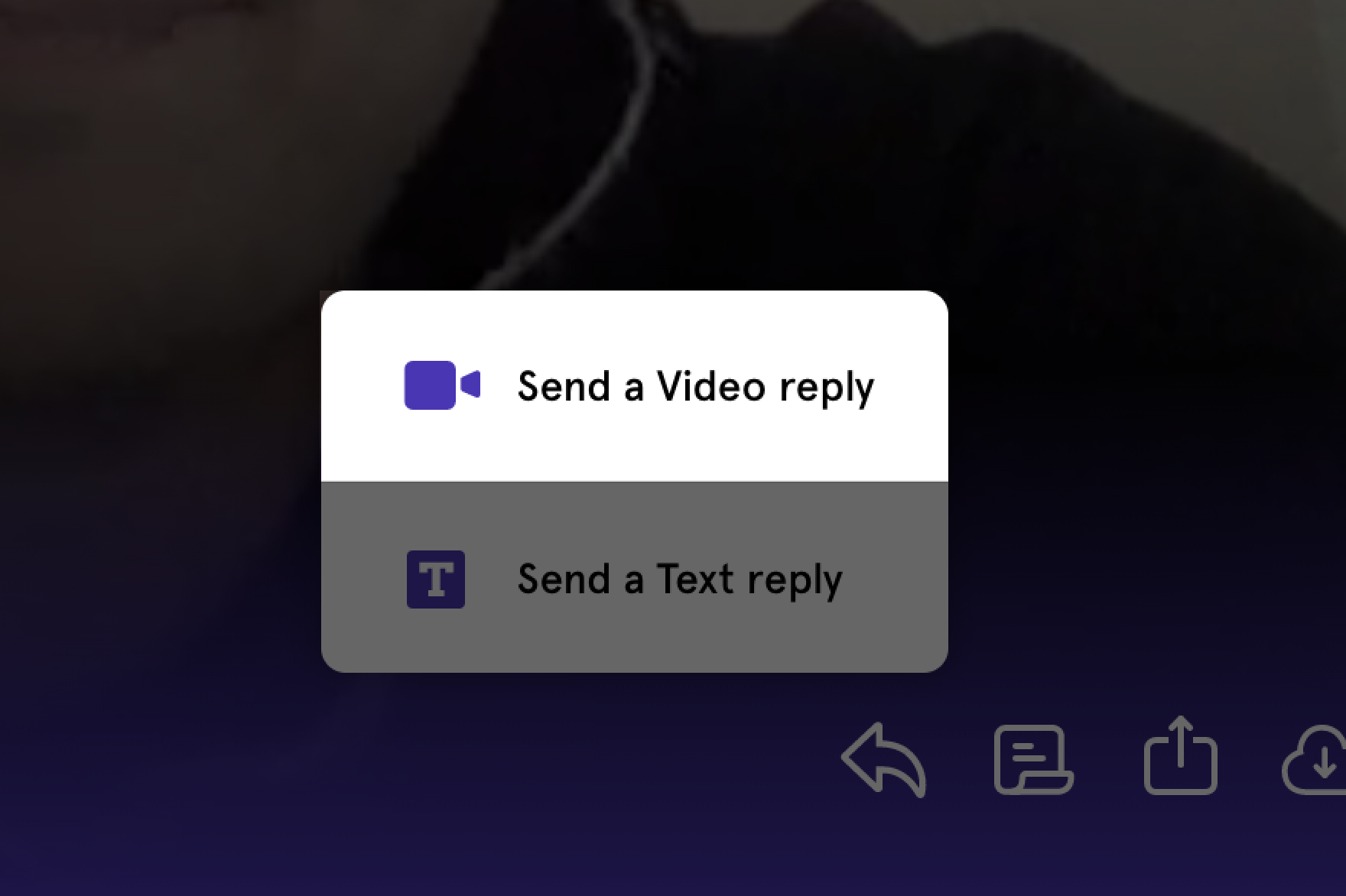 July 31 2019
Calendar integration
Allow anyone to book a time on your calendar from within your VideoAsk using Calendly (requires a Calendly account).

Available on the web-app only (coming soon to iOS).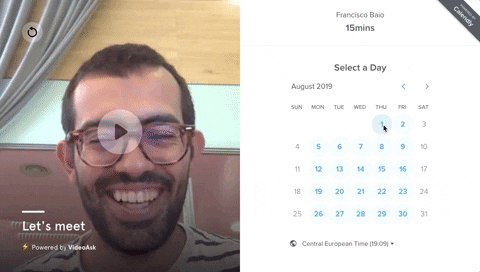 July 29 2019
Introducing 'MIX': Video text overlays
Add 100's of amazing video backgrounds from the PEXELS library and overlay them with your own custom text.

Check out this quiz example: https://www.videoask.com/fqcndsfvs
July 25 2019
Hidden feature: Fit-Video
If you want to make sure we don't crop any of the videos you upload (e.g a landscape video), just add ?fitvideo to the end of your VideoAsk URL. Just like this: https://www.videoask.com/f8wa1p1cv?fitvideo
July 12 2019
Email notifications
Receive an e-mail notification each time a user responds to one of your videoasks. (Available on web app today, coming soon to iOS).
July 3rd 2019
Support for Italian
🇮🇹 'Abbiamo abilitato il supporto per Videoasks in italiano, incluso il supporto per la trascrizione in italiano.'
June 27 2019
Export all answers (.csv)
If you need a bulk download of all the answers of a particular Videoask, you can now easily export everything to .csv so you can load it into your favorite spreadsheet app. Enjoy!
June 26 2019
Color settings
You can now tweak in-app the primary and secondary colors that appear in your videoasks.
June 26 2019
Multi languages now supported in-app
You can now update the default language of your videoasks directly in-app. Available languages...English, Spanish, French, German, Dutch, Portuguese.
June 26 2019
Authenticate using Typeform credentials
If you already use Typeform, we've made it dead easy for you to log in to your VideoAsk account using your Typeform credentials. Enjoy!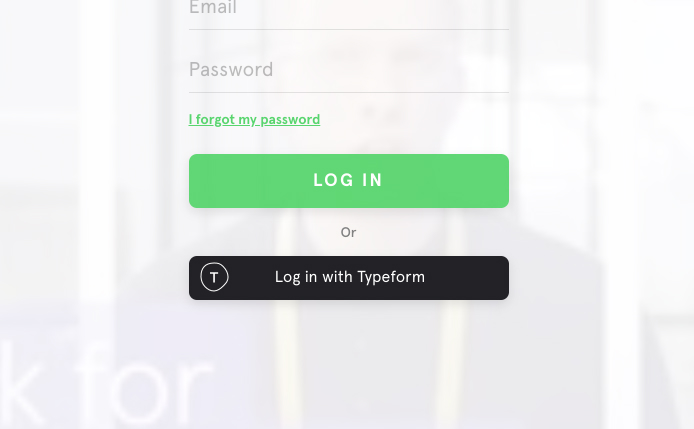 June 16 2019
Multi-Language support in Videoasks
If you want to change the language of your Videoask, just add the language extension to the URL as such:

https://www.videoask.com/es/f5s7mzuhe
Available languages:
Spanish: use /es/
Portuguese: use /pt/
German: use /de/
Dutch: use /nl/
To request extra languages just
ask us
June 14 2019
Notes - A little help for the shy ones...
You can now overlay notes during your video capture in order to help you craft that perfect Videoask.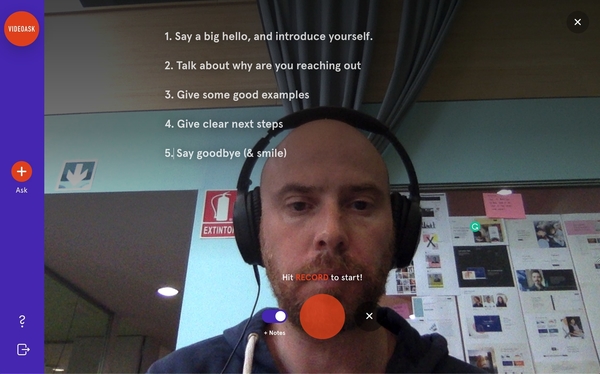 June 13 2019
Launched v2.0
Released the web version of VideoAsk alongside a bunch of new features incl. Multi-Step Videoasks, Video Polls, Video Library uploads, a new improved embed widget and more....