If you'd like to use or adapt the video content from your videoask elsewhere, you can download the original video .mp4 files or add them to Dropbox.
Collecting a lot of video responses you want to share with team members? Learn how to automatically send video files of responses to Google Drive or Dropbox using Zapier.
Jump to:
Download all your videoask response media files
Download an individual video answer or reply
Download videos from your videoask steps (creator videos)
Note: Video downloads include only the video footage itself, not the visual and interactive elements that are unique to VideoAsk (text overlay, buttons, etc).
Download all your videoask response media files 
If you want to bulk download the media files of video or audio responses you've received, you can do so with a zip file. To download all your response data, learn how to export a .csv or .xlsx file.

2
Toggle on Media files and click Generate

Note: Downloading the media files of responses cannot be combined with a download of response data in .csv or .xlsx format. 
You will now see a notice that a zip file of your media files is generating. If you have a lot of responses to your videoask this may take a few minutes - be patient!

3
Keep an eye out for an email telling you your media files are ready. When you receive it, click Download Securely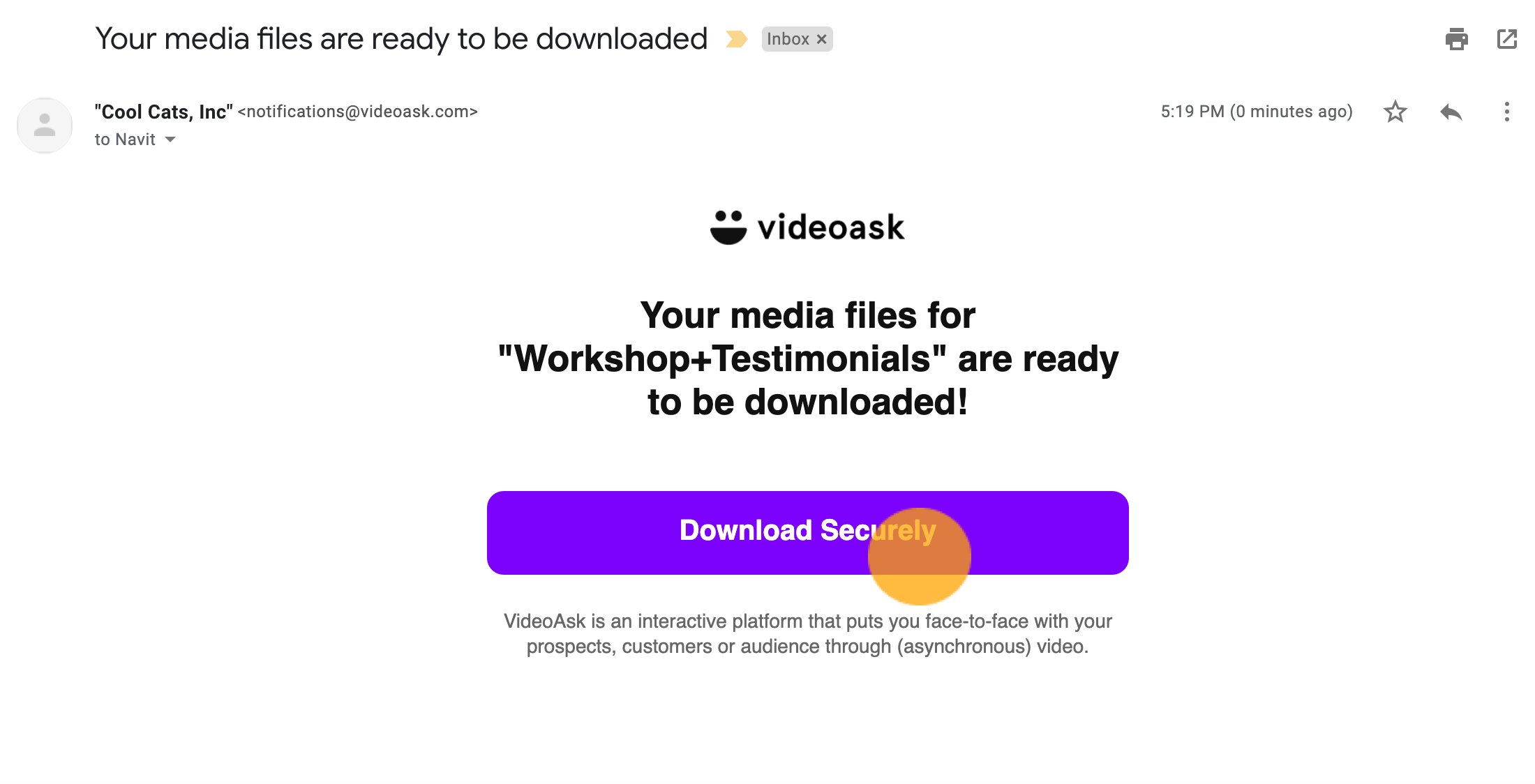 4
This will open a new tab. In this tab, click the zip file name to download it.
5
That's it! Now the zip file of your media files have been downloaded to your device. Just double click the zip file to unzip it.

The .mp4 files of your responses will now be available, grouped by respondent/response.

Download an individual video answer or reply
1
Select a response in your videoask inbox
3
Choose Download file or Add to Dropbox 
Once clicked, your .mp4 file should begin downloading or add to Dropbox.
Note: If choosing Add to Dropbox, you will be prompted to login to your Dropbox account before being able to do so.
Download videos from your videoask steps
1
Click Build to open your videoask builder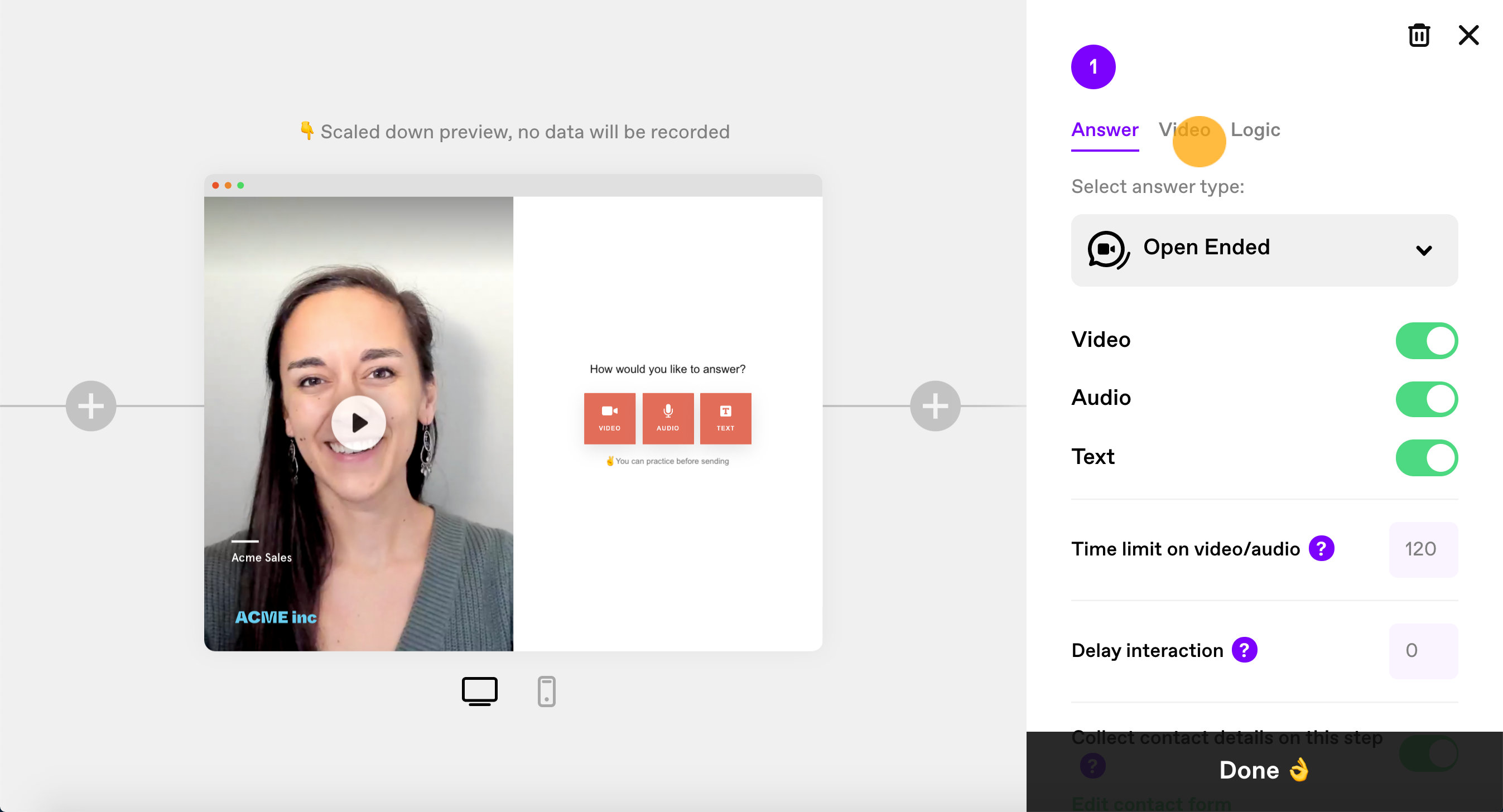 4
Click the Download video icon
5
Select whether to Download the .mp4 file or Add to Dropbox

Download raw video files
If you're after the best resolution and would like to download the raw (uncompressed) videos from your videoask, you can do so if you know what format the original video file was created in.
Note: If you do not know or are unable to guess the proper format for the video file, this process will not work.
1
Click on your desired response and then on the Share icon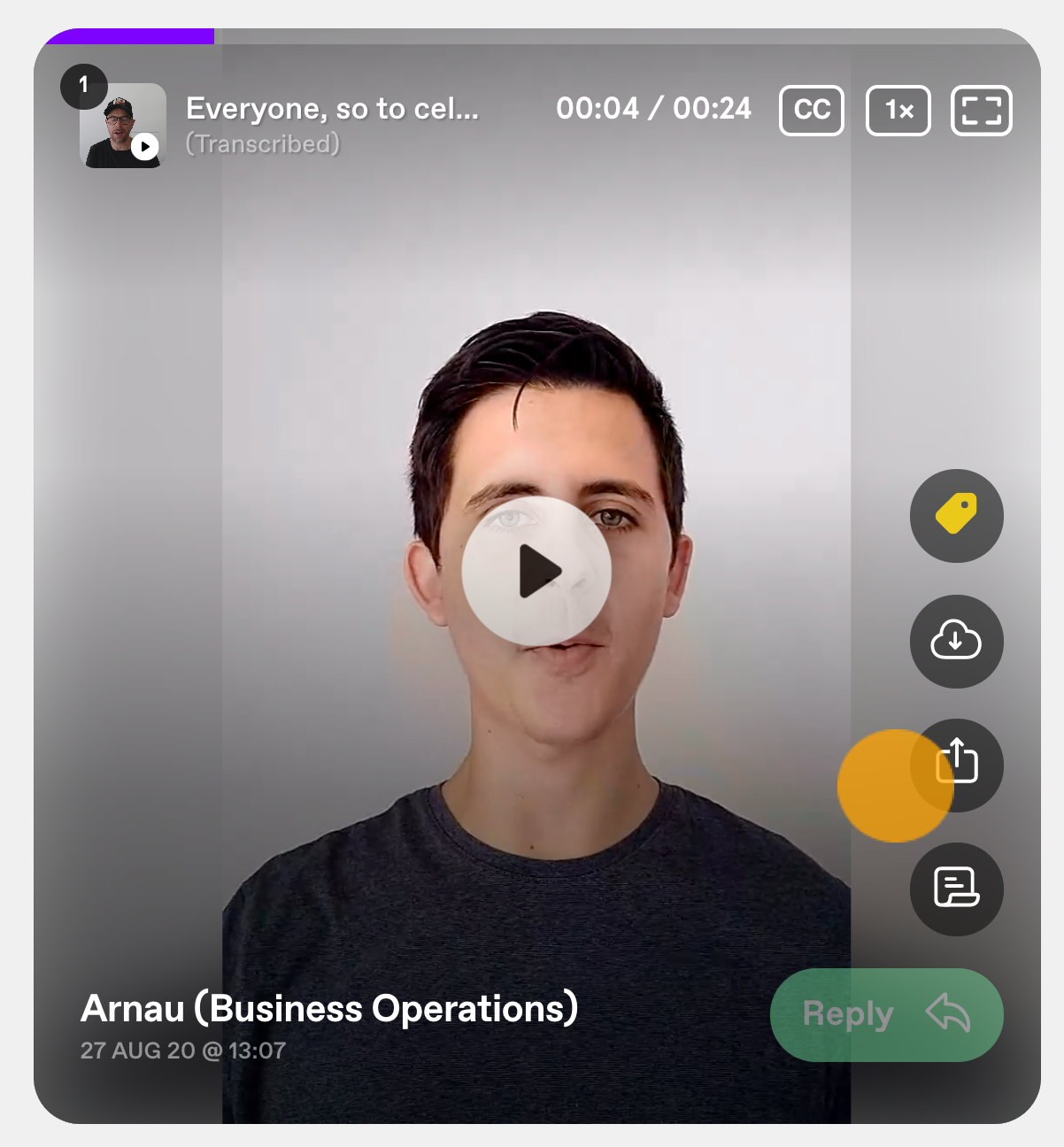 2
Copy and paste the answer url into your browser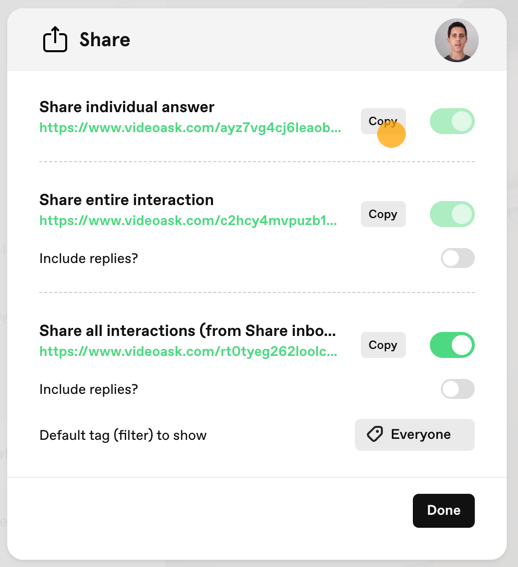 3
Once the video has loaded, right click and select Copy Video Address
4
Paste the video address into your browser and edit the video url, replacing "transcoded" with "raw"
5
Then, for all recordings not made on an iPhone,replace "mp4" with "webm" and hit Enter.
If the recording was made on an iPhone, then keep "mp4" in the url.
6
Now you have your raw file! All you have to do is right click again and select Save Video As...
Interested in other ways you can share your responses? Learn how to share and embed an inbox.