If you've created more than a handful of videoasks with your team members, you've probably noticed things can get complicated fast!
Luckily you can organize your videoasks into folders and restrict who can access which folder to keep things nice and tidy. 👌
Organize videoasks into folders
Every VideoAsk account comes preloaded with a single folder. This folder includes a set of templates you can view and duplicate to quickly create videoasks for different uses. 
Create your own folders to organize videoasks by project or topic and restrict access to specific videoasks when inviting team members.
Organize your videoasks into folders
1
To create a new folder, click the + New folder icon.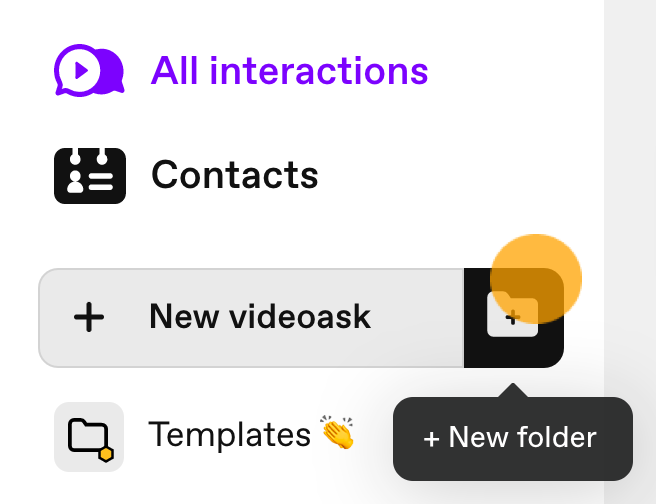 2
Give your folder a name and click Create.
3
Your new folder will now appear in the left sidebar above all of your videoasks. Drag and drop existing videoasks to add them to the folder.
When you create a new videoask, you will be prompted to select which folder to add it to. The Root level 'folder' is the main area outside of folders you have created (where videoasks live by default if you have no folders). If a videoask is in your Root level 'folder', then anyone in your Organization can access it, edit it, or delete it.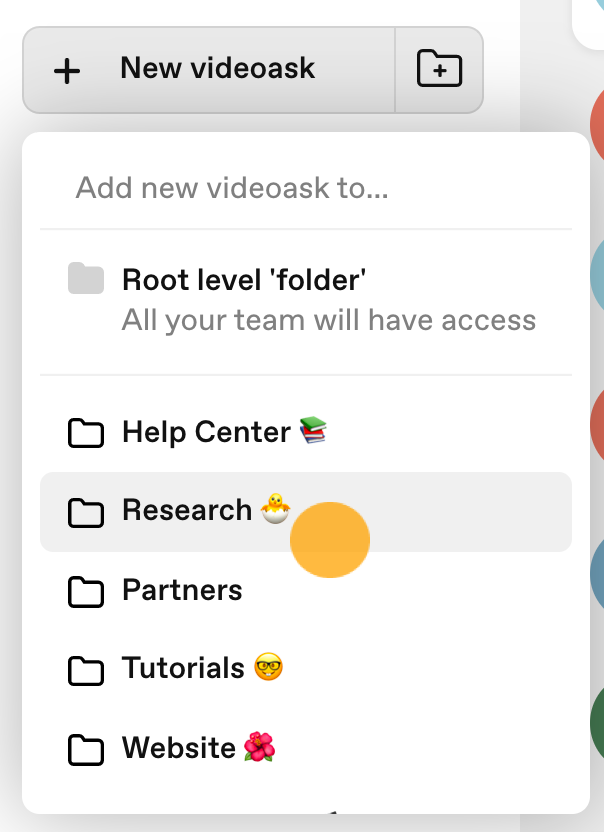 4
Add as many videoasks as you would like to the folder. To see all the videoasks in a folder, click the folder icon to expand it.
You can create as many folders as needed for different teams and projects. Bear in mind when grouping videoasks into folders that you can control the permissions of your Organization on a folder by folder basis.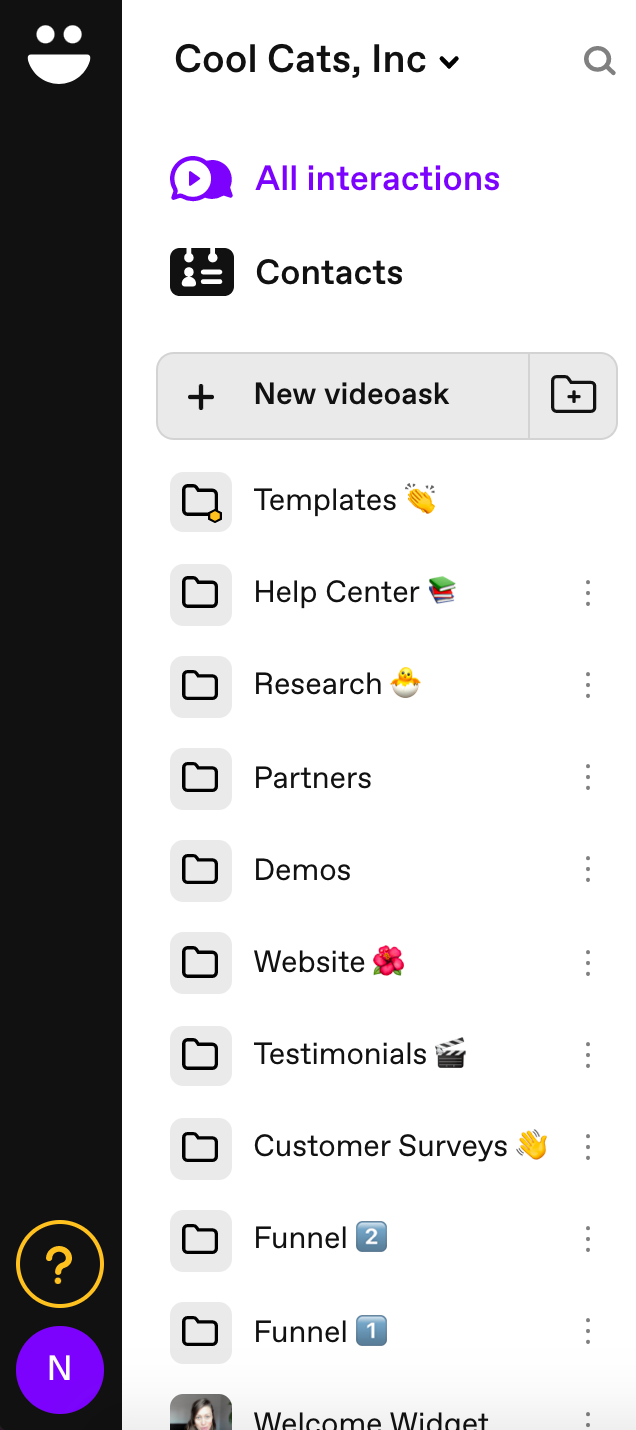 Rename a folder
1
Click the three vertical dots next to the folder to open its menu.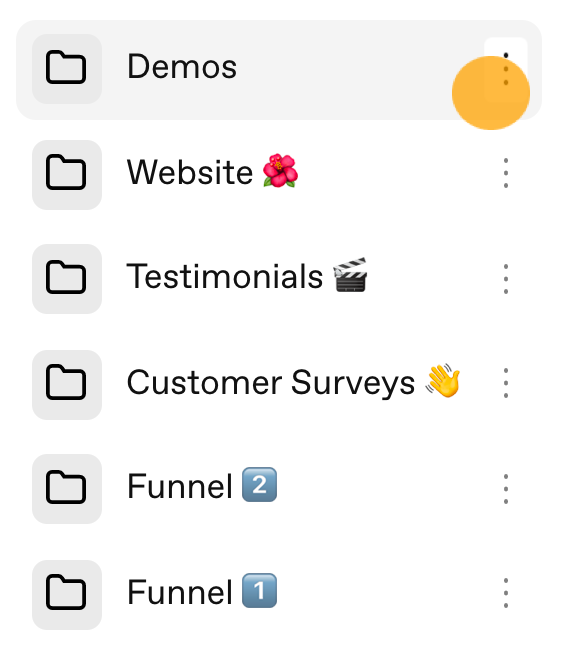 3
Enter the new name and click Rename.
Manage folder permissions
If you have multiple clients or projects you are managing as part of the same Team, you may want to restrict which videoasks team members can access.
1
To do so, go to the folder menu and select Set permissions.
2
Here you will see all current members of your team listed. If someone is an Admin they will automatically have access to all folders. If they are a team member, they can be granted access on a per folder basis. Toggle on access to this folder for any desired team members.
3
Choose whether to grant Read or Write access. Then click Save.
Manage team access for all folders
You can set folder permissions when team members are invited and update them at any time.
1
Click the letter icon or gravatar to open the user menu.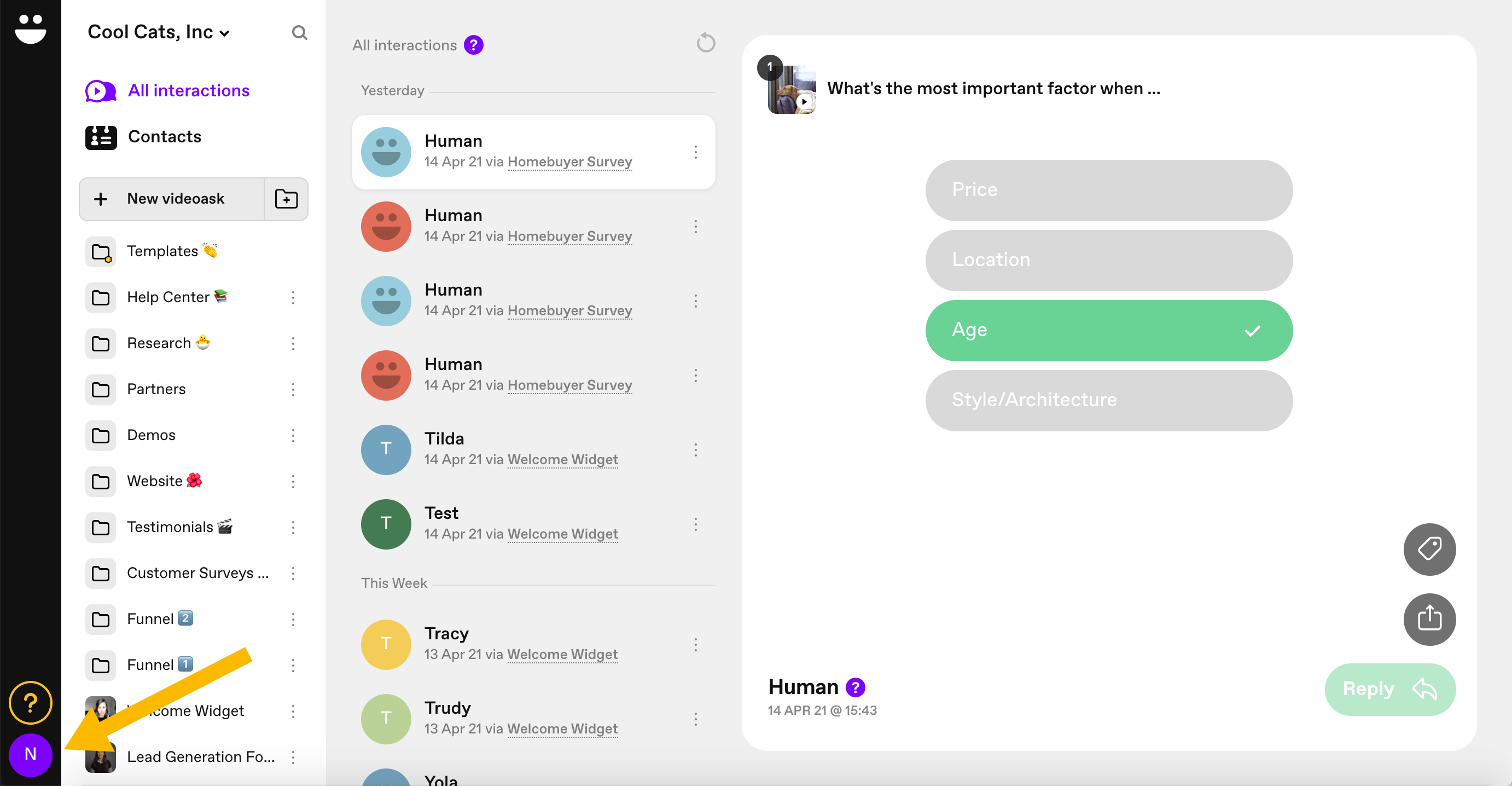 3
By default, each team member will have access to all content. To restrict access to specific folders, select Specific folders.
4
Toggle the permissions for each folder on/off as desired. 
⚠️ Important: All videoasks in the Root folder (the main area in the left sidebar) can be viewed, edited, and deleted by all team members in the organization, no matter what permissions you have set up.
If you would like to restrict access to videoasks currently located in your Root folder, you will need to add each of these videoasks to a folder and set up permissions accordingly for that particular folder.
5
Set Read/Write permissions for each folder.
6
When finished, click Done.
Invite new team members with restricted folder access
1
Click the + person icon.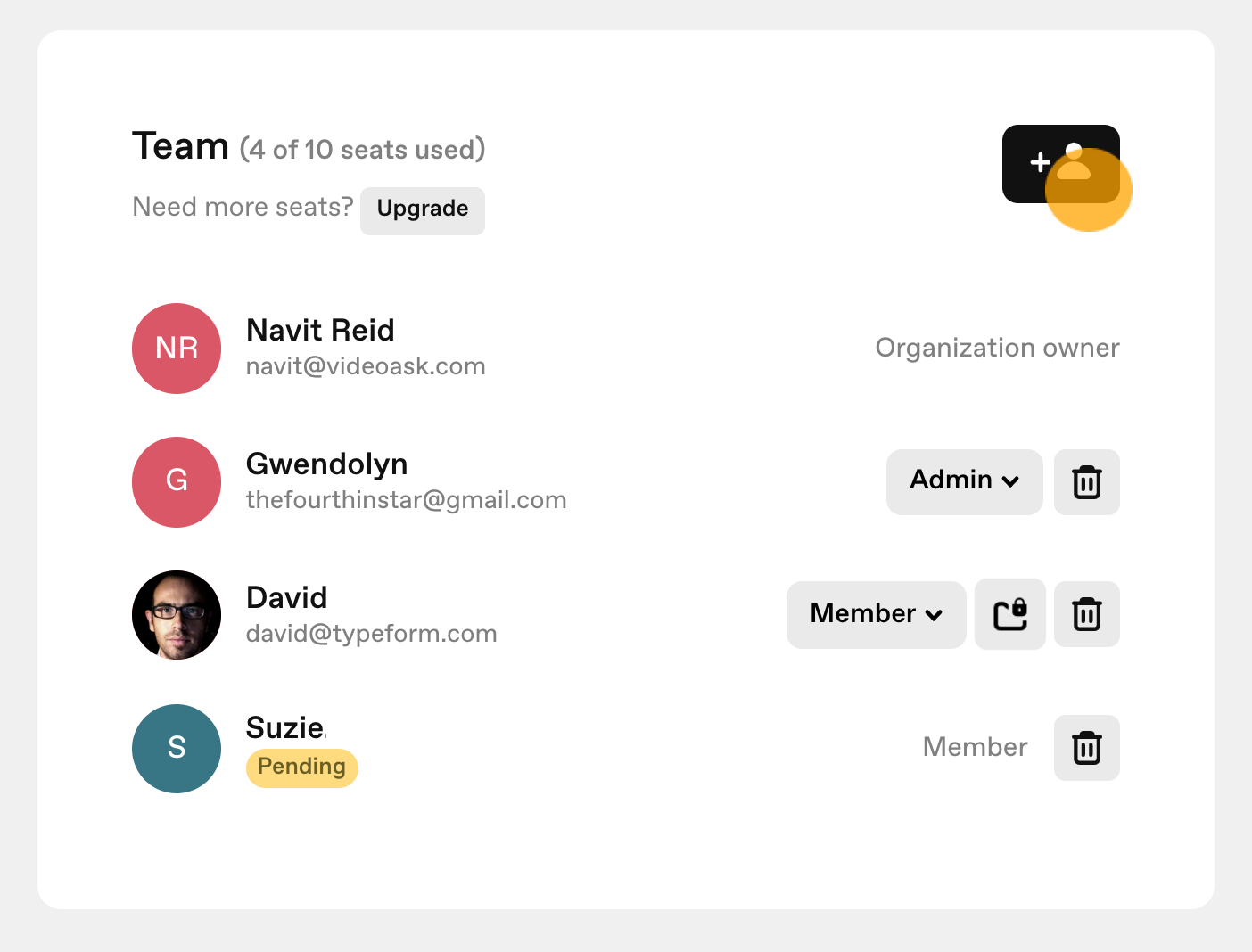 2
Enter the new team member's email address and select Specific folders.
3
Toggle folders on/off to give or remove access.
4
Set the Read/Write permissions and click Invite. This will add your new team member to your Organization, where they will only see the videoasks and responses in the folders they have been granted access to.