VideoAsk is many things. It's a video-based form. A way to have asynchronous video conversations. And now, it's a way to take the leads from those forms into...a live video call!
If you're on a paid plan, you can use the live call answer type to allow respondents to call you directly through VideoAsk. Used in conjunction with other steps or answer types, this is a great way to qualify leads or clients and then, if qualified, give them an option to speak to you directly.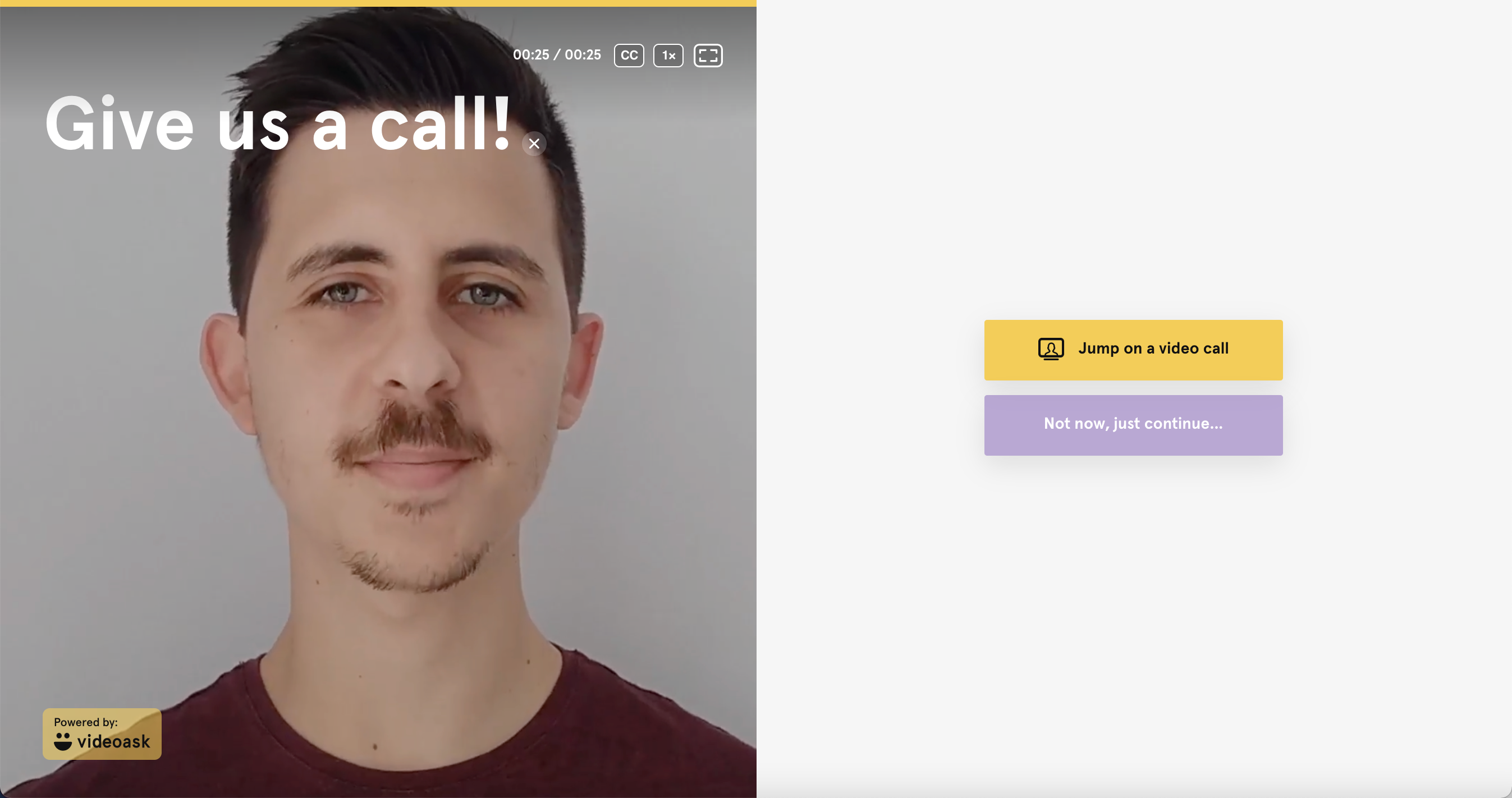 💡 Tip: If you want respondents to schedule an appointment before getting on a live call, you have this option with our Calendly, Hubspot Meetings, Acuity, or ScheduleOnce integrations.
Jump to:
Accept or decline an incoming call
Set up a live call step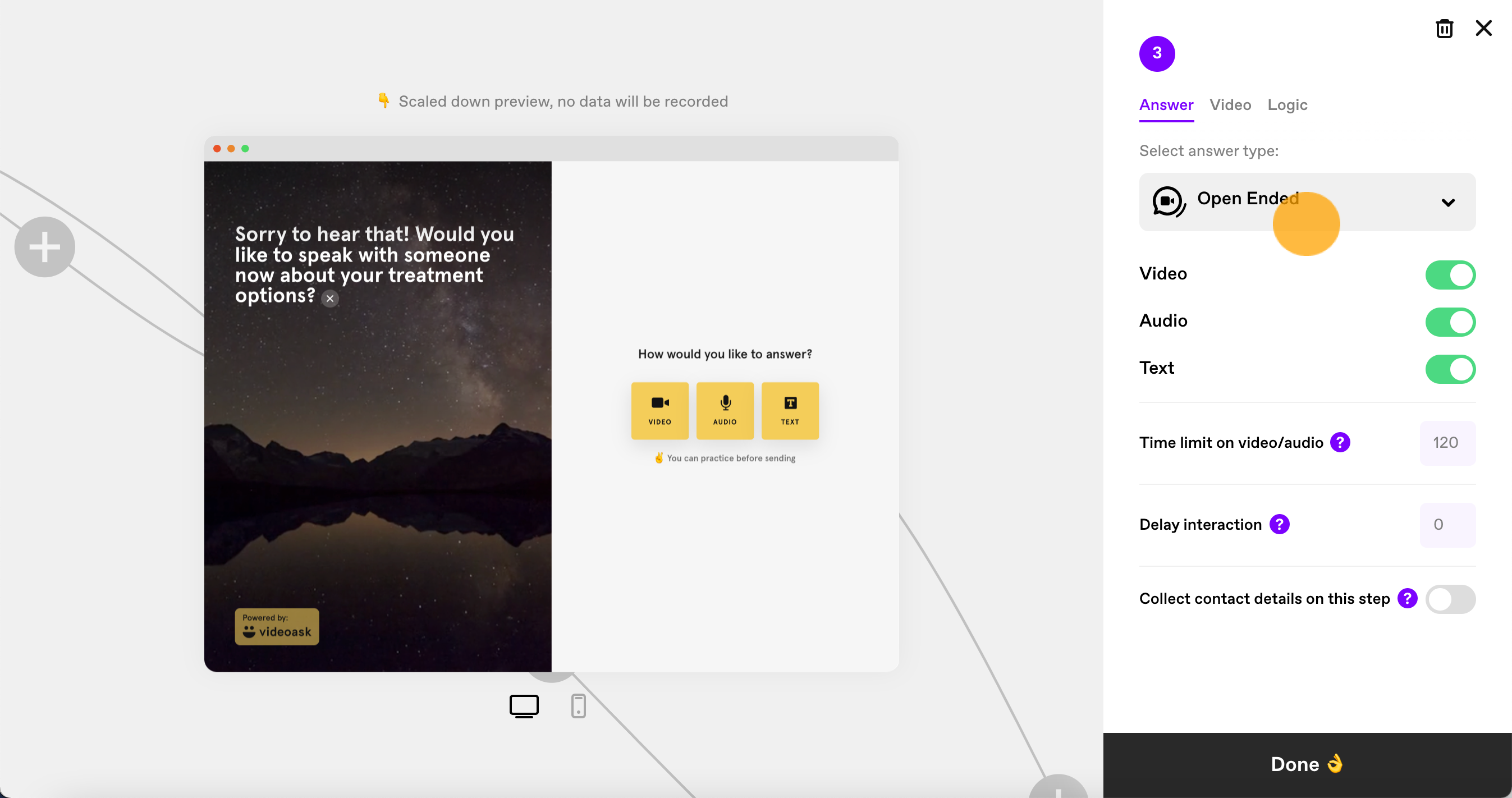 2
Select Live Call from the dropdown menu.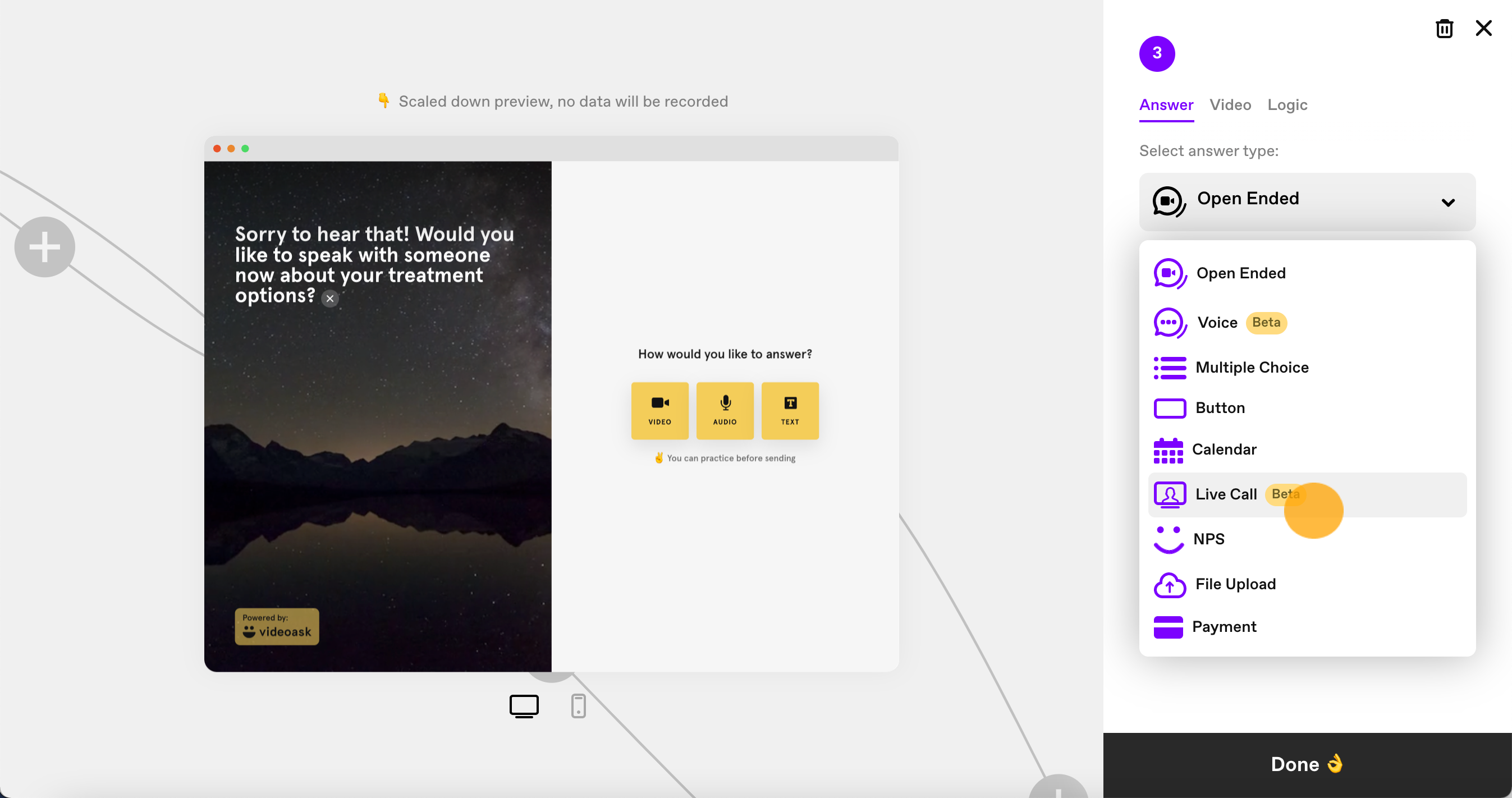 3
If desired, update the Call to action text (the button that will prompt respondents to call you).
If respondents click the Call to action button, they will start calling you.
4
If desired, you can also customize the Rejection text.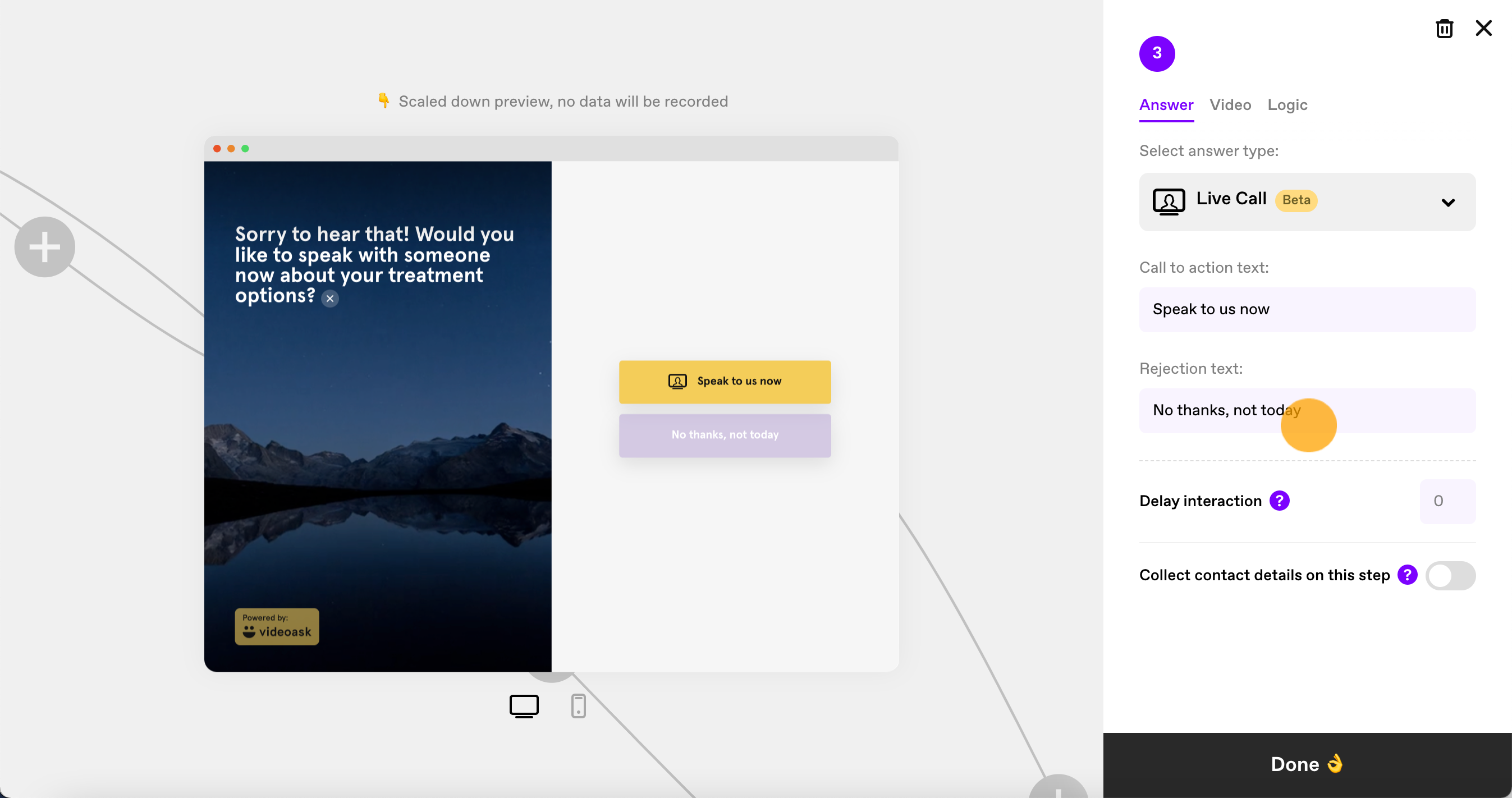 If respondents click the Rejection button, they will skip the live call and go to the end screen.
5
Finally, set up the logic to determine what respondents will see after they have called you.
You can choose a route for when a call has been completed (the respondent and creator connect on a live call) or when a call is incomplete (the respondent starts and then ends a call before it is answered, or they choose not to call).
To do this, either create a new step:
And follow the prompts:
Or update the logic for existing steps in the Logic tab:
Note: The logic you set for Call incomplete will be used when a respondent clicks the rejection button (ie chooses not to call you) and when they click Hang up & continue (after choosing to call you but hanging up before their call is answered).
Accept or decline an incoming call
Respondent initiates a call
When a respondent reaches your live call step, they can click the call to action button to start calling you.
They will see this screen while waiting for you or a team member to accept their call:
Should the respondent click Hang up & continue before you accept their call, they will advance to the step you set for Call incomplete.
Accept or decline a call
Meanwhile, when a respondent calls you through VideoAsk, you and any of your team members will see (and hear!) an incoming call wherever you are in the app with the option to accept or decline the call.
Note: If you have set up permissions to restrict team members' access to specific folders, they will only receive incoming calls made from videoasks located in folders they have permission to view, or in the Root folder (the main area in the left-hand sidebar).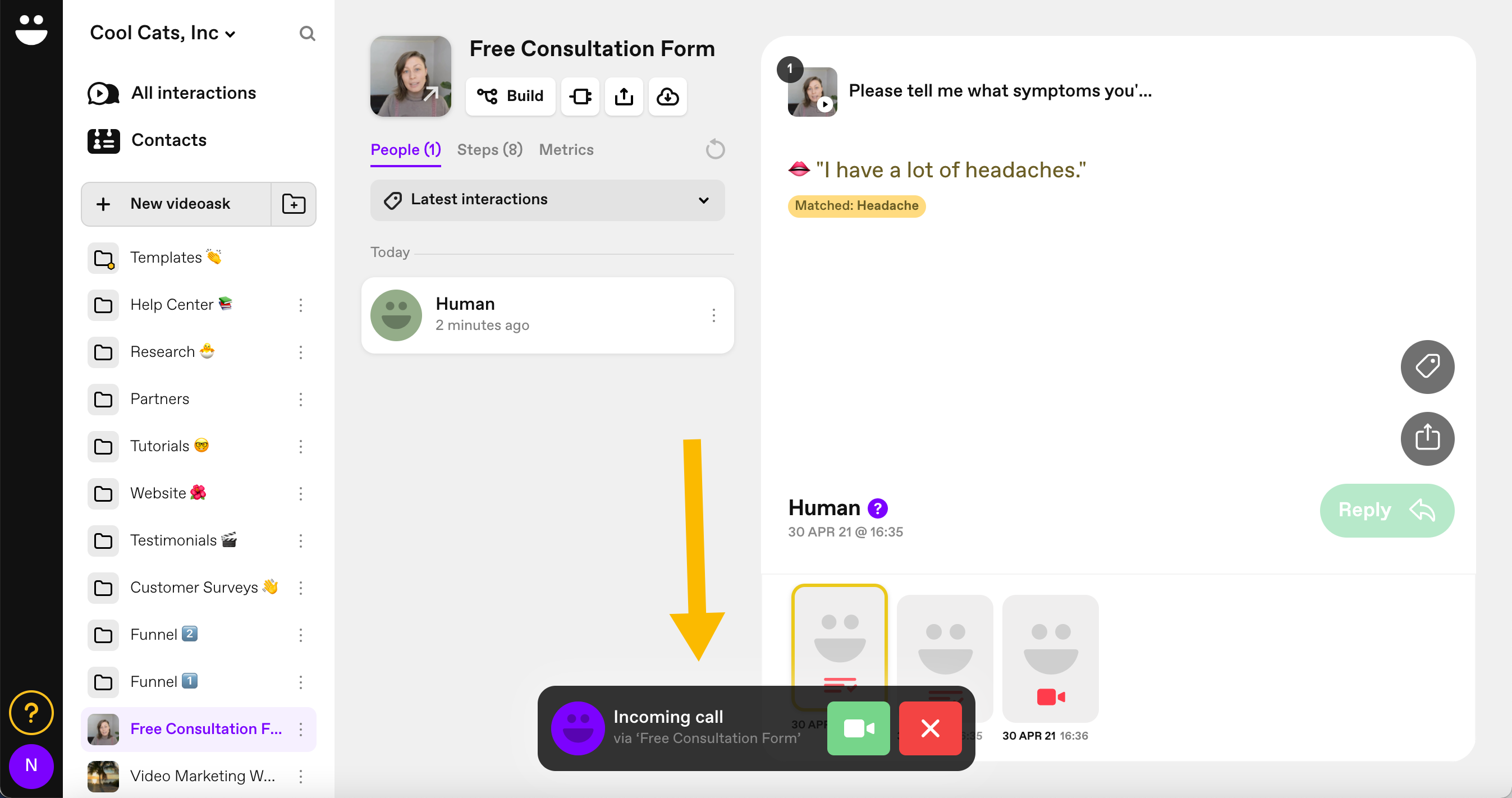 If you accept the call, a live video call will immediately start with the respondent (so make sure you're camera ready!)
Once on the call, you and your respondent can turn off your camera or mute yourself at any time by clicking the microphone and camera icons.
Once the call is completed respondents will advance to the step you set for Call completed.
If you decline the call, the respondent will advance to the step you set for Call incomplete.
Call retries
If no one on your team answers their call and it times out, the respondent will be given the option to retry the call. If they click Retry call it will once again ring and you and your teammates will have another opportunity to accept it.
If the respondent clicks Never mind, let's continue, they will advance to the step you set for Call incomplete. You can think of this step as a kind of answer machine fallback step and if you choose the open ended answer type you can encourage your respondent to leave you an asynchronous message via video, audio, or text.
Answer a live call in the iOS app
If you use our VideoAsk iOS app and would like to answer live calls you receive in your videoask on the go, you absolutely can!
Note: To use this feature, make sure you are using version 3.5.3 or above.
Enable push notifications
In order for your phone to ring when you receive a call in a videoask, you will first need to enable push notifications.
1
In the VideoAsk app, go to My Account.
2
Select My Notifications.
3
Tap to enable Push notifications.

Note: Enabling push notifications in the VideoAsk app is separate from your iOS notification settings. This means you can turn off all other push notifications (ie seeing a banner when you receive a new videoask response) but your phone will still ring when a respondent starts a live call.
Answer an incoming call
1
When a live call comes through, you will see it on your lock screen with the option to answer it, just like you would a regular phone call. Tap Accept to open the VideoAsk app and start the call.
2
You'll then be prompted to give VideoAsk access to your camera and microphone (if you've never granted these permissions before). Tap Continue.
3
Give permission to access your camera by tapping OK.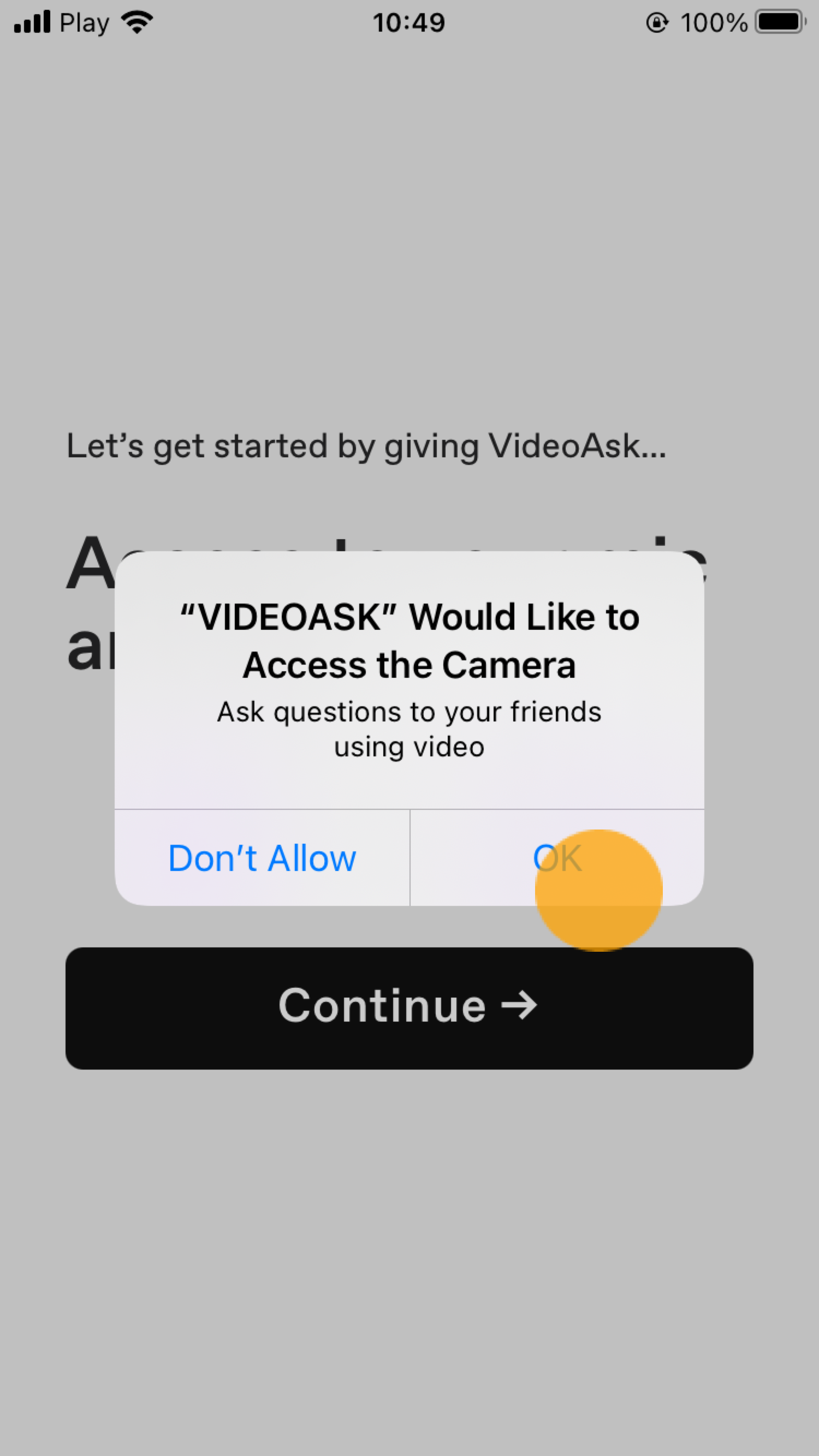 4
Give permission to your microphone by tapping OK.
5
This may seem a little redundant, but we'll ask you one more time for access to your camera and microphone - tap Allow.

6
Make sure to get your camera face ready while the call is connecting. At the top of your screen, you'll see a green dot to indicate your camera is on.

7
That's it! You'll now connect with your client or customer for a lovely conversation. When you're ready to end the call, tap the red X icon.
Note: You may need to tap your screen for the Mute, Turn off video, and End call options to display.
FAQ
Can I record my call?
Currently, this is not built into VideoAsk. If you would like to record a live call that is done through VideoAsk, you can do so with your native screen recording app or a third-party app (such as CloudApp or Loom).
How will this affect my minutes?
We calculate the usage of your plan based on the number of minutes of audio or video files that are transcribed per month. Because we do not save recordings of live calls, no video is transcribed and therefore the time spent on a live call will not affect your overall usage for the month.
What's the best way to be notified when someone calls?
If you're not logged in to VideoAsk on a daily basis, you may miss calls when they come through. If you're regularly in other messaging apps (such as Slack), you can set up a trigger with Zapier to notify you in your preferred platform when a call comes through. You can then open or log in to VideoAsk to answer the call.